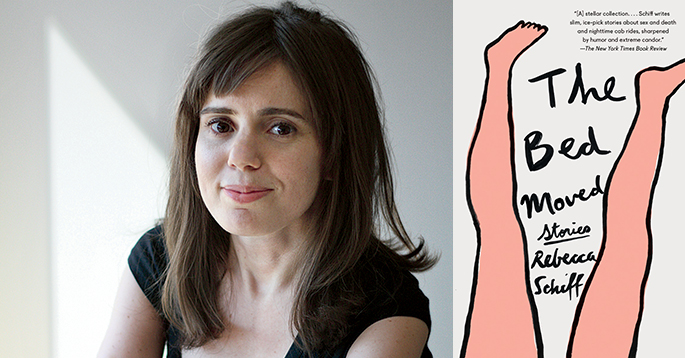 Jew­ish Book Coun­cil is proud to intro­duce read­ers to the five emerg­ing fic­tion authors named as final­ists for the 2017 Sami Rohr Prize for Jew­ish Lit­er­a­ture. Today, we invite you to learn more about Rebec­ca Schiff and her book, The Bed Moved, a col­lec­tion of twen­ty-three short sto­ries about the expe­ri­ences of women.
A warm con­grat­u­la­tions to Rebec­ca and the oth­er four final­ists: Paul Gold­berg, Idra Novey, Adam Ehrlich Sachs, and Daniel Tor­day. Join Jew­ish Book Coun­cil on May 3, 2017 at The Jew­ish Muse­um for a dis­cus­sion with the authors and announce­ment of the recip­i­ent of the $100,000 Sami Rohr Prize for Jew­ish Lit­er­a­ture! Reg­is­ter for free tick­ets here »
What are some of the most chal­leng­ing things about writ­ing fiction?
The most chal­leng­ing thing about writ­ing fic­tion is fac­ing the fact that some­times – often – you're going to write bad­ly. The chal­lenge is to trust that the good stuff is going to come.
What or who has been your inspi­ra­tion for writ­ing fiction?
Most of my inspi­ra­tion for writ­ing fic­tion has been the work of authors I admire, authors who take risks, who are hilar­i­ous and strange. Their books make me want to write fiction.
Who is your intend­ed audience?
A teacher I had told us to ​"Write for the smart peo­ple." I take that to mean you should trust your audi­ence to get what you're doing. But the intend­ed audi­ence is a pro­jec­tion, a fan­ta­sy. Any per­son can pick up your book. Some of them are going to hate its guts.
Are you work­ing on any­thing new right now?
I'm work­ing on new stories.
What are you read­ing now?
I'm read­ing 10:04 by Ben Lern­er (a pre­vi­ous Sami Rohr final­ist) and Assist­ed Liv­ing by Gary Lutz.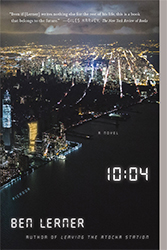 Top 5 favorite books
Oy, I feel bad about every­thing I'm leav­ing out, but here goes:
Birds of Amer­i­ca by Lor­rie Moore
I Would Have Saved Them If I Could by Leonard Michaels
Venus Dri­ve by Sam Lipsyte
Loli­ta by Vladimir Nabokov
What We Talk About When We Talk About Love by Ray­mond Carver
When did you decide to be a writer? Where were you?
I was in third grade when I first decid­ed to be a writer. Our teacher had us hand in a new short sto­ry every two weeks. Dead­lines are always help­ful. I also remem­ber revis­ing one of my sto­ries after school in my par­ents' bed­room. It was the first time I noticed that I cared about sentences.
What is the moun­tain­top for you — how do you define success?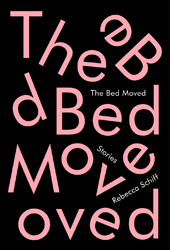 I first thought this was a ques­tion about my favorite moun­tain­top. There are so many great ones! But writ­ing-wise, if I get to keep pub­lish­ing the books I write, that is success.
How do you write —what is your pri­vate modus operan­di? What tal­is­mans, rit­u­als, props do you use to assist you?
I know peo­ple have hats and wrist­bands and cof­fee and rou­tines. I don't real­ly have any of that. I like to write when I first wake up or right before I fall asleep.
What do you want read­ers to get out of your book?
I want them to feel. And laugh.
Rebec­ca Schiff is the author of the sto­ry col­lec­tion The Bed Moved, a final­ist for the LA Times Book Prize's Art Sei­den­baum Award for First Fic­tion. Her fic­tion has appeared in n+1, Elec­tric Lit­er­a­ture, The Amer­i­can Read­er, Fence, Guer­ni­ca, The Guardian, Buz­zFeed, and Lenny Let­ter, and will be anthol­o­gized in The Best Small Fic­tions 2017. She lives in Eugene, Oregon.
Relat­ed Content: