Post­ed by Nat Bern­stein
What's a girl to do at 74 years old with a No. 1 sell­ing album for every decade since 1964 to her name?
Nation­al trea­sure Bar­bra Streisand is still glowin', she's still crowin', she's still goin' strong: Streisand's long­time man­ag­er announced yes­ter­day that the icon­ic per­former is embark­ing on a North Amer­i­can sum­mer tour this August, begin­ning in Los Ange­les and con­clud­ing in Toron­to, to her­ald the release of a new album. Which mean's it's a good time to share the book I have enshrined face-out on my shelves since April: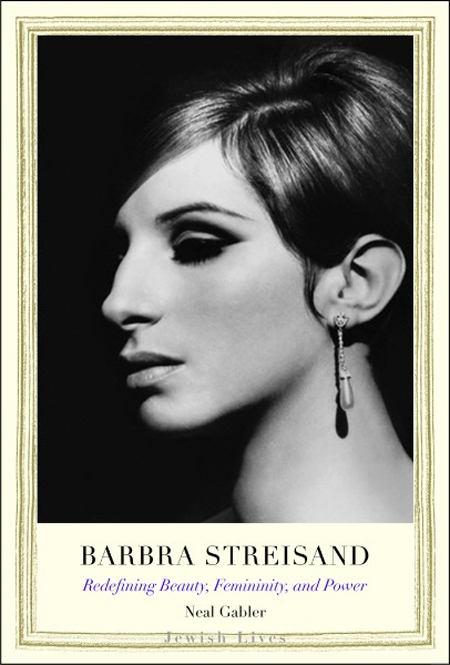 This black-and-white pro­file shot is the per­fect por­trait to grace the Yale Jew­ish Lives Series biog­ra­phy enti­tled Bar­bra Streisand: Redefin­ing Beau­ty, Fem­i­nin­i­ty, and Pow­er. Tak­en from Steve Schapiro and Lawrence Schiller's project to cap­ture the young enter­tain­er over the course of her first five years in Hol­ly­wood, the image cap­tures Streisand's dis­tinct appear­ance and ambi­tion, the face and dri­ve of the woman who inspired and empow­ered gen­er­a­tions of Jew­ish girls to see them­selves as gor­geous, tal­ent­ed, and uncon­quer­ably fun­ny. Ded­i­cat­ed to the author's daugh­ters (and son-in-law) and ​"all those who have ever been told they could not suc­ceed," Neal Gabler's exam­i­na­tion of Bar­bra Streisand's career and lega­cy high­lights how her refu­ta­tion of con­ven­tion­al stan­dards and expec­ta­tions ​"con­vert­ed her Jew­ish­ness into a metaphor for out­sider-ness that would even­tu­al­ly make her the avenger for any­one who felt mar­gin­al­ized and pow­er­less." I feel infal­li­ble just look­ing at her pho­to­graph on the book cover.
Relat­ed Content:
Nat Bern­stein is the for­mer Man­ag­er of Dig­i­tal Con­tent & Media, JBC Net­work Coor­di­na­tor, and Con­tribut­ing Edi­tor at the Jew­ish Book Coun­cil and a grad­u­ate of Hamp­shire College.