Found­ing direc­to­ry of the Israel Union for Envi­ron­men­tal Defense Alon Tal​'s lat­est book, The Land Is Full, address­es the prob­lems of over­pop­u­la­tion in Israel. He is guest blog­ging here all week as part of the Vis­it­ing Scribe series on The ProsenPeo­ple.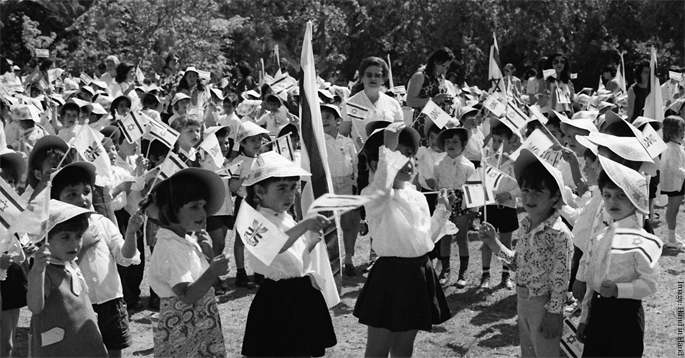 There was a time when expand­ing the num­ber of Israeli cit­i­zens was a crit­i­cal nation­al chal­lenge. With less than a mil­lion peo­ple, a sparse­ly pop­u­lat­ed Third Jew­ish Com­mon­wealth was vul­ner­a­ble: eco­nom­i­cal­ly, diplo­mat­i­cal­ly and mil­i­tar­i­ly. As we con­sid­er the Israel's future today, how­ev­er, it needs to be clear that those days are long over. The para­mount domes­tic pol­i­cy objec­tive for a coun­try with over eight mil­lion cit­i­zens in 2016 involves demo­graph­ic stabilization.
Today, Israel is among the most crowd­ed nations in the world, and it con­tin­ues to expe­ri­ence demo­graph­ic growth that is unri­valed in the West. Based on present trends, Israel's pop­u­la­tion is expect­ed to dou­ble with­in the next thir­ty years and reach 15 mil­lion peo­ple. At that point, Israel will be the most crowd­ed devel­oped coun­try in the world. But the pro­ject­ed fac­to­ry farm den­si­ties will not make life bet­ter. Mete­oric increas­es in pop­u­la­tion size have pro­found impli­ca­tions on the qual­i­ty of life in Israel, affect­ing all seg­ments of soci­ety and our col­lec­tive future.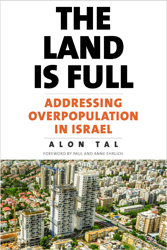 Envi­ron­men­tal­ly, the phe­nom­e­na are self-evi­dent. Israeli lead­ers promised to reduce green­house gas emis­sions ​"per capi­ta" at the UN Paris sum­mit, know­ing full well that a 2% annu­al growth in pop­u­la­tion means that over­all emis­sions are going to increase for the fore­see­able future; the Dead Sea retreats into obliv­ion, deprived of its nat­ur­al Jor­dan Riv­er waters which are tapped to pro­vide water to Israel's agri­cul­ture — even though Israeli farm­ers at best can only pro­vide 45% of this expand­ed populace's calo­ries; the steady col­lapse of the country's bio­di­ver­si­ty 0151 the mag­nif­i­cent array of ani­mals and plants — will con­tin­ue as open spaces and habi­tat give way to the 60,000 hous­ing units required every year to meet the grow­ing demand. This tragedy may be the most irre­versible part of Israel's present eco­log­i­cal disaster.
The social dynam­ics are much the same. Grid­lock on Israel's roads is becom­ing unbear­able, but the Min­istry of Trans­porta­tion sees no relief in sight. It pre­dicts that with­in the next decade as the fleet expands, Israelis will spend an addi­tion­al 50 min­utes per day in their cars sit­ting in traf­fic jams. The courts are back­logged as cas­es wait longer and longer for judges to become avail­able. Israel has the most crowd­ed kinder­gartens in the Organ­i­sa­tion for Eco­nom­ic Co-oper­a­tion and Devel­op­ment (OECD) and among the most crowd­ed schools. We sim­ply can­not expand infra­struc­ture fast enough. The hos­pi­tals are the most crowd­ed in the OECD as well. The hous­ing cri­sis will nev­er be solved sole­ly by increas­ing sup­ply; with­out sta­bi­liz­ing demand, most young Israelis will nev­er be able to real­ize the dream of own­ing their own home.
Worst of all, because the high birth rates are large­ly found among Israel's poor­est pop­u­la­tion groups, the dis­grace­ful gaps in income in the coun­try con­tin­ue to grow worse. Equal­i­ty of oppor­tu­ni­ty, a cen­tral tenet of Israeli sol­i­dar­i­ty, becomes lip ser­vice when one of every three chil­dren lives below the pover­ty line. Indeed, a report this year con­firms that Israel's income gaps may be the worst in the devel­oped world. But invari­ably, pover­ty is found among fam­i­lies with five or more chil­dren, where resources and parental atten­tion will nev­er be suf­fi­cient to allow these chil­dren to compete.
The pop­u­la­tion cri­sis is the result of pub­lic poli­cies which pro­vide pow­er­ful eco­nom­ic incen­tives to have chil­dren, espe­cial­ly for fam­i­lies with low incomes. It is the result of poli­cies that cre­ate obsta­cles to abor­tion and con­tra­cep­tion and do not insist on empow­er­ing women and grant­i­ng them equal rights and ​"repro­duc­tive auton­o­my." We can change these poli­cies. Indeed we must.
That's why I wrote The Land is Full: Address­ing Over­pop­u­la­tion in Israel. As an Israeli envi­ron­men­tal­ist, I real­ized the futil­i­ty of spend­ing growth all my time and ener­gy on symp­toms. Any­one con­cerned about ensur­ing a healthy, envi­ron­men­tal­ly strong and equi­table third Jew­ish Com­mon­wealth should con­sid­er Israel's demo­graph­ic dynam­ics. We must all ask hard ques­tions if we care about Israel's future: How many peo­ple do we want to live in our ​"New Jer­sey-sized" Jew­ish state? How can we ensure that all Israeli women, includ­ing Arabs and Hare­dis, be giv­en a chance to real­ize their poten­tial aca­d­e­m­i­cal­ly and join Israel's work­force? How can we change Israel's cul­tur­al fix­a­tion on hav­ing large fam­i­lies? Can Jew­ish tra­di­tion sup­port a new view about sus­tain­able pop­u­la­tion size? There are answers to all of these ques­tions. But first we need to under­stand that our generation's chal­lenge is to cre­ate a soci­ety which focus­es on qual­i­ty of life rather than quan­ti­ty of lives.
Ben Guri­on Uni­ver­si­ty pro­fes­sor Alon Tal was found­ing direc­tor of the Israel Union for Envi­ron­men­tal Defense, Israel's pre­em­i­nent eco­log­i­cal advo­ca­cy orga­ni­za­tion, and the Ara­va Insti­tute for Envi­ron­men­tal Stud­ies, a Mid­dle East­ern aca­d­e­m­ic pro­gram. A mem­ber of the JNF-KKL board for over a decade, from 2010 to 2013 he chaired Israel's Green Party.
Relat­ed Content:
Ben Guri­on Uni­ver­si­ty pro­fes­sor Alon Tal was found­ing direc­tor of the Israel Union for Envi­ron­men­tal Defense, Israel's pre­em­i­nent eco­log­i­cal advo­ca­cy orga­ni­za­tion, and the Ara­va Insti­tute for Envi­ron­men­tal Stud­ies, a Mid­dle East­ern aca­d­e­m­ic pro­gram. A mem­ber of the JNF-KKL board for over a decade, from 2010 to 2013 he chaired Israel's Green Par­ty. Haaretz has called him ​"Israel's most effec­tive envi­ron­men­tal leader."