Ear­li­er this week, Jen­nifer Ros­ner wrote about her nov­el-in-progress and also a gene muta­tion, a moth­er­ly con­nec­tion, and the pow­er of string. She is the author of the pic­ture book, The Mit­ten String (Ran­dom House, 2014) and the mem­oir, If A Tree Falls: A Fam­i­ly's Quest to Hear and Be Heard (Fem­i­nist Press, 2010). Jen­nifer has been blog­ging here all week for Jew­ish Book Coun­cil'sVis­it­ing Scribe series.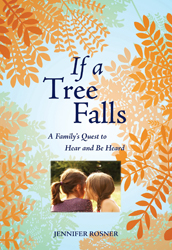 Strings fig­ure not only in the imagery but also in the over­all struc­ture of my writ­ing. Both my mem­oir, If A Tree Falls, and my nov­el-in-progress, Hid­den, have ​"braid­ed" struc­tures: the weav­ing of mul­ti­ple per­spec­tives (and in the case of my mem­oir, mul­ti­ple time periods).
A braid­ed form — though admit­ted­ly unwieldy when com­pared to a nar­ra­tive with a sin­gu­lar point of view – enables the read­er unmedi­at­ed access to the expe­ri­en­tial life of mul­ti­ple char­ac­ters in a sto­ry. This is impor­tant when the sto­ry can­not be known in its entire­ty by any sin­gle char­ac­ter, or when the writer needs to lim­it the com­plex­i­ty of a character's thought (as when the char­ac­ter is a very young child). In Hid­den, both of these fac­tors are at play.
A woven struc­ture can reflect and sup­port a char­ac­ters' frag­ment­ed men­ta­tion. Tex­ture can be infused through form as well as through con­tent. Bren­da Miller's thoughts on chal­lah, set in jux­ta­po­si­tion to her thoughts on the braid­ed essay, seem apt here: ​"As a child, I knew only that the braid­ed bread sim­ply tast­ed bet­ter than ordi­nary bread, the way tex­ture will often affect fla­vor, and the way pre­sen­ta­tion and form can some­times offer sus­te­nance in itself." (Bren­da Miller, The Braid­ed Heart)
The braid­ed form can have its pit­falls – switch­ing per­spec­tives can feel dis­rup­tive to the read­ing expe­ri­ence, and there is the risk that a read­er will become more attached to one voice over anoth­er and want to skip around. (Con­fes­sion: this hap­pens to me, as a read­er and as a writer of braid­ed sto­ries, more often than I care to admit!)
But just as I attempt to braid chal­lah for my chil­dren on Fri­days (gluten free, in our house­hold – no easy task!), I attempt to weave the sto­ries of my char­ac­ters togeth­er, tying the strings – some intact, some frayed and bro­ken – that sym­bol­ize the con­nec­tions and dis­con­nec­tions mark­ing our shared human experience.
Jen­nifer Ros­ner's writ­ings have appeared in The New York Times, Good House­keep­ing, The Jew­ish Dai­ly For­ward, The Mass­a­chu­setts Review, and else­where. Jen­nifer holds a Ph.D. in Phi­los­o­phy from Stan­ford Uni­ver­si­ty, and is edi­tor of the anthol­o­gy, The Messy Self (Par­a­digm Pub­lish­ers, 2007). She lives in West­ern Mass­a­chu­setts with her family.
Relat­ed Content:
Jen­nifer Ros­ner is author of The Yel­low Bird Sings, a 2020 Nation­al Jew­ish Book Award final­ist in Debut Fic­tion and Book Club. She also wrote the mem­oir If a Tree Falls: A Fam­i­ly's Quest to Hear and be Heard, and the pic­ture book, The Mit­ten String, about deaf­ness in her fam­i­ly, which she has traced back to Gali­cia in the 1800s.