Ear­li­er this week, Julian Voloj shared the sto­ry behind Ghet­to Broth­er: War­rior to Peace­mak­er, his non­fic­tion graph­ic nov­el about the 1971 Hoe Avenue peace meet­ing bro­kered by the Ghet­to Broth­ers' pres­i­dent and Nuy­or­i­can cryp­to-Jew Ben­ji Melen­dez. He will blog­ging here all week as part of the Vis­it­ing Scribe series on The ProsenPeo­ple.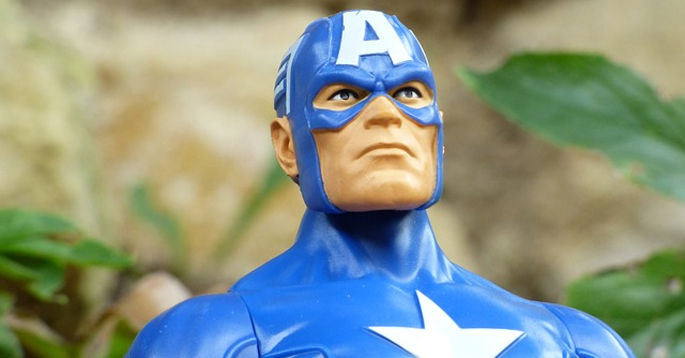 My graph­ic nov­el Ghet­to Broth­er: War­rior to Peace­mak­er is many things. It's a sto­ry about gangs in New York; a tale of the Bronx' eco­nom­ic decline; a nar­ra­tive of the ear­ly days of hip hop — but most of all, it's a com­ing-of-age sto­ry with a Jew­ish twist.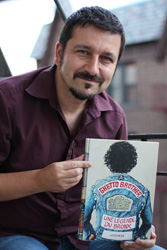 As is well doc­u­ment­ed, the Amer­i­can com­ic book indus­try was full of Jew­ish pio­neers. One might argue that only after Super­man took off, the indus­try as we know it today was created.
Super­man was, of course, the brain­child of two nice Jew­ish kids from Cleve­land, Jer­ry Siegel and Joe Shus­ter, who quick­ly learned how unfriend­ly the indus­try can be — the top­ic of my next graph­ic nov­el to be pub­lished in 2016. (Read a pre­view here.)
Super­man, the Sam­son from Kryp­ton, had his debut in 1938, the same year a nation­wide pogrom in Ger­many called Kristall­nacht made clear that Hitler's hatred was not sheer rhetoric. The son of Kal-El stayed most­ly out of pol­i­tics, but pri­or to the Unit­ed States's entry into the war, Siegel and Shus­ter cre­at­ed one very cool mini-com­ic How Super­man Would End The War, pub­lished in Look Mag­a­zine in 1940.
Prob­a­bly the most icon­ic com­ic book attack on Hitler's evil empire was the debut of Cap­tain Amer­i­ca, the patri­ot­ic avenger was cre­at­ed by anoth­er dynam­ic duo, Joe Simon and Jack Kir­by, in 1941. Kir­by, arguably the most influ­en­tial Amer­i­can com­ic book cre­ator of the twen­ti­eth cen­tu­ry, grew up on New York's Low­er East Side and changed his name from Jacob Kurtzberg.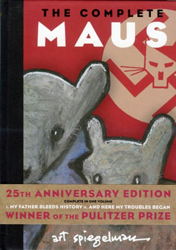 After World War II, super­heroes were in decline, and so was the com­ic book indus­try. Despite many Jew­ish cre­ators, Jew­ish top­ics were rarely explored in comics. In 1955, EC Comics's Impact ran an eight-page com­ic sto­ry by Bernard Krig­stein called Mas­ter Race. The pro­tag­o­nist of the sto­ry was a for­mer death camp com­man­der who elud­ed jus­tice until he was spot­ted on the sub­way by a Holo­caust sur­vivor. It's a remark­able sto­ry, cre­at­ed less than a decade after the Shoah dur­ing a time when the top­ic was rarely dis­cussed in pop­u­lar media.
Decades lat­er, Art Spiegel­man start­ed to pub­lish Maus, which became the first graph­ic nov­el to win the Pulitzer. Spiegel­man gave the medi­um the cred­i­bil­i­ty to explore seri­ous topics.
Since then, many Jew­ish artists have used the medi­um for a vari­ety of Jew­ish top­ics from the rela­tion­ship to Israel (Sarah Glidden's How to Under­stand Israel in 60 Days or Less) to a com­ic book ver­sion of the The Book of Esther.
Com­ic books today are much more than just superheroes.
Born in Ger­many to Colom­bian par­ents, Julian Voloj is used to liv­ing in between worlds. In his work, the grand­son of Shoah sur­vivors explores ques­tions of Jew­ish iden­ti­ty and heritage.
Relat­ed Content:
Julian Voloj is a New York – based writer whose work has been pub­lished in the New York Times, Rolling Stone, the Wash­ing­ton Post, and many oth­er nation­al and inter­na­tion­al pub­li­ca­tions. Born to Colom­bian par­ents in Ger­many, where he stud­ied lit­er­a­ture and lin­guis­tics, Voloj moved to New York in 2004. His fas­ci­na­tion for for­got­ten heroes and hid­den fig­ures stems from his own fam­i­ly his­to­ry and has been a leit­mo­tif in his non­fic­tion graph­ic novels.