Ear­li­er this week, Rober­ta Rosen­thal Kwall wrote about how on how plu­ral­ism strength­ens Judaism and shared the back­sto­ry behind her newest book, The Myth of the Cul­tur­al Jew: Cul­ture and Law in Jew­ish Tra­di­tion. Rober­ta is the Ray­mond P. Niro Pro­fes­sor of Law at DePaul Uni­ver­si­ty Col­lege of Law. She has been blog­ging here all week for Jew­ish Book Coun­cil's Vis­it­ing Scribe series.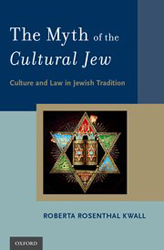 In the Unit­ed States, and even in Israel, Judaism can­not be a one-size-fits-all reli­gion. The degree of vari­a­tions that cur­rent­ly exist sim­ply can­not be undone, nor should they be. But all vari­a­tions need to be more attuned to their tar­get audi­ence and how they can best serve the needs of their con­stituents. This requires under­stand­ing the real­i­ties of the larg­er soci­etal cul­ture and tai­lor­ing Jew­ish expe­ri­ence to serve these real­i­ties. And it requires being open to try­ing new and dif­fer­ent ways of reach­ing poten­tial fol­low­ers, includ­ing non-Jews who are involved with Jews or oth­er­wise open to learn­ing about the beau­ty of the tradition.
Although the Jew­ish tra­di­tion includes both Jew­ish reli­gious law, known as halakhah, as well as cul­tur­al ele­ments, many mod­ern Jews very much enjoy the cul­tur­al com­po­nents of Judaism but are not so keen on the law part. This is par­tic­u­lar­ly true when the legal demands are seen as plac­ing bur­dens on peo­ple that are per­ceived as irrel­e­vant to our mod­ern lifestyle. That said, when the legal ingre­di­ents are com­plete­ly lost, it is impos­si­ble to cap­ture, and to pass down, the fla­vor and unique­ness of the tra­di­tion­al recipe.
More effec­tive edu­ca­tion­al strate­gies are need­ed in most Jew­ish com­mu­ni­ties, par­tic­u­lar­ly those in which the obser­vance of halakhah is not a gov­ern­ing focus. I offer here two pos­si­ble sug­ges­tions for fur­ther con­tem­pla­tion. One sug­ges­tion is to empha­size more how the demands of tra­di­tion­al Jew­ish prac­tice com­port with mod­ern val­ues that many Jews today embrace. For exam­ple, the cul­ture of the twen­ty-first cen­tu­ry fur­nish­es appeal­ing rea­sons to observe cor­ner­stone tra­di­tions such as the dietary laws and Shab­bat. Today, more kosher food options exist than ever before and there is a pop­u­lar per­cep­tion that these options are health­i­er. It has even been report­ed that more Mil­len­ni­als are keep­ing kosher than their baby boomer par­ents giv­en their con­cern with envi­ron­ment and sus­tain­abil­i­ty. As for Shab­bat, in this day and age of con­tin­u­ous elec­tron­ic con­nec­tion, a man­dat­ed dis­con­nec­tion of one day a week can be seen as a wel­comed relief.
A sec­ond sug­ges­tion focus­es on unbundling the con­cept of ​"Jew­ish pride." It seems to me that there is sig­nif­i­cant poten­tial to har­ness the con­cept of ​"Jew­ish pride" so that it can serve as a focal point for edu­cat­ing Amer­i­can Jews. Accord­ing to the 2013 Pew Report, a com­pre­hen­sive study of the Amer­i­can Jew­ish pop­u­la­tion, 94% of the Amer­i­can Jew­ish pop­u­la­tion claimed that they are proud to be Jew­ish. Jew­ish pride and Jew­ish sur­vival go hand in hand because peo­ple want to insure con­ti­nu­ity of what they take pride in.
It is imper­a­tive that Jew­ish cler­gy and pro­fes­sion­als devel­op an inno­v­a­tive yet effec­tive strat­e­gy for edu­cat­ing this group, par­tic­u­lar­ly those indi­vid­u­als who claim pride in their her­itage but who are not reli­gious­ly obser­vant. Ini­tial­ly, such a strat­e­gy must under­score why reli­gious tra­di­tion is indeed a fun­da­men­tal part of what they are claim­ing a sense of pride in. But this is not suf­fi­cient because the need­ed edu­ca­tion must also instill a love of the tradition's beau­ty — both the legal and the cul­tur­al. It must per­suade peo­ple that the Jew­ish tra­di­tion still has rel­e­vance for their lives, even if they are not liv­ing lives that are gov­erned by Jew­ish law. In short, iden­ti­fied Jews are edu­ca­ble Jews. We have the num­bers but now we need to devel­op the blueprint.
Rober­ta Rosen­thal Kwall earned her law degree from the Uni­ver­si­ty of Penn­syl­va­nia and received her under­grad­u­ate degree from Brown Uni­ver­si­ty. Cur­rent­ly she is com­plet­ing a Mas­ter's Degree in Jew­ish Stud­ies. For more reflec­tions from Kwall, vis­it her Face­book page here.
Relat­ed Content:
Rober­ta Rosen­thal Kwall is the Ray­mond P. Niro Pro­fes­sor at DePaul Law School. A pro­lif­ic schol­ar whose work focus­es on Jew­ish law and cul­ture, Kwall lec­tures wide­ly at syn­a­gogues, Jew­ish orga­ni­za­tions, and law schools in Amer­i­ca and Israel. Her pop­u­lar writ­ings on top­ics of rel­e­vance to the Jew­ish com­mu­ni­ty have appeared in many of the most estab­lished Jew­ish media venues.