Rober­ta Rosen­thal Kwall is the Ray­mond P. Niro Pro­fes­sor of Law at DePaul Uni­ver­si­ty Col­lege of Law. Her newest book, The Myth of the Cul­tur­al Jew: Cul­ture and Law in Jew­ish Tra­di­tion, is now avail­able. She is blog­ging here all week for Jew­ish Book Coun­cil's Vis­it­ing Scribe series.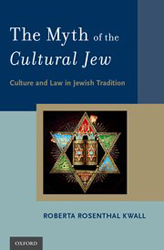 I have always viewed human artis­tic cre­ativ­i­ty as a spir­i­tu­al type of enter­prise, even before the time I began to write about this idea on a more for­mal basis. I believe that any cre­ative artis­tic work, be it lit­er­a­ture, music, or visu­al art, is the prod­uct of the author's per­son­al sto­ry as shaped by her own expe­ri­ence and her reac­tion to her sur­round­ing envi­ron­ment. I became an advo­cate for author's rights in my role as a legal aca­d­e­m­ic, and much of my legal schol­ar­ship has focused on an author's right to receive attri­bu­tion and to safe­guard her work from unau­tho­rized changes that com­pro­mise its mes­sage and meaning.
My legal research led me to an impor­tant book writ­ten by his­to­ri­an Daniel Boorstin enti­tled The Cre­ators, in which he observes that the Torah's lan­guage that ​"God cre­at­ed man in His image…" fur­nish­es a path lead­ing man to regard him­self as a poten­tial cre­ator. I con­fess that I had nev­er thought about this insight before, despite hav­ing read the Bib­li­cal text many times. Around the time I encoun­tered Boorstin's book, I had begun to recon­nect with Jew­ish learn­ing, which had occu­pied a large part of my ado­les­cent and col­lege years. It sud­den­ly occurred to me that the Jew­ish tra­di­tion is very much like a work of art that has been com­posed joint­ly by its many human authors, and based (at least in my view) on its Divine ori­gin. As such, the tra­di­tion can be under­stood as reflect­ing the per­son­al and envi­ron­men­tal cir­cum­stances of many of its authors, both the rab­bis and lay peo­ple. There­fore, both the laws pro­mul­gat­ed by the rab­bis and the prac­tices of the peo­ple have a basis in the cul­tures that have sur­round­ed the tradition's authors.
After this real­iza­tion, it was not a par­tic­u­lar­ly dif­fi­cult stretch for me to see that so many of the issues I had writ­ten about with respect artis­tic works could also be asked about the Jew­ish tra­di­tion. Specif­i­cal­ly, how much can a work (or a tra­di­tion) under­go mod­i­fi­ca­tion and still be con­sid­ered rep­re­sen­ta­tive of its orig­i­nal mean­ing and mes­sage? What does soci­ety lose when a giv­en work (tra­di­tion) los­es its essen­tial char­ac­ter and becomes some­thing com­plete­ly dif­fer­ent? Fur­ther, who gets to make these changes and pur­suant to what type of author­i­ty? At base, these ques­tions are all con­cerned with ​"authen­tic­i­ty." In a post-mod­ern age where it is expect­ed that the audi­ence will inter­pret texts and forge new mean­ing, these issues loom large in the world of art, espe­cial­ly in our dig­i­tal era. With respect to the Jew­ish tra­di­tion specif­i­cal­ly, many would also argue that it should be sub­ject to new inter­pre­ta­tions, espe­cial­ly giv­en the chal­lenges of modernity.
There is a val­ue to changes in any cul­tur­al tra­di­tion, par­tic­u­lar­ly in more lib­er­al pock­ets of the com­mu­ni­ty. Still, changes that are not ground­ed in the fab­ric of the cul­tur­al tra­di­tion can com­pro­mise impor­tant val­ues unique to the tra­di­tion. This con­cern with loss of val­ue and dilu­tion of the tradition's authen­tic­i­ty jus­ti­fies a per­spec­tive that embraces a degree of selec­tiv­i­ty with respect to imple­ment­ing changes in the tra­di­tion. This con­cern is par­tic­u­lar­ly rel­e­vant to the Jew­ish tra­di­tion, and the issue of how much change and evo­lu­tion it can tol­er­ate and yet retain its authen­tic­i­ty is one that has occu­pied much of the dis­course in cer­tain cir­cles of Jew­ish thought since the incep­tion of the Enlightenment.
Based on this per­spec­tive, I believe that Judaism is not a sci­ence but rather a form of art — a cul­tur­al prod­uct com­posed of law, wis­dom, and nar­ra­tive, all of which have been shaped by social forces over time and diverse geo­graph­ic space. My pas­sion for Judaism ignit­ed my work on The Myth of the Cul­tur­al Jew. And my desire to trans­mit this pas­sion to my chil­dren served as the impe­tus for its completion.
Rober­ta Rosen­thal Kwall earned her law degree from the Uni­ver­si­ty of Penn­syl­va­nia and received her under­grad­u­ate degree from Brown Uni­ver­si­ty. Cur­rent­ly she is com­plet­ing a Mas­ter's Degree in Jew­ish Studies.
Relat­ed Content:
Rober­ta Rosen­thal Kwall is the Ray­mond P. Niro Pro­fes­sor at DePaul Law School. A pro­lif­ic schol­ar whose work focus­es on Jew­ish law and cul­ture, Kwall lec­tures wide­ly at syn­a­gogues, Jew­ish orga­ni­za­tions, and law schools in Amer­i­ca and Israel. Her pop­u­lar writ­ings on top­ics of rel­e­vance to the Jew­ish com­mu­ni­ty have appeared in many of the most estab­lished Jew­ish media venues.