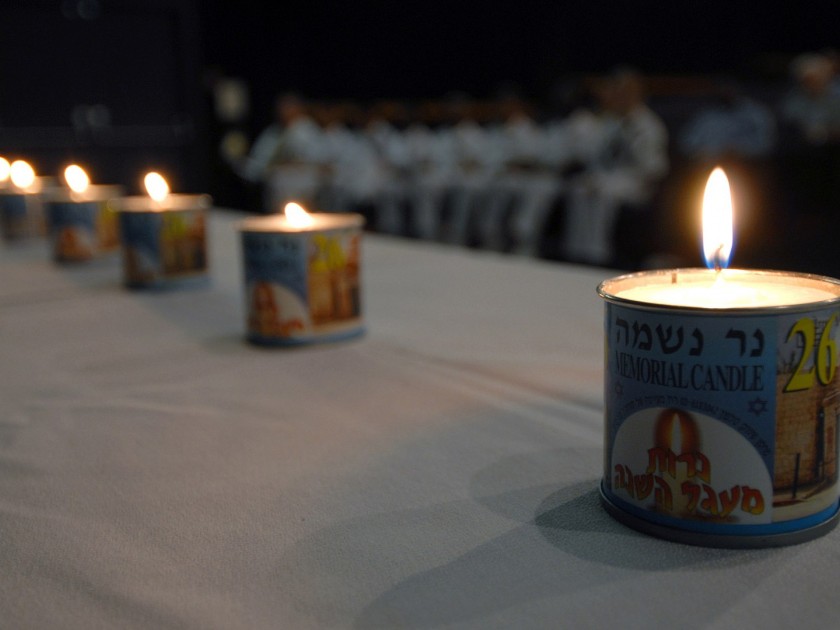 Soon I will be observ­ing the fourth yahrzeit for my sweet mom, Mil­lie. As the COVID-19 pan­dem­ic sweeps the globe, I find myself odd­ly feel­ing grate­ful near­ly every day that my moth­er is not alive to be expe­ri­enc­ing our cur­rent real­i­ty. The facil­i­ty where she lived was among the first to have con­firmed cas­es of the dis­ease in my area, and the image of my mom sit­ting alone in her room won­der­ing if she will be struck ill, is almost more than I can bear to contemplate.
I often think back to her yahrzeit last year, which fell dur­ing the time I was teach­ing a Jew­ish law course in Israel. I want­ed to recite the mourner's kad­dish for her, as I do each year in keep­ing with my reli­gious prac­tice. One might think that find­ing a minyan in Israel would be like find­ing a good bagel in New York, but the real­i­ty did not match up to my expec­ta­tion. I was stay­ing in close prox­im­i­ty to the IDC Radzyn­er Law School, on the beau­ti­ful beach in Her­zliya. Soon upon my arrival, I start­ed mak­ing calls to ensure that there would be a minyan close by that I could attend on the morn­ing of my mother's yahrzeit.
But giv­en the resort nature of this par­tic­u­lar area, vir­tu­al­ly all the minyan­im were small and lack­ing a mechitza, the divider sep­a­rat­ing men and women that is essen­tial for prayer with mixed gen­ders accord­ing to Jew­ish law in Ortho­dox prac­tice. Final­ly, I was able to con­nect by phone with a local rab­bi who asked me if I was Reform. I instinc­tive­ly switched to Hebrew as if to exhib­it a high­er lev­el of authen­tic­i­ty, ​"No… I'm tra­di­tion­al." He explained that there was one place in the area where I could go, and gave me direc­tions for a Sephardic minyan.
I want­ed to recite the mourner's kad­dish for her, as I do each year in keep­ing with my reli­gious practice.
The next morn­ing, I embarked on the fif­teen-minute walk to the des­ti­na­tion he described. I found the minyan but there was no mechitzah. What I found instead was an expe­ri­ence I will remem­ber for the rest of my life. Although I thought I had arrived ear­ly, the ser­vice was already well under­way. No one came over to me or hand­ed me a prayer book. Even though I know the morn­ing ser­vice well, the prayers seemed so dif­fer­ent and I could not rec­og­nize where they were in the service.
I soon noticed a young woman sit­ting alone, out­side the area where the ser­vice was being con­duct­ed. I sat next to her as there was no place else for me to be. I soon learned that she did not come there to pray.
The woman was dressed in tra­di­tion­al Sephardic cloth­ing that cov­ered her from head to toe despite the already warm sun on this Israeli morn­ing. She did not speak Eng­lish, so we con­versed in Hebrew. I learned that she had been abused by her hus­band and was alone with sev­en young chil­dren. She had a let­ter of endorse­ment from a local rab­bi, which she showed me. The let­ter was ask­ing for mon­ey on her behalf and she was there to col­lect shekels from the men after they con­clud­ed their prayers.
There we sat — two strangers from com­plete­ly dif­fer­ent worlds whom life had brought togeth­er for a few moments. She told me her sto­ry and asked about my mom. We con­nect­ed in a way that would have been vir­tu­al­ly impos­si­ble in just about any oth­er place and time. I gave her a con­tri­bu­tion for which she expressed pro­found grat­i­tude. She then asked for my mom's name, Malkah bat Yehu­dah v'Yette Dina, and then offered a bless­ing in my mom's name. At one point dur­ing our con­ver­sa­tion, she said — ​"lis­ten — they are say­ing kad­dish." I jumped to my feet and joined in the recita­tion of the prayer. A few min­utes lat­er, anoth­er kad­dish was said by the men. And again, I joined while stand­ing at my place.
There we sat — two strangers from com­plete­ly dif­fer­ent worlds whom life had brought togeth­er for a few moments.
After the ser­vice, the young woman stepped up to the area where the men had been pray­ing and asked for their help. I sat and watched for a few min­utes, and then depart­ed. I had not envi­sioned this remixed yahrtzeit while in Israel, but I also felt my mom's pres­ence more vis­cer­al­ly than at any oth­er time I had said kad­dish for her. I imag­ined her smil­ing at me with approval.
This year I will be say­ing kad­dish with a minyan on Zoom. Although my syn­a­gogue, like so many oth­ers, has adopt­ed Zoom for dai­ly and even Shab­bat ser­vices, I haven't been moti­vat­ed to pray on Zoom. Pray­ing on Zoom reminds me too much of my work life. But on this yahrtzeit, I will have no oth­er choice. We are now in a world where remixed Judaism is often our only option. I will say kad­dish on Zoom with oth­ers in my com­mu­ni­ty as I reflect on the won­der­ful woman who gave me life.
Rober­ta Rosen­thal Kwall is the Ray­mond P. Niro Pro­fes­sor at DePaul Law School. A pro­lif­ic schol­ar whose work focus­es on Jew­ish law and cul­ture, Kwall lec­tures wide­ly at syn­a­gogues, Jew­ish orga­ni­za­tions, and law schools in Amer­i­ca and Israel. Her pop­u­lar writ­ings on top­ics of rel­e­vance to the Jew­ish com­mu­ni­ty have appeared in many of the most estab­lished Jew­ish media venues.