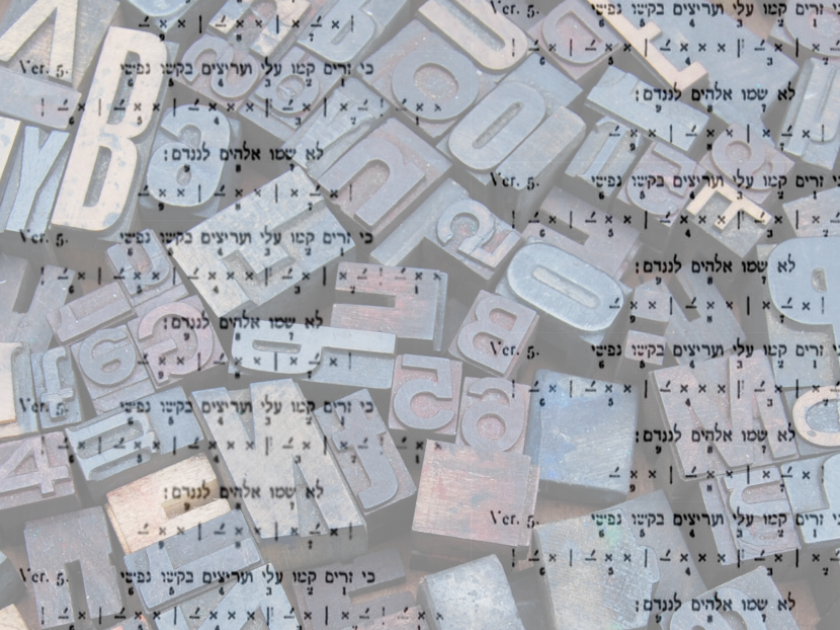 From medieval Spain to twen­ti­eth-cen­tu­ry Amer­i­ca, from Enlight­en­ment Europe to today's Israel, exam­ples abound of Hebrew poet­ry about the Hebrew lan­guage. With its remark­able his­to­ry, Hebrew has inspired a broad range of emo­tions: from love to out­rage, from rev­er­ence to alien­ation, and so many more. These sen­ti­ments have been con­veyed in a range of aes­thet­ic forms.
Per­haps none of these poems is more pas­sion­ate than ​"Ḥakukot otiy­otayikh" ("Engraved are Your Let­ters," 1946) by Abra­ham Regel­son of the Amer­i­can Tar­but Ivrit move­ment — though schol­ar Alan Mintz iden­ti­fies a roman­ti­cal­ly charged pre­cur­sor in the four­teenth-cen­tu­ry rhymed prose of Yehu­da Al Harizi's Sefer taḥke­moni. Both Regel­son and Al Harizi were besot­ted with love for Hebrew. Ruvik Rosen­thal's "'Al ḥet" ("For the sins", 2006) also cel­e­brates the Hebrew lan­guage, but with a tone more com­i­cal than exalt­ed; invok­ing the con­fes­sion­al prayers of Yom Kip­pur, Rosen­thal humor­ous­ly high­lights how con­tem­po­rary Hebrew speak­ers have sinned against the for­mal rules of Hebrew gram­mar. These texts all con­trast notably with Yona Wallach's ardent con­dem­na­tion of Hebrew gram­mar in her poem "'Ivrit" ("Hebrew," 1985). Incensed by its high­ly gen­dered nouns, verbs, and pro­nouns, she dis­miss­es Hebrew as a ​"sex mani­ac" who always ​"wants to know who's talk­ing" — male or female? — and who accord­ing to gen­der ​"dis­crim­i­nates for and against."
Oth­er poets have approached Hebrew war­i­ly, as a non-native tongue that can afford both oppor­tu­ni­ty and obsta­cles. Salman Masal­ha, a Druze cit­i­zen of Israel, express­es an explorato­ry view in ​"I Write Hebrew" (2004, trans. Vivian Eden). He declares,
I write in the Hebrew language
which is not my moth­er tongue, to
lose myself in the world. He who doesn't
get lost, will nev­er find the whole.
Pales­tin­ian Arab cit­i­zens of Israel have wres­tled with how much to embrace the lan­guage of the Jew­ish major­i­ty and yet main­tain a sense of their own integri­ty as mem­bers of a minor­i­ty group. Ayat Abou Shmeiss, for instance, writes that Ara­bic and Hebrew pull her in oppo­site direc­tions, although she is close to both. Jew­ish minori­ties, too, have voiced alien­ation. Erez Bit­ton — an immi­grant to Israel from Moroc­co — mixed Ara­bic and Hebrew in his poet­ry, and so from the 1970s on, bold­ly declared a place for Mizrachi expres­sion with­in the idiom of the nation.
Erez Bit­ton — an immi­grant to Israel from Moroc­co — mixed Ara­bic and Hebrew in his poet­ry, and so from the 1970s on, bold­ly declared a place for Mizrachi expres­sion with­in the idiom of the nation.
His poem ​"A Pur­chase on Dizen­gov" ("Shir kni'ah bedi­zen­gov") fea­tures a speak­er of North African back­ground who opens a store in the upscale cen­ter of Tel Aviv. The shop­keep­er relates how he inter­acts with his Ashke­nazi cus­tomers in ​"clean words/​the most up-to-date Hebrew"/Yes, sir/​Welcome, sir". The sar­casm in these lines is dis­tinct­ly sub­ver­sive. The use of stan­dard, for­mal Hebrew — in its exag­ger­at­ed obse­quious­ness — expos­es the con­de­scen­sion that estab­lished Israelis had assumed toward Mizrachi new­com­ers. Tsipi Keller's apt trans­la­tion of the poem's title encap­su­lates that point. The word ​"pur­chase" means acqui­si­tion, but it can also refer to secur­ing a hold on some­thing; for exam­ple, find­ing a foothold on slip­pery ground. Bit­ton, through his poet­ry, stakes out a claim of belong­ing. He declares a right to be part of Tel Aviv, along with the vet­er­an fre­quenters of expen­sive cafes. Note, too, that the verb liknot, to buy or acquire, in Hebrew slang can also mean to accept or buy into. The speak­er here buys into the sys­tem — the pre­vail­ing norm of def­er­ence to the Ashke­nazi cus­tomers — but the poem at the same time protests against and under­mines the sta­tus quo. Indeed, at the end of the poem, the speak­er announces that he prefers to return to his own neigh­bor­hood and ​"to the oth­er Hebrew," which has pro­nun­ci­a­tions and locu­tions famil­iar to him and his community.
While Bit­ton writes a poem of resis­tance, Tuvia Rueb­n­er writes of over­com­ing his own per­son­al resis­tance to Hebrew. Ruebner's poem "'Ivrit, ahu­vati" ("Hebrew, My Love," 2011) opens by stat­ing, ​"It's been a life­time togeth­er — 50 or 60 years." This is a late poem that acknowl­edges the poet's delayed deci­sion to write in his adopt­ed lan­guage. Born in Slo­va­kia in 1924, Rueb­n­er made aliyah in 1941 yet for a num­ber of years pub­lished in Ger­man. His first book of Hebrew poems appeared only in 1953. In ​"Hebrew, My Love" ambiva­lence toward Hebrew emerges decid­ed­ly in the sec­ond stan­za, where the poet describes his rela­tion­ship with the lan­guage as that of lovers who have turned their backs on one anoth­er. They feel an unde­ni­able tug of mutu­al attrac­tion, but they have nev­er been ful­ly unit­ed. The third stan­za then resolves those dif­fi­cul­ties with a series of state­ments that defy lit­er­al trans­la­tion. Here is Rachel Tzvia Back's very help­ful ren­di­tion of some lines that beg to be explained into English:
I con­ju­gat­ed at your will, I accept­ed your gram­mat­i­cal sentences
I queried your roots,
I stut­tered, became silent, I begged and whispered
In the orig­i­nal, ​"I con­ju­gat­ed at your will" is stat­ed as ​"nati­ti line­tio­tayikh"—words that­could refer to gram­mar, but that could also sug­gest acqui­esc­ing to the whim of anoth­er. They might be ren­dered as, ​"I was inclined to do what you did, I bent to your will." The next state­ment, ​"I accept­ed your gram­mat­i­cal sen­tences" appears in Hebrew as ​"kibalti et din gze­ro­tayikh." This phrase plays on the def­i­n­i­tion of gizrah as refer­ring to the declen­sion of nouns but also to legal decrees. For this rea­son, the translator's choice to use the Eng­lish word ​"sen­tences" proves felic­i­tous; it sub­tly evokes con­no­ta­tions from the legal realm, con­jur­ing up the notion of pun­ish­ing dic­tates or judg­ments. The poem there­by hints that Hebrew metes out harsh dis­ci­pline on new­com­ers who try to learn it. As for the next line, the word ​"roots" works well in both Hebrew and Eng­lish; it sug­gests a car­ing lover who inquires into the her­itage, his­to­ry, or per­son­al ori­gins of the beloved. In the orig­i­nal, how­ev­er, the ref­er­ence to roots also points to the verb sys­tem of Hebrew based on three-let­ter shorashim.
The poem there­by hints that Hebrew metes out harsh dis­ci­pline on new­com­ers who try to learn it.
Fol­low­ing that, the third line in the stan­za high­lights stut­ter­ing and so con­veys the inad­e­qua­cies the suit­or feels. In Hebrew the line takes on anoth­er dimen­sion; its repet­i­tive sounds—gimgamti, damamti, bikashti, laḥashti—echo the Yom Kip­pur con­fes­sion­al prayer Asham­nu ("we have sinned"). The string of verbs makes for gen­tle par­o­dy, wry­ly sug­gest­ing the short­com­ings of a poet who feels he is guilty of not doing jus­tice to the Hebrew lan­guage. The final lines of the poem pro­vide some­thing of a hap­py end­ing. The lovers have reached a new state of union; the voice of Hebrew issues from the speaker's own throat. This con­clu­sion sug­gests the lovers now speak in uni­son, and so the poem invites us to return to the first stan­za and reread the open­ing, ​"It's been a life­time togeth­er." Those words pro­vide an effec­tive trans­la­tion of ​"Ḥay­im shlemim beyaḥad" — they are accu­rate, they intro­duce a con­ver­sa­tion­al tone, and they set the stage for a trip down mem­o­ry lane. But ḥay­im shlemim could also be under­stood as a ​"whole life" or a ​"full life", not just as ref­er­ence to an extend­ed peri­od of shared experience.
Alto­geth­er, Ruebner's love of Hebrew is hard-won, even a bit tor­tured. The poem's dec­la­ra­tion of feel­ing is not like the effu­sive ado­ra­tion of Hebrew expressed by the Amer­i­can poet, Regel­son. Nei­ther, though, does it resem­ble the despair of Enlight­en­ment writer Yehu­da Leib Gor­don, who famous­ly lament­ed the demise of Hebrew in his 1871 poem ​"For Whom Do I Toil?" There, Gor­don plain­tive­ly won­dered if he might be ​"the last of Zion's poets," writ­ing for a hand­ful of remain­ing Hebrew read­ers. As it turned out, of course, he was far from the last. Poets till this day con­tin­ue to cre­ate in Hebrew — an extra­or­di­nar­i­ly dynam­ic lan­guage. In its revi­tal­ized, mod­ern stage, Hebrew has found excep­tion­al new vibran­cy in writ­ten works by indi­vid­u­als from many back­grounds and from geo­graph­i­cal­ly diverse loca­tions. Any num­ber of Hebrew poems, in addi­tion to the ones men­tioned here, high­light the very medi­um in which they were composed.
Nao­mi B. Sokoloff is a pro­fes­sor of Hebrew and com­par­a­tive lit­er­a­ture at the Uni­ver­si­ty of Wash­ing­ton. She is co-edi­tor with Nan­cy E. Berg of What We Talk About When We talk About Hebrew (And What It Means to Amer­i­cans), win­ner of a 2019 Nation­al Jew­ish Book Award.