Darin Strauss​'s most recent book, Half a Life: A Mem­oir
, is now avail­able. He will be blog­ging all week for the Jew­ish Book Coun­cil and MyJew­ish­Learn­ing.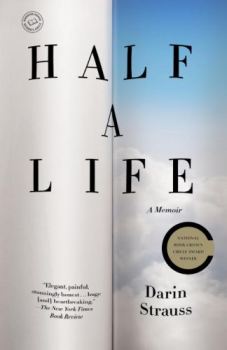 Faith is a pri­vate issue. At least, I con­sid­er it to be one. (Try telling that to Tea Par­ty evan­gel­i­cals, though…) I con­sid­er myself a Jew­ish writer — even if my char­ac­ters fre­quent­ly are not Jew­ish — in the same way, I guess, that I con­sid­er myself a Jew­ish man, even though I don't often attend shul.
In anoth­er post I'll talk about my books (par­tic­u­lar­ly Chang & Eng, a nov­el about the famous and Asian con­joined twins, and Half a Life, my non-fic­tion book about me). Here, today, I want to dis­cuss faith.
I felt sheep­ish this week when I admit­ted to some­one that I pray each night. My prayer is impro­vised — though like some stan­dard jazz per­for­mance, the improv hap­pens with­in pret­ty strict para­me­ters — and asks for noth­ing. It wasn't always this way.
I prayed every night for as long as I can remem­ber — at least since my Israel bar-mitz­vah some 27 years ago. But until recent­ly I would ask G‑d for favors. Noth­ing extrav­a­gant, nor even of a mate­r­i­al nature. But my prayer was a home­made mix of thanks and request. I didn't use a stan­dard, Jew­ish prayer-book prayer because 1) I don't speak Hebrew, and 2) it seems to me that if one doesn't know the mean­ing of what one is say­ing, that igno­rance is an impen­e­tra­ble bar­ri­er between one­self and G‑d. Now, I could've learned Hebrew, sure. But it seemed (and I'll admit this may have been my lazi­ness) that talk­ing to G‑d direct­ly was a bet­ter way of express­ing my own per­son­al feel­ings of belief and appeal and doubt and gratitude.
But recent­ly, as my own com­pre­hen­sion of my faith increased, I real­ized there was much I didn't believe. Or, not that I didn't believe, exact­ly, but that I had seri­ous doubts about a few things. For exam­ple, it struck me as unlike­ly that G‑d involves Him­self with the dai­ly minu­ti­ae of every sin­gle life on the plan­et. That an omnipo­tent cre­ator of life would find him­self shack­led with that duty seemed improb­a­ble — it struck me as beneath Him. Also, how to explain the con­flict­ing nature of some prayers? E.g., What to do when a mil­lion peo­ple pray for one thing, and anoth­er mil­lion its oppo­site? And what about not only the Holo­caust, but every year's untold tsuna­mi and earth­quake vic­tims? Hadn't they prayed? And sick chil­dren — etc.
All the same, I believe in G‑d, and also that Judaism is clos­est to what my con­cep­tion of G‑d is — not to men­tion I have a steep cul­tur­al attach­ment to this reli­gion and her peo­ple. And so I decid­ed to keep on pray­ing, but just not to ask G‑d for any­thing. The thing is, I tru­ly am pro­found­ly thank­ful to G‑d for all the bless­ings I have received in my life, begin­ning with the gift of Life itself. Now, whether my not ask­ing for good things to hap­pen to me is sub­con­scious­ly intend­ed to win me brown­ie points with G‑d is some­thing I can't answer. But I do feel the need to give thanks, and also not to feel hyp­o­crit­i­cal by ask­ing for things when I have doubts that G‑d would answer me.
That is not to say I haven't bro­ken my lit­tle rule; that I haven't tak­en up the man­tle of hypocrisy now and again. But I do so for my 3‑year-old son. (He has been diag­nosed with Rheuma­toid Arthri­tis, and I have prayed, and will con­tin­ue to pray, for his health and com­fort.) It seems to me a lit­tle hypocrisy in the ser­vice of father­hood may get a bit of a divine pass. But who knows.
This home­made rit­u­al feels right for me; I'm not say­ing any­one else should embrace it. I hope oth­ers would give me the same wide faith devo­tion­al birth.
Darin Strauss is the author of Half a Life
, More Than It Hurts You
, Chang and Eng
, and The Real McCoy
. He will be blog­ging here all week.
Darin Strauss's most recent book, The Queen of Tues­day, came out in August 2020 and was a Wash­ing­ton Post best book of the year, among oth­ers. He's also the author of the best­selling nov­els Chang & Eng, The Real McCoy, More Than It Hurts You, the NBCC-win­ning mem­oir Half a Life, and a best­selling com­ic-book series, Olivia Twist. These have been New York Times Notable Books; and Newsweek, Los Ange­les Times, San Fran­cis­co Chron­i­cle, Ama­zon, Chica­go Tri­bune and NPR Best Books of the Year, among others.
The recip­i­ent of a Guggen­heim Fel­low­ship, a Nation­al Book Crit­ics Cir­cle Award, an Amer­i­can Library award, and numer­ous addi­tion­al prizes, Strauss has been trans­lat­ed into four­teen lan­guages and pub­lished in nine­teen coun­tries. In addi­tion, Darin has col­lab­o­rat­ed on screen­plays with Gary Old­man and Julie Tay­mor, and is a Clin­i­cal Pro­fes­sor of Fic­tion at New York Uni­ver­si­ty. He is cur­rent­ly a final­ist for the Joyce Car­ol Oates Award.