Jami Atten­berg​'s most recent nov­el, The Mid­dlesteins, is now avail­able. Her oth­er books include: Instant Love, The Kept Man, and The Melt­ing Sea­son. She will be blog­ging here all week for Jew­ish Book Coun­cil and MyJew­ish­Learn­ing.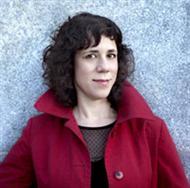 I have very dis­tinct mem­o­ries about grow­ing up as part of what was then a very small Jew­ish com­mu­ni­ty in Buf­fa­lo Grove, IL. Today my home­town has a big Jew­ish pop­u­la­tion, as does the rest of the North Shore. But at the time, there was only one oth­er Jew­ish fam­i­ly on the block, and I don't recall them being par­tic­u­lar­ly invest­ed in their Judaism. It was on the Atten­bergs to rep­re­sent.

Just what every child wants. To rep­re­sent their reli­gious dif­fer­ences.

I did get in a few fights in school. Kids threw around anti-Semit­ic slurs, not know­ing nec­es­sar­i­ly what they meant. It was prob­a­bly just some­thing they picked up some­where, as kids do. In third grade a girl called me a kike in gym class, and I chal­lenged her to a fight after school. We met in the soc­cer field, sur­round­ed by oth­er chil­dren. I was chub­bier than her, so I just sat on her and sort of slapped her around the head. I was even­tu­al­ly declared the win­ner. A few years ago she friend­ed me on Face­book, and I declined.

The hol­i­day sea­son was the tough­est, I think, because there so many dif­fer­ences between how we cel­e­brat­ed our hol­i­days and every­one else cel­e­brat­ed theirs. I remem­ber being banned from oth­er hous­es as a younger child dur­ing the win­ter hol­i­day sea­son; I was the only one who didn't believe in San­ta Claus, and I was ruin­ing everyone's Christ­mas.

Still, in all of this, I devel­oped a sense of pride in being a Jew. If we were dif­fer­ent, weren't we at least a lit­tle bit spe­cial?

When my par­ents first moved to Buf­fa­lo Grove, the pop­u­la­tion was small in gen­er­al, and while there were plen­ty of Jews in say, my father's home­town of High­land Park, about a half hour east of us, they just hadn't found their way out to us yet.

I called my dad recent­ly and asked him about it.

​"There was one oth­er Jew­ish fam­i­ly on the block, maybe?" I said.

​"You have to remem­ber that there were only six to eight thou­sand peo­ple in Buf­fa­lo Grove," he said.

​"It was very small," I agreed.

​"When you con­sid­er what per­cent­age of the pop­u­la­tion is Jew­ish any­how, you didn't have a lot. And we were one of the first forty fam­i­lies in our syn­a­gogue – we joined in the sec­ond year of the syn­a­gogue. Every­body who was in the syn­a­gogue at that time was well aware of that par­tic­u­lar prob­lem in Buf­fa­lo Grove."

I pic­tured a bunch of Jews in the 1970s gos­sip­ing about The Buf­fa­lo Grove Prob­lem.

​"By the way, Pat­ton Dri­ve has not changed," he said. ​"There's still only two or three Jew­ish fam­i­lies."

I don't know why I find that com­fort­ing, but I do.
Vis­it Jami's offi­cial web­site here.
Jami Atten­berg is the author of three books of fic­tion:
Instant Love
,
The Kept Man
, and
The Melt­ing Sea­son
. Her fic­tion and essays have been wide­ly anthol­o­gized, and she has con­tributed to
The New York Times
,
Salon, and numer­ous oth­er pub­li­ca­tions. Her fourth book, The Mid­dlesteins, was pub­lished in Octo­ber

2012

by Grand Cen­tral Pub­lish­ing. A Chica­go native, she lives in Brook­lyn,

NY

.