Ear­li­er this week, Jami Atten­berg wrote about grow­ing up Jew­ish in a small town. She has been blog­ging here all week for Jew­ish Book Coun­cil and MyJew­ish­Learn­ing.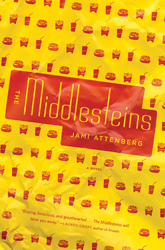 My moth­er was in town for a few days that sum­mer, babysit­ting her grand­daugh­ter (and my niece), while she had some time off between camp and school start­ing again.

One day I picked the two of them up and drove them to Brighton Beach, which I pre­fer over Coney Island most­ly because I like being around all the Rus­sians, our peo­ple a few gen­er­a­tions back, but also because it's eas­i­er to find park­ing there than Coney Island.

On the beach the man sell­ing sodas from a cool­er flirt­ed with my moth­er. She's still got it, I thought, which I found encour­ag­ing in a nar­cis­sis­tic way. We slathered our­selves with sun­tan lotion and com­mit­ted to a time lim­it of expos­ing our­selves to can­cer­ous rays. We squint­ed in the sun.

When­ev­er I have these moments, when it's just the three of us, the three gen­er­a­tions of women, I like to ask my moth­er ques­tions about our fam­i­ly his­to­ry. It's good to pass on sto­ries. That's what my whole life is about now, pass­ing on sto­ries to the next per­son.

That day she told us about a fam­i­ly mem­ber that had escaped Russ­ian mil­i­tary ser­vice by punc­tur­ing his eardrums. This weird tale of clev­er­ness and cow­ardice did not faze me. In fact, it delight­ed me. I plucked the detail from the air and put it into the book I was writ­ing the very next day.

My moth­er and my niece wan­dered off toward the water and jumped the waves, and then lat­er it was just my niece and myself. The both of us squealed along with the oth­er Brook­lynites when the waves crashed around us. My moth­er watched us. I held my niece's hand. We were fearless.
Jami's most recent book, The Mid­dlesteins, is now avail­able. Vis­it her offi­cial web­site here.
Jami Atten­berg is the author of three books of fic­tion:
Instant Love
,
The Kept Man
, and
The Melt­ing Sea­son
. Her fic­tion and essays have been wide­ly anthol­o­gized, and she has con­tributed to
The New York Times
,
Salon, and numer­ous oth­er pub­li­ca­tions. Her fourth book, The Mid­dlesteins, was pub­lished in Octo­ber

2012

by Grand Cen­tral Pub­lish­ing. A Chica­go native, she lives in Brook­lyn,

NY

.