Orig­i­nal­ly from Lon­don, Eng­land, Rab­bi Lawrence Hajioff grad­u­at­ed with hon­ors in polit­i­cal sci­ence from Man­ches­ter Uni­ver­si­ty. After work­ing for MTV in news pro­duc­tion, and win­ning the nation­al com­pe­ti­tion ​'Jew­ish Stand-Up Come­di­an' of the Year, Rab­bi Hajioff trav­eled to study in Israel and then Mon­sey to receive his rab­bini­cal ordi­na­tion. His book, Jew Got Ques­tions?, is now avail­able. He will be blog­ging here all week for Jew­ish Book Coun­cil's Vis­it­ing Scribe series.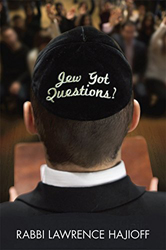 Books don't grow on trees. A close asso­ciate of mine had start­ed a shirt com­pa­ny and had crowd­fund­ed his new ven­ture. He sug­gest­ed I try doing the same for my book. I knew very lit­tle about crowd­fund­ing, but a stu­dent of mine had intro­duced me to a young Jew­ish guy who had found­ed Indiegogo, a high­ly suc­cess­ful crowd­fund­ing platform.
I launched the cam­paign and it was huge­ly suc­cess­ful. I man­aged to raise all the funds I need­ed to hire the best edi­tors, design­ers and pro­fes­sion­als to make my book a show­stop­per. Here are five rea­sons you should crowd­fund your next book.
1) To Cre­ate Buzz
One of the best things a crowd­fund­ing cam­paign does is cre­ate buzz and excite­ment for your upcom­ing book. As any author will ver­i­fy, we write books to be read. As a first time author, no one knew I was writ­ing a book except the few peo­ple I man­aged to cor­ner in syn­a­gogue or at work, and even they were a lit­tle sick of hear­ing about my book project again and again. A good crowd­fund­ing cam­paign engages peo­ple with whom you don't have reg­u­lar con­tact, mak­ing them aware that you are writ­ing a book.
2) To Raise Money
I nev­er real­ized how much mon­ey was need­ed to write and pub­lish a book. Crowd­fund­ing brought in the funds I need­ed from peo­ple who I would nev­er nor­mal­ly ask for spon­sor­ship. We all have an inner cir­cle of close friends we can call at a momen­t's notice. We also have an out­er cir­cle of peo­ple who know us and maybe keep up with us via Face­book, Twit­ter, Insta­gram, or oth­er social media chan­nels. Good fundrais­ers tell you that peo­ple give mon­ey to peo­ple not caus­es. If you have a rela­tion­ship with some­one, they may want to help you be suc­cess­ful just because they like you, appre­ci­ate your friend­ship, and want to see you be successful.
3) To Get Peo­ple Involved in the Book
Peo­ple like to be involved in cool projects. As a col­lege pro­fes­sor and as a pro­fes­sion­al work­ing with the alum­ni com­mu­ni­ty of Birthright Israel, I had a large net­work of men and women I had built over the years. These were peo­ple who had been in my class­es, has been with me to Israel or Poland, maybe they had been to a Fri­day night din­ner I had host­ed. The cam­paign allowed to me reen­gage with peo­ple I had not seen in months or even years.
Peo­ple were giv­en ​"perks" depend­ing on how much they con­tributed. For $36 they received a copy of the book. For $100 I includ­ed the con­trib­u­tor's name in the pref­ace to the book. It's incred­i­ble how many peo­ple appre­ci­ate their name being includ­ed in a book! For high­er amounts I added per­son­al Torah learn­ing ses­sions and even a chance for some­one to host me in their com­mu­ni­ty as a ​'schol­ar in res­i­dence.' You can tai­lor your perks based upon what you do and what you can offer.
4) To Increase Readership
Social media is inun­dat­ed with with lots of great projects and caus­es. I want­ed my books to be one of them. As more peo­ple see your cam­paign video on Face­book, Insta­gram, Twit­ter, and via email, the greater the chance they'll want to read it whether they con­tributed or not. Mak­ing a video about your book works won­ders and of course it will allow peo­ple to under­stand why you wrote the book and how impor­tant the book is to you in a fun and dif­fer­ent way. If the video is well made it could even take on a life of its own and pos­si­bly go viral.
5) To Have Fun!
Writ­ing a book is a long and labo­ri­ous task. Crowd­fund­ing lets you have fun and feel appre­ci­at­ed every step of the way!
Rab­bi Hajioff is the edu­ca­tion­al direc­tor of Birthright Israel Alum­ni in Man­hat­tan, New York.
Relat­ed Content: