Ear­li­er this week, Lisa Alcalay Klug wrote about a sur­pris­ing dis­cov­ery in Nach­laot and about how her work is informed by her father's expe­ri­ences dur­ing the Holo­caust. She has been blog­ging here all week for Jew­ish Book Coun­cil and MyJew­ish­Learn­ing.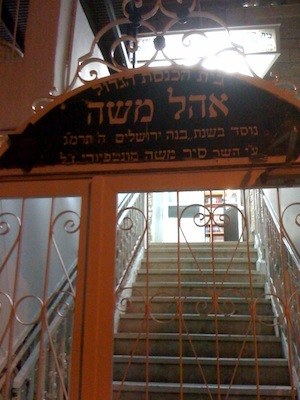 Soon after learn­ing my late grandmother's fam­i­ly lived in Nach­laot, I accept­ed an invi­ta­tion for Shab­bat din­ner from sweet friends, Mot­tle and Batya Wolfe. Spend­ing Shab­bat in Nach­laot def­i­nite­ly felt like the most fit­ting way to hon­or my new­ly dis­cov­ered roots. When I shared how much I want­ed to spend more time where my grand­moth­er grew up, the Wolfes seemed to read my mind and invit­ed me to their seder. I was so touched by their invi­ta­tion, but Passover was four months away. I was still tour­ing for Cool Jew in what was fast becom­ing the Ener­giz­er Bun­ny of book tours. It just kept going and going… Could I real­ly return so soon?
At my next stop, Lim­mud UK, the answer effort­less­ly appeared. Sev­er­al par­tic­i­pants sug­gest­ed I present at Lim­mud Berlin and Lim­mud Ams­ter­dam, both slat­ed for May. I could fly ear­ly to Europe, add on a trip to Israel for Passover and return in time for both con­fer­ences. I would bare­ly be home between now and then but I was used to that (!) and Passover in Nach­laot was clear­ly where I was meant to be… It just kept get­ting val­i­dat­ed. Was it the luck of Cool Jew, my grand­moth­er's orches­tra­tions on high or some­thing else at work?
The time flew by. Final­ly, I land­ed at Mot­tle and Batya's seder. They urged me to share my sto­ry again with their guests. I had long known my grand­moth­er was born in Israel but I didn't know she grew up in Nach­laot, near Ohel Moshe Street, where it meets Rehov Aryeh Levin, named for the great tzad­dik of Jerusalem. The sto­ry kept growing…
In two weeks, it would be the 28th of Nis­san, des­ig­nat­ed by the Hebrew let­ters kaf-chet, which form the word koach/​strength. The day is the anniver­sary of my father's lib­er­a­tion day from Buchen­wald, the yahrzeit of my grand­moth­er whose por­trait I found dis­played in Nach­laot and my Hebrew birth­day. I planned to spon­sor a Shab­bat kid­dush in mem­o­ry of my grand­moth­er, in hon­or of my father and as act of grat­i­tude on my birth­day. I had no idea where, but the less I planned, it seemed, the more the Uni­verse provided.
One after­noon dur­ing Passover, I went to Gan Sach­er to meet friends. When they called to can­cel, I real­ized I was so close to Nach­laot, I thought I'd ​"vis­it" my fam­i­ly's por­trait in the same ways oth­ers vis­it graves. I nav­i­gat­ed Nach­laot's twists and turns, delight­ed when I found it. I stayed for a few moments, mar­veling, again, over the dis­cov­ery, real­iz­ing she and my great-grand­par­ents and many oth­er rel­a­tives had stood here, too, long before images were ever embed­ded in these stone walls. As I was leav­ing, I was stunned to find the gate of an adja­cent syn­a­gogue slight­ly open. With­out hes­i­ta­tion, I wan­dered through the gate and climbed the stairs, then stood silent on a land­ing. Through a glass door, I could see a group of men engaged in study. One stood up, approached the door and gave up a thumbs up, motion­ing me upstairs. I nod­ded. I want­ed to see what I could find out about the por­traits, but if min­cha, the after­noon prayers, were part of the plan, ​"Okay," I thought, ​"I'll roll with it."
We climbed a nar­row set of stairs out­doors to a heavy door he unlocked. I con­tin­ued alone, up anoth­er nar­row set of stairs indoors to the ezrat nashim. The women's bal­cony offered a spec­tac­u­lar view of an elab­o­rate Sefar­di sanc­tu­ary. The mag­nif­i­cent ceil­ing was paint­ed blue with gold stars. It was so close I could prac­ti­cal­ly touch it. The imag­i­nary sky met grace­ful ren­der­ings of the twelve tribes. Ori­en­tal rugs sur­round­ed a raised bima and vari­a­tions on an elab­o­rate paro­chet, an embroi­dered vel­vet cur­tain, cov­ered sev­er­al spots along the walls. My favorite dec­o­ra­tion of all was the large red neon crown adorned with the four let­ters of the tetra­gram­ma­ton. I laughed. It was Impe­r­i­al mar­garine meets Cool Jew.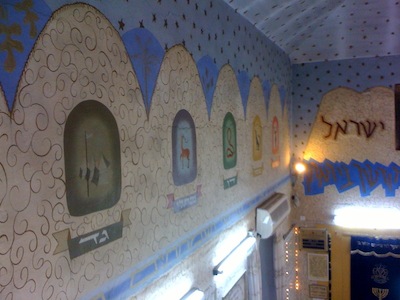 With­in a few min­utes, prayers began in the Mizrachi nusach; even­tu­al­ly two women and young girl joined me. Through the win­dow behind us, the sun set over Jerusalem. Final­ly, after maariv, I retraced my path down­stairs and cau­tious­ly wait­ed until some­one motioned me through the glass doors. I asked in Hebrew for the rab­bi. His name was Rav Moshe and he was delight­ed to hear I was relat­ed to those ​"embed­ded in the walls." When I explained I want­ed to com­mem­o­rate my grandmother's yahrzeit on an upcom­ing Shab­bat, he cor­rect­ed me with the cor­rect Sefar­di ter­mi­nol­o­gy. He invit­ed me spon­sor the azkara on the appro­pri­ate week­day. This charm­ing shul, the Great Syn­a­gogue of Ohel Moshe, was the only house of wor­ship with a sec­tion for woman dur­ing my grandmother's child­hood. So this, he said, was it: her shul. I was so moved and so sur­prised. Like a new stan­za of ​"Dayenu," I would­n't have been there if my friends had­n't can­celed, or if I had­n't arrived in time for ser­vices, or returned for Passover, or gone to Lim­mud, or found the por­trait on dis­play, or opened David's email, or met him at Jew­li­cious, or writ­ten Cool Jew…
Days lat­er, in near­by Mahane Yehu­da, I shopped for tra­di­tion­al items served at an hazkara. Mezonot/​grains (crack­ers and cook­ies), pri haetz/​fruit of the tree (dates), pri haadama/​fruit of the ground (peanuts) and sh'hakol, which loose­ly trans­lates as ​"everything"not cov­ered by anoth­er bless­ing (drinks). That day, Rav Yitzchak, who searched with me for the image of the unknown Alcalays and many oth­er dear friends showed up.
We dav­ened min­cha and maariv and read chap­ters of the Zohar to ele­vate the soul of my grand­moth­er, Yehu­dit bat Yitzchak. After­wards, the shul reg­u­lars and my friends, said bless­ings over the refresh­ments and we drank l'chaim to my grand­moth­er's mem­o­ry, my father's long life, every­one present and my birth­day. I retold, once again, the sto­ry of dis­cov­er­ing my grandmother's roots in the neigh­bor­hood and the unusu­al uni­fi­ca­tion of my Sefar­di grand­moth­er, my Ashke­nazi father and my own entry into this world.
I felt then, as now, grate­ful for the Prov­i­dence of mark­ing that moment in Jerusalem, for our con­nec­tions to each oth­er and Above, and by the abun­dance of per­son­al val­i­da­tion, has­gacha pratit, that con­tin­ues to unfold… It's there. Always. Some­times, it is so open­ly revealed. And some­times, we see it only when we remem­ber to look.
Lisa Alcalay Klug (lisak​lug​.com) is an award-win­ning jour­nal­ist, author, speak­er and media coach. She is cur­rent­ly at work on a mem­oir. This post is a part of a blog tour cel­e­brat­ing the release of her new book, Hot Mamalah: The Ulti­mate Guide for Every Woman of the Tribe. Learn more about the blog tour at https://​www​.face​book​.com/​e​v​e​n​t​s​/​5​0​5​1​9​6​3​8​9​4​9​8488/. Join her Smokin' Hot Mamalah Book Launch Give­away val­ued at $300 at www​.Mod​ern​Tribe​.com/​m​a​malah.
Award-win­ning jour­nal­ist Lisa Alcalay Klug has report­ed for the
New York Times, For­ward, Jerusalem Post, Asso­ci­at­ed Press,

JTA

, Los Ange­les Times
and Israel Broad­cast Author­i­ty
TV
 — among many oth­er out­lets. Her best­selling book,
Cool Jew: The Ulti­mate Guide for Every Mem­ber of the Tribe
, was a Nation­al Jew­ish Book Awards Final­ist. A humorist, slam poet and pop­u­lar pub­lic speak­er, Lisa has pre­sent­ed at more than
100
venues through­out North Amer­i­ca, Europe and Israel.