Lisa Alcalay Klug​

'

s most recent book,
Hot Mamalah: The Ulti­mate Guide for Every Woman of the Tribe
, is now avail­able. She is blog­ging here today for Jew­ish Book Coun­cil and MyJew­ish­Learn­ing
.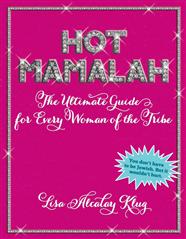 It's that time of year…chocolates, flow­ers, jew­el­ry. Sap­py adver­tise­ments and red and pink store dis­plays. There are reminders every­where. It's Valentine's Day.
Sure, it's a bit com­mer­cial (under­state­ment) but it's all good. We know that. It's beau­ti­ful to cel­e­brate love.
But what about if you don't have a spe­cial some­one or even your favorite choco­late already lined up for a great Thurs­day night? (Or per­haps you have a lov­ing com­pan­ion but you've some­how lost your­self in the rela­tion­ship.) What­ev­er the rea­son, this day, with its cards and bal­loons, can­dy hearts and kitsch, is turn­ing your mood fifty shades of a rather abysmal gray. Instead of bring­ing you a great sense of joy and inti­ma­cy, this so-called cel­e­bra­tion feels more about absence or loss. And over the course of a day that seems to have some­how over­looked your very own pre­cious self, you find your­self think­ing, ​"I don't have a valentine."
To which we respond, what do you mean you don't have a valentine?
Of course you have a valentine.
Walk right into the bath­room. Grab a hold of the sink and look up. Yours will be right there wait­ing, look­ing you straight in the punim.
Even if you feel very alone at times, you always have a valen­tine. It's you.
That's right. No mat­ter who is or isn't in your life, you are your own ulti­mate bash­ert.
And nat­u­ral­ly, you're fab­u­lous. How lucky you are to have you for a valentine.
Because when you're very your own valen­tine, you can cel­e­brate any way you want.
How roman­tic it would be to buy your­self one per­fect red rose. Not a whole bou­quet. Just one per­fect­ly closed bud rep­re­sent­ing your love for your­self. Take this vul­ner­a­ble dar­ling home and place it in a vase. All it needs is just a lit­tle bit of water.
Over the course of a few hours, watch your flower bloom as a sym­bol of you open­ing up to the undy­ing expres­sion of your own self love, show­ing your­self the great­est kind­ness, com­pas­sion and under­stand­ing, no mat­ter what life brings.
Choose a song that opens your heart, and helps you dream a lit­tle dream, and dance with your­self. That's right, ignite your own boo­gie fever. Don't wor­ry what it looks like. There are no rules here. You don't even have to watch.
Yes, it's scary to be vul­ner­a­ble. Even to your­self. But it's also easy to be your own best valen­tine, the kind that promis­es extreme self care, extreme self empa­thy, extreme self respect. Because when you tru­ly love your­self, every day is Valentine's Day.
So when you're ready, grab a pen and some paper, or maybe even some bro­ken crayons, and make your­self a good old fash­ioned valen­tine. That's right, make some vows to your­self, to be true to your­self, and be your most authen­tic self. If you find your­self sud­den­ly tongue tied, feel free to bor­row these ​"Mar­riage Vows to Me" tak­en straight from the pages of my book, Hot Mamalah.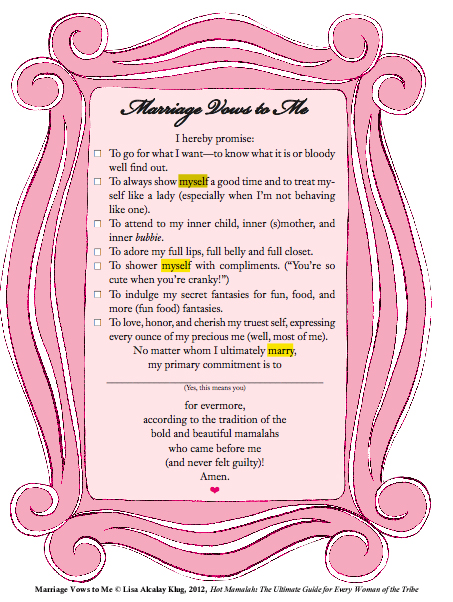 It's true, Valentine's Day is a cel­e­bra­tion of sweet­hearts. Of rela­tion­ships. Of your choco­late tooth. We're not deny­ing that. But that does­n't mean it can't also be about cel­e­brat­ing the sweet­ness of your own life and the most inti­mate rela­tion­ship you always have, the one with your­self. Isn't it about time you com­mit to love, hon­or and cherish?
Now go on. Get real with your­self and bring a lit­tle romance to your game. Valentine's Day with your­self is EVERY day, forevermore.
That cer­tain­ly sounds like a great romance to me.
Mazal tov, now you're a hot mamalah!
How do you know you're a hot mamalah?
Because you don't have to work hard to be hot. You just have to be you. Your most authen­tic self is the hottest thing of all.
How can you be sure you're a hot mamalah?
Because a hot mamalah loves and respects herself.
How can you be pos­i­tive­ly cer­tain you're a hot mamalah?
Because a real mamalah is her own best valen­tine, today and every day.
And when you wake up the morn­ing after, how do you remem­ber you're a hot mamalah?
You. Just. Do.
Hap­py Valentine's Day, You!
Lisa Alcalay Klug is the author of Hot Mamalah: The Ulti­mate Guide for Every Woman of the Tribe and Cool Jew: The Ulti­mate Guide for Every Mem­ber of the Tribe.Her work has appeared in the New York Times, For­ward and many oth­er pub­li­ca­tions. Vis­it her online at lisak​lug​.com.Twit­ter @lisaklug | Face​book​.com/​l​i​s​a​a​l​c​a​l​a​yklug.
Award-win­ning jour­nal­ist Lisa Alcalay Klug has report­ed for the
New York Times, For­ward, Jerusalem Post, Asso­ci­at­ed Press,

JTA

, Los Ange­les Times
and Israel Broad­cast Author­i­ty
TV
 — among many oth­er out­lets. Her best­selling book,
Cool Jew: The Ulti­mate Guide for Every Mem­ber of the Tribe
, was a Nation­al Jew­ish Book Awards Final­ist. A humorist, slam poet and pop­u­lar pub­lic speak­er, Lisa has pre­sent­ed at more than
100
venues through­out North Amer­i­ca, Europe and Israel.