Post­ed by Nao­mi Firestone-Teeter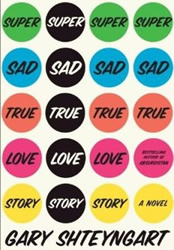 Among his many oth­er achieve­ments, Gary Shteyn­gart was just named one of The New York­er​'s 20 under 40 fic­tion writ­ers. Check out his sto­ry sub­mis­sion here:
LENNY HEARTS EUNICE

Lucky diary! Unde­serv­ing diary! From this day for­ward, you will trav­el on the great­est adven­ture yet under­tak­en by a ner­vous, aver­age man six­ty-nine inch­es in height, a hun­dred and six­ty pounds in heft, with a slight­ly dan­ger­ous body-mass index of 23.6. From this day for­ward, you will join me on the jour­ney toward immor­tal­i­ty. Why ​"from this day for­ward"? Because yes­ter­day I met Eunice Park, and she will sus­tain me for­ev­er. Con­tin­ue read­ing.
And, stay tuned for his newest nov­el, Super Sad True Love Sto­ry
, in late July.