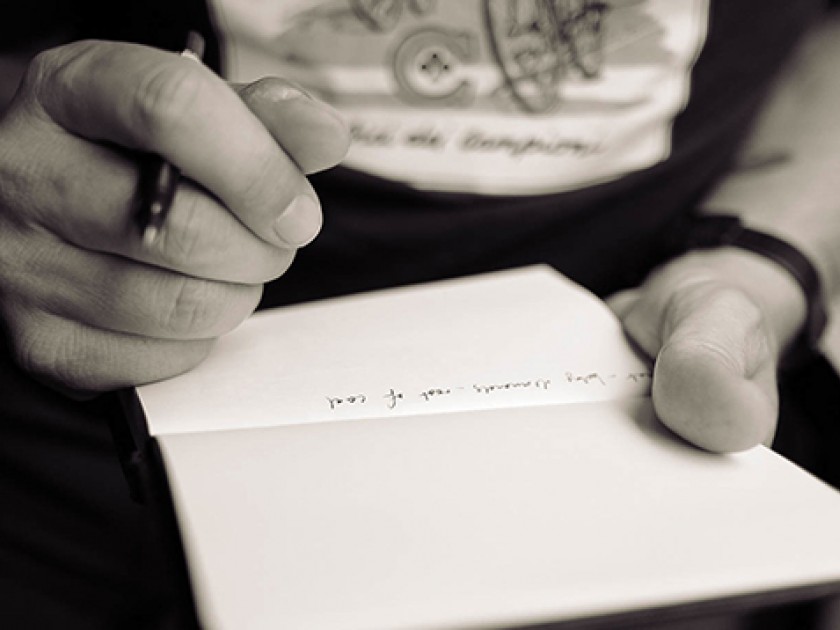 If one can inher­it a writ­ing style, I prob­a­bly got mine from my grand­fa­ther, Leo Felsen, who was the most seri­ous and unse­ri­ous per­son I've ever known.
He was a Holo­caust refugee who poured his survivor's guilt into his work as a the­o­ret­i­cal physi­cist, spe­cial­iz­ing in com­plex waves. He labored inces­sant­ly, pub­lish­ing sev­er­al books and hun­dreds of aca­d­e­m­ic papers, some of which helped pave the way for cel­lu­lar and microwave tech­nol­o­gy. But he was also a world-class goof­ball, who made an art out of self-dep­re­ca­tion. On his 80th birth­day, my fam­i­ly threw him a small par­ty. He was suf­fer­ing from both mus­cu­lar dys­tro­phy and prostate can­cer, and he arrived at our home with a hand­made sign around his neck that read, ​"My Gold­en Years Are Pyrite." On his head was a par­ty hat that he had fash­ioned out of one of his adult diapers.
When he wasn't at work on one of his inter­minable math­e­mat­i­cal for­mu­las, he loved read­ing, writ­ing, and lis­ten­ing to rhyming verse, includ­ing hip-hop, and he even occa­sion­al­ly engaged me in freestyle rap bat­tles. The point of these bat­tles was to wit­ti­ly praise one­self and snap­pi­ly bash the oth­er, and in a way, our entire rela­tion­ship was like this. Until he died, in 2005, he was my most enthu­si­as­tic sup­port­er and my nas­ti­est crit­ic. One day, it was ​"I'm proud of you, Sam. You're real­ly becom­ing a writer. Let me buy you a Boston Creme donut." The next, it was ​"I'm pay­ing for your col­lege. You call this crap an essay?"
Speak­ing of the col­lege he paid for — by the way, my grand­fa­ther, like the Holo­caust-scarred grand­fa­ther in my debut nov­el, Green, nev­er spent a pen­ny on him­self — it was dur­ing my junior year there that he gave me the best writ­ing advice I've ever received.
I'd had my heart bro­ken by my girl­friend, and was in a pro­longed funk. My grand­fa­ther knew some­thing about funks. His wife, Sima, a fel­low refugee from Nazi Ger­many, was so scarred by her past that she spent much of her life in a depres­sion, and end­ed up com­mit­ting sui­cide. Sima died before I was born and my grand­fa­ther nev­er once spoke her name to me. But I knew he was think­ing of Sima's funk, and of his own life­long bat­tle with heartache (he nev­er remar­ried), when he shared the secret of his own resilience:
When­ev­er you may feel depressed,
Or of a dire mood possessed,
Instead of mut­ter­ing curses,
Try some humor, phrased in verses.
I didn't exact­ly take his advice; I cer­tain­ly didn't begin scrib­bling a humor­ous dit­ty. Most like­ly, I chuck­led at the ​"mut­ter­ing curs­es" line, thanked him, and then went back to my dorm room, where I obsessed over my ex, and mut­tered curs­es into my pil­low all night long.
But that poem stirred some­thing of a sea change in me as a thinker, and even­tu­al­ly, as a writer. It's what got me to start tak­ing humor seri­ous­ly — to view it as an essen­tial stay against dark­ness. My grand­fa­ther had every rea­son to stop liv­ing: his sis­ter was mur­dered by Nazis, he was ripped out of the coun­try he dear­ly loved, his wife left him in the worst way imag­in­able, his body was rav­aged for decades by mus­cle-eat­ing dis­ease. But he pressed on. I used to think it was the big, impor­tant sci­en­tif­ic work that kept him going. Now, I think it's just as like­ly that it was the dia­per on his head.
In one of his last poems, my grand­fa­ther wrote, ​"I am con­stant­ly amazed by the ways a wave behaves."
My favorite books are those that behave like waves — that mod­u­late, in the words of Philip Roth, from ​"sheer play­ful­ness" to ​"dead seri­ous­ness." And if my grand­fa­ther were alive today, I hope he'd read Green, that it would give him both pause and delight, and that the char­ac­ters — espe­cial­ly the one loose­ly based on him — would make him laugh.
Sam Gra­ham-Felsen's debut nov­el, Green, was a New York Times Edi­tor's Pick, an Ama­zon ​"Best Book of the Month," one of Barnes and Noble's ​"Six Debuts to Watch for in 2018," and one of The New York­er​'s ​"Nov­els We Loved in 2018." His non­fic­tion has appeared in the New York Times Mag­a­zine, the Wash­ing­ton Post, The Nation, and else­where. He was the chief blog­ger on Barack Oba­ma's 2008 campaign.