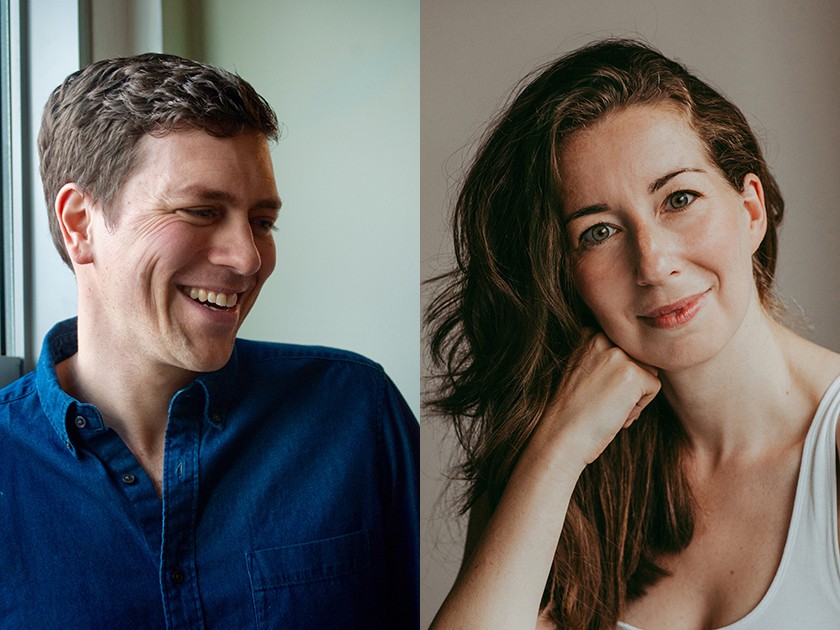 One need look no fur­ther than the cov­ers of Dana Czapnik's and Sam Graham-Felsen's debut nov­els to be struck by sim­i­lar­i­ties: both fea­ture abstract water­col­or-lined illus­tra­tions of their teenaged pro­tag­o­nists set against white back­grounds and scrawled text. And in this case, the cov­ers say a lot about what's inside. The books are nat­ur­al com­ple­ments: In Sam Graham-Felsen's Green, we fol­low David as he begins to under­stand racism and his family's con­nec­tion to the Holo­caust and Judaism — all the while nurs­ing an obses­sion with the Boston Celtics. In Dana Czapnik's The Fal­con­er, Lucy is a bas­ket­ball play­er rather than a fan, but the sport also allows her to nav­i­gate a New York ech­e­lon that isn't always accept­ing of her gen­der or her­itage. In the fol­low­ing con­ver­sa­tion, the two authors con­nect over their expe­ri­ences fic­tion­al­iz­ing the 1990s, remem­ber­ing their own teenage years, describ­ing pre­gen­tri­fied ver­sions of Boston and New York, and their reac­tions to the term ​"piz­za bagel."
Dana Czap­nik: When Green came out, I picked it up imme­di­ate­ly. I was on my last round of edits for The Fal­con­er, and every­one I was work­ing with on it was pay­ing close atten­tion to your book because there were so many over­laps — the ear­ly 1990s, a young pro­tag­o­nist com­ing of age who is obsessed with bas­ket­ball. I absolute­ly loved Green—I think it's a beau­ti­ful book that address­es one of the most com­plex, impor­tant top­ics of our time in a way that's fresh, true, and hon­est. One of the rea­sons our books are sim­i­lar — though yours is more specif­i­cal­ly about race and mine is more specif­i­cal­ly about fem­i­nism — is because they address the con­cerns and the pre­oc­cu­pa­tions of the kids of that time peri­od. One rea­son I set my nov­el in the nineties was because it felt like there hasn't been much lit­er­a­ture writ­ten about our tiny sliv­er of a gen­er­a­tion — late Gen Xers raised by Boomers. I saw sim­i­lar themes of gen­er­a­tional strife in Dave's rela­tion­ship with his hip­pie dad. Why did you choose to set your nov­el when you did?
Sam Gra­ham-Felsen: I felt the same way — like there were so many won­der­ful nov­els about the six­ties, sev­en­ties, and eight­ies … and hard­ly any­thing that real­ly grap­pled with what it felt like to come of age in the nineties. I was dying for a book that spoke to my generation's expe­ri­ence, so I wrote one! And this is also why I was so excit­ed to read your book. Unsur­pris­ing­ly, I loved it — felt seen and heard by it on a deep level.
I'm curi­ous about how you reim­mersed your­self in that era. Every­one asks me about the research I did for my nov­el. The truth is, I didn't do that much research beyond some Wikipedia-ing and a lit­tle YouTub­ing. That peri­od was so for­ma­tive for me — the hip-hop of the ear­ly/mid-nineties is still the music that moves me the most, the way Dylan still moves my six­ties lefty par­ents — so a lot of the details are just mus­cle mem­o­ry for me. But the details in your book are so pointil­lis­tic — you recalled so many things from that era that are hyper-spe­cif­ic, and which, upon read­ing them, I was like, ​"Oh I total­ly remem­ber that!" Like the Kate Moss Obses­sion ad!
DC: That Obses­sion ad will for­ev­er be seared into my brain … That was the face that launched a thou­sand eat­ing dis­or­ders. Like you, I did very lit­tle research because that time peri­od is so clear and present in my mind. I did a bit more research when it came to the char­ac­ters of Vio­let and Max to make sure I got the atmos­phere of the art scene back then right. It's fun­ny that you thought my nov­el was more detailed when it comes to nineties ephemera, because I thought Green was super spe­cif­ic. The way David and his friends talk and dress and all their ref­er­ences were so sharp.
I went to col­lege just out­side of Boston and lived there for a bit, too. Recent­ly I went back to vis­it with some friends. I hadn't been back in about ten years and, wow, Boston is a total­ly dif­fer­ent place. Gen­tri­fi­ca­tion hit New York ear­li­er than Boston, and part of the rea­son I set my nov­el when I did was because I want­ed to cap­ture that moment right before the mon­ey took over. I felt sim­i­lar pangs when I read Green. Your expe­ri­ence of Boston was so unique. What did you want to cap­ture about the city? How did it influ­ence you as a writer? And what was it like, writ­ing about Boston while liv­ing in New York?
SGF: Grow­ing up in Boston (and I'm loathe to admit this in print, because it will piss off my Boston bud­dies), I often fan­ta­sized about escap­ing to New York City. My par­ents are both New York­ers, and we'd vis­it the city dur­ing hol­i­days to see my grand­par­ents. I was always total­ly struck by how minis­cule and off-stage Boston felt in com­par­i­son. But of course, once I left Boston, it began to tug at me in pow­er­ful ways. I know I'm most­ly obsessed with Boston because it's my home, but it also fas­ci­nates me because it's the per­fect micro­cosm of the Amer­i­can per­son­al­i­ty, and the Amer­i­can dilem­ma. It's the home of the Rev­o­lu­tion, the home of abo­li­tion­ists, the edu­ca­tion­al epi­cen­ter of Amer­i­ca — the lib­er­al bas­tion of lib­er­al bas­tions. And yet. It's also famous­ly the poster child of North­ern racism and resis­tance to deseg­re­ga­tion. What bet­ter place to set a book about a white kid's expe­ri­ence with race and racism?
But beyond the race stuff, I loved writ­ing about the ​"dirty old Boston." When I was grow­ing up there, the city was los­ing its pop­u­la­tion, it had pret­ty high crime and high unem­ploy­ment rates, and it looked like it might be going the way of Detroit or Newark or oth­er once-thriv­ing cities that are now seri­ous­ly strug­gling to stay afloat. I loved writ­ing about the pre-fan­cy Boston, the Boston of bode­gas and grimy Irish bars and sooty over­pass­es. This is a big part of what I loved about your book too: you were writ­ing about the New York City that was still grimy, edgy, full of mom-and-pops, not total­ly sat­u­rat­ed with wealth and brands. My wife also grew up on the Upper West Side, so it was a par­tic­u­lar plea­sure for me to read your book, because I felt like I got to bet­ter under­stand the city she came of age in.
DC: That's so true about Boston … It does seem to be the per­fect exam­ple of failed white lib­er­al­ism. Though there is a lot of that in New York too, it just man­i­fests in dif­fer­ent ways.
SGF: One of the most mov­ing scenes, to me, in your nov­el, is the scene in which Lucy los­es her vir­gin­i­ty. First of all, it's just a vir­tu­osic piece of writ­ing; you man­aged to make some­thing that's been writ­ten about many times feel total­ly new, unique­ly strange and painful and human. A fun­ny thing hap­pened to me when I reread the scene, though. On my first read­ing, I was so angry at Per­cy for being such an unfeel­ing ass. On my sec­ond read­ing, I actu­al­ly … felt for him. The way he can't make eye con­tact, his inabil­i­ty to allow him­self to feel or con­nect in this total­ly vul­ner­a­ble moment. I loved the way you man­aged to pull this off — to not just do the easy thing, which would be to make Per­cy a vil­lain, but to do the hard­er thing, which is to show how sad and emo­tion­al­ly ampu­tat­ed Per­cy, and so many oth­er teenage boys, can be, espe­cial­ly when it comes to sex. To me, this says so much about the patri­archy — how it pun­ish­es and impris­ons women and men.
DC: Of all the scenes in the book, peo­ple seem to respond to that one most vis­cer­al­ly. I've had peo­ple come up to me at read­ings and express how much they hate the Per­cy char­ac­ter because of that scene and I always imme­di­ate­ly start defend­ing him. He's just a kid who doesn't know what he's doing or who he real­ly is yet. I want­ed to make sure I got the emo­tions of that scene right so that it felt true to Lucy's expe­ri­ence — which mir­rors a lot of women's expe­ri­ences — with­out him being a total bad guy. I have great affec­tion for him … He gen­uine­ly cares about Lucy, just not in the way she wants him to. And as hurt­ful as that feels, it's just a part of life.
SGF: I do think The Fal­con­er is a fem­i­nist book, but it doesn't feel preachy at all. I strug­gled with this a lot in Green. I, of course, per­son­al­ly have a lot of ideas about anti-racism and sys­temic dis­crim­i­na­tion, and I was tempt­ed to let my pol­i­tics fly in the book; but of course, preach­i­ness doesn't make for very good fic­tion. Did you strug­gle at all with this? Or did the non-preach­i­ness come nat­u­ral­ly to you?
All the data sug­gests that mar­riage and chil­dren short­en women's lives, make us less hap­py, and thwart our careers and chances of suc­cess. But a good por­tion of real­ly staunch fem­i­nists mar­ry and have kids, because who doesn't want love? That shouldn't be incom­pat­i­ble with fem­i­nism, but some­times it kind of is.
DC: I didn't go in with a defin­i­tive take on fem­i­nism and because of that, hope­ful­ly avoid­ed writ­ing a polemic … though I def­i­nite­ly indulged in some rants. But I enjoy a good rant in fic­tion. I'm equal parts a third-wave and sec­ond-wave fem­i­nist, and so I'm in con­stant argu­ment with myself, which is why I don't think of my book as being a fem­i­nist book, but one in con­ver­sa­tion with fem­i­nism. It's easy to be a polit­i­cal fem­i­nist, but it's much hard­er to prac­ti­cal­ly apply the lessons of fem­i­nism in our real lives. Par­tial­ly because the cul­ture con­spires against us, but also because we often make choic­es for our­selves that appeal to our indi­vid­ual emo­tion­al and bio­log­i­cal needs as opposed to our col­lec­tive polit­i­cal needs. For instance, all the data sug­gests that mar­riage and chil­dren short­en women's lives, make us less hap­py, and thwart our careers and chances of suc­cess. But a good por­tion of real­ly staunch fem­i­nists mar­ry and have kids, because who doesn't want love? That shouldn't be incom­pat­i­ble with fem­i­nism, but some­times it kind of is.
Green oper­ates in a sim­i­lar space when it comes to the con­ver­sa­tion sur­round­ing race. On the one hand, Dave is awak­en­ing to the injus­tices he sees around him, on the oth­er hand he doesn't out­right reject the bet­ter future he's been hand­ed. It's very easy to take a vocal, polit­i­cal stance on sys­temic racism, but it requires effort and orga­ni­za­tion to prac­ti­cal­ly apply those lessons and dis­man­tle the sys­tem in real life. I'm sure work­ing for the first African Amer­i­can pres­i­dent must have been incred­i­bly influ­en­tial in terms of shap­ing your world­view, espe­cial­ly because you start­ing work­ing for his cam­paign when you were very young, right? What was it like writ­ing this tough, hon­est, but hope­ful book about race while he was in office — and then hav­ing it come out dur­ing the Trump presidency?
SGF: Work­ing for Oba­ma had a big influ­ence on me. There's a lot I could say about this, but the main thing is that I was absolute­ly con­vinced, while I was work­ing for Oba­ma, that if he won, race rela­tions would change for the bet­ter, and this was by far the main moti­va­tor for me as I put in those long hours on the cam­paign. Then, once he was elect­ed, and the back­lash to him was so swift and enor­mous, and racism seemed to be get­ting even worse, and there were so many inci­dents of unarmed black men being killed by police, and Trump start­ed gain­ing trac­tion … All of that was pro­found­ly, unbe­liev­ably heart­break­ing to me (and, of course, mil­lions of oth­er peo­ple too).
That swing — from utter ide­al­ism to deep dis­ap­point­ment — is a big part of what made me want to write Green. I tried to write a book that isn't ide­al­is­tic or cyn­i­cal about race in Amer­i­ca — about how hard it is for an inter­ra­cial friend­ship to work in this country.
DC: I think that's so impor­tant, the idea that inter­ra­cial friend­ships are hard. But they also can be very close and reward­ing in ways that friend­ships with peo­ple who are just like you, or with peo­ple who are con­stant­ly affirm­ing your world view, just aren't. I can think of very few books or movies or shows that address this with any hon­esty in the way Green does.
SGF: Thanks, I appre­ci­ate that. I lol'd hard at ​"piz­za bagel" — the term Lucy uses to describe her­self as a half-Ital­ian, half-Jew. I, too, am a piz­za bagel! Did you come up with that term? Either way, it's great. I'm curi­ous — what kind of Jew­ish upbring­ing did you have? Did you grow up cel­e­brat­ing hol­i­days, doing seders? Did you ever go to shul or were you total­ly sec­u­lar? Were you con­scious at all, writ­ing this book, of being a Jew­ish Amer­i­can writer? Did you think of your­self as hav­ing writ­ten a work of Jew­ish Amer­i­can fic­tion, or just plain old Amer­i­can fiction?
DC: I so wish I'd come up with that term! I won­der if it's region­al. I have anoth­er friend from Boston who loved that term and had nev­er heard of it before, but it's pret­ty well known in New York. Maybe because we have the high­est num­ber of piz­za bagels per capita.
I'm a whole bagel — a sec­ond-gen­er­a­tion Jew­ish Amer­i­can, born to par­ents who come from extreme­ly reli­gious homes who knew very ear­ly on in life they want­ed to lead sec­u­lar Amer­i­can lives. My father's par­ents were Holo­caust sur­vivors, and his entire side of the fam­i­ly is Hasidic. My mother's side is bor­der­line Hasidic, though almost all of her sib­lings are now sec­u­lar. I grew up going to tem­ple on the high hol­i­days, cel­e­brat­ing Hanukkah, and host­ing seders. I was bat mitz­va­hed — but not in a tem­ple, because none of the reli­gious mem­bers of my fam­i­ly would have come since they don't allow women to read from the Torah. But oth­er­wise, my life was total­ly sec­u­lar. I've always felt like I've had one foot in Judaism and one foot out. I find being in all-Jew­ish envi­ron­ments claus­tro­pho­bic and trib­al in a way that makes me uncom­fort­able, yet I feel true alien­ation when I'm in envi­ron­ments with­out any Jews, par­tial­ly because nobody gets my jokes! There's a line in the book where Lucy says, ​"Yid­dish is not a romance lan­guage." I read it at a book talk in Philly and I paused for a beat to get the laughs I usu­al­ly get with New York audi­ences and … silence. That's why I'll nev­er leave New York.
SGF: Even though you didn't explic­it­ly focus on Jew­ish iden­ti­ty much in the book, I very much felt like The Fal­con­er was a Jew­ish book. To me, the main indi­ca­tor is Lucy's voice. It real­ly remind­ed me of Dave's voice — that con­stant, buzzing, self-con­scious, often over­think­ing, half-earnest, half-wry, always eyes-wide-open way of tak­ing in the world. I, too, feel alien­at­ed when I'm not around Jews, and even though I don't con­scious­ly seek out books by Jew­ish authors, almost all of my favorite books are by Jews — and I think it's because I love the famil­iar­i­ty of the Jew­ish voice.
I chose to write about an inter­mar­ried, sec­u­lar Jew­ish fam­i­ly in Green … because I felt like it was impor­tant to por­tray an inter­mar­ried fam­i­ly. So few Jew­ish books are about inter­mar­ried fam­i­lies — and yet, the vast major­i­ty of my Jew­ish peers either came from inter­mar­ried fam­i­lies, or end­ed up mar­ry­ing non-Jews themselves.
DC: What about you? What's your background?
SGF: I grew up total­ly sec­u­lar, in an inter­mar­ried fam­i­ly. But my par­ents were extreme­ly active in the Boston Workmen's Cir­cle — for a while my dad was pres­i­dent. So I grew up going to a Workmen's Cir­cle shule, learn­ing about the his­to­ry of the bund and the Tri­an­gle Shirt­waist Fac­to­ry, singing Yid­dish songs and labor songs, rather than niguns. My par­ents are both mem­bers of the world's largest Yid­dish choir. We cel­e­brat­ed all of the hol­i­days grow­ing up, but always with a sec­u­lar, lefty slant. My dad was also the child of Holo­caust refugees from Ger­many, and the Holo­caust had a huge, spec­tral effect on my fam­i­ly, which I get at a bit in Green.
I chose to write about an inter­mar­ried, sec­u­lar Jew­ish fam­i­ly in Green not just because it echoed my own upbring­ing, but also because I felt like it was impor­tant to por­tray an inter­mar­ried fam­i­ly. So few Jew­ish books are about inter­mar­ried fam­i­lies — and yet, the vast major­i­ty of my Jew­ish peers either came from inter­mar­ried fam­i­lies, or end­ed up mar­ry­ing non-Jews them­selves. I know a lot of Jews are trou­bled by the inter­mar­riage sta­tis­tics, but they are a fact of Jew­ish Amer­i­can life — and it felt impor­tant to me to write about the strug­gle to find an authen­tic Jew­ish iden­ti­ty with­in a mixed family.
Sam Gra­ham-Felsen's debut nov­el, Green, was a New York Times Edi­tor's Pick, an Ama­zon ​"Best Book of the Month," one of Barnes and Noble's ​"Six Debuts to Watch for in 2018," and one of The New York­er​'s ​"Nov­els We Loved in 2018." His non­fic­tion has appeared in the New York Times Mag­a­zine, the Wash­ing­ton Post, The Nation, and else­where. He was the chief blog­ger on Barack Oba­ma's 2008 campaign.
Dana Czapnik's crit­i­cal­ly acclaimed debut nov­el, The Fal­con­er, was pub­lished by Atria/​Simon & Schus­ter in Jan­u­ary of 2019, and is forth­com­ing from Faber & Faber in the UK in August. She has earned fel­low­ships in Fic­tion from the New York Foun­da­tion for the Arts, the Cen­ter for Fic­tion, and the Her­tog Foun­da­tion, and received her MFA from Hunter College.