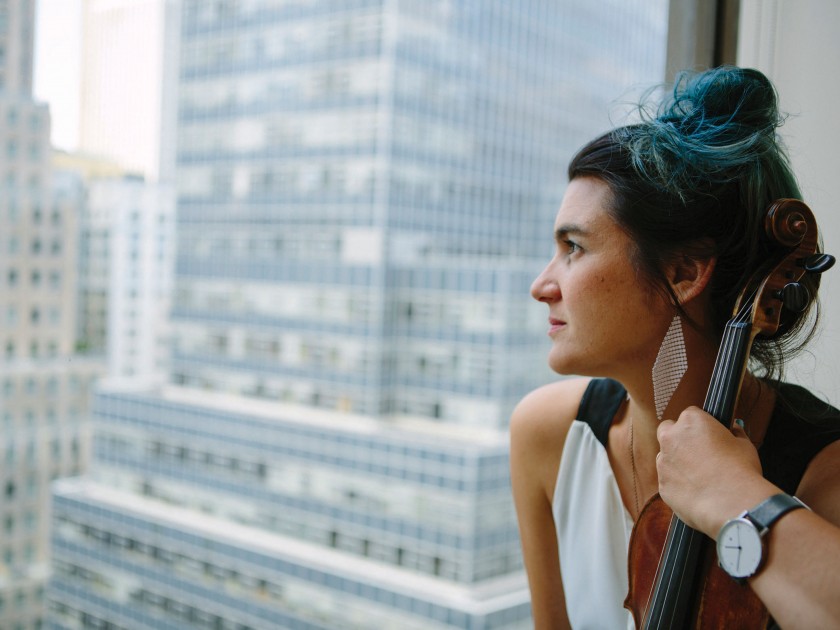 In my own way, I was a fun­da­men­tal­ist, wor­ship­ping at the altar of art.
I began play­ing a tiny vio­lin when I was three, after my moth­er saw a Phil Don­ahue spe­cial about the Suzu­ki method. Through­out my teenage years I spent my Sat­ur­day morn­ings at the local music con­ser­va­to­ry, as a reli­gious girl would have gone to shul–not out of oblig­a­tion or ambi­tion, but out of love.
I didn't grow up sur­round­ed by Jew­ish texts, but I was sur­round­ed by books, and I want­ed to be a writer since I could hold a pen. I loved series, the epics of my child­hood: Lit­tle House on the Prairie, Anne of Green Gables, and Earth's Chil­dren. In the plucky, flawed hero­ines I saw myself; and by read­ing about their strug­gles and desires, I began to under­stand my own.
At sev­en­teen, I took my vio­lin and moved to New York City to study cre­ative writ­ing in col­lege. In the late nineties, there was a free broad­sheet that list­ed every sin­gle read­ing in the city; I taped it to my wall and took the sub­way to lit­er­ary events night after night. I stayed up late hav­ing pre­ten­tious argu­ments with my poet friends. I also played in a string quar­tet, learned about music com­po­si­tion, impro­vised scores for dancers, and wrote songs.
In class, I encoun­tered the Odyssey, my first real epic. I was cap­ti­vat­ed by its mys­te­ri­ous scale: replete with gods, but also fun­da­men­tal­ly human. Despite my best efforts to read with aca­d­e­m­ic detach­ment, I expe­ri­enced this clas­sic of West­ern civ­i­liza­tion much as I had Anne of Avon­lea: I searched for reflec­tions of my inner life and found them there, writ large.
As I read, I per­formed a sort of trans­la­tion. When the Sirens called to Odysseus, I thought of my high school eat­ing dis­or­der, the dan­ger­ous seduc­tion of thin­ness. When Pene­lope test­ed Odysseus upon his return, I under­stood that she was ask­ing him, ​"Do you tru­ly see me?" When Odysseus respond­ed with the secret of their mar­riage bed, I knew he was say­ing, ​"Yes, I do," and hoped to find that sort of love one day.
Then I took a class on James Joyce's Ulysses, and felt a shock of val­i­da­tion. Joyce wrote the way I read (except, l'havdil, he was a genius). He trans­lat­ed Odysseus' wan­der­ings into a sin­gle day in the life of Leopold Bloom, a Jew­ish Dublin­er, a reg­u­lar per­son expe­ri­enc­ing the small but pro­found tragedies and mun­dan­i­ties of mod­ern life. Bloom is Odysseus, just as I was Lau­ra, Anne, Penelope.
—
When I was eight, I asked my par­ents if I could have a bat mitz­vah. We were stand­ing in the sun­ny kitchen. They looked at me, looked at each oth­er, raised their eye­brows in uni­son, and looked back at me. My mom sighed. ​"Yeah," she said, ​"It's prob­a­bly time you start­ed going to Hebrew school."
After my bat mitz­vah, I didn't think much about Judaism for sev­er­al years. But in col­lege, I began to won­der about the texts that lay behind the Judaism that had made its way down to me like a cup of weak but sacred tea. I want­ed to expe­ri­ence these texts undi­lut­ed, in the orig­i­nal Hebrew. A friend told me about a yeshi­va in Jerusalem called Pardes; I applied for a schol­ar­ship and patched togeth­er a loan, and one month after grad­u­a­tion I was on a plane to Israel. That's how I final­ly came to the ulti­mate odyssey, the epic about which I would make art for years to come: the Torah.
At Pardes, I was grat­i­fied to find that I was wel­come, even encour­aged, to read with my heart as well as my mind. And with the devo­tion I knew from years of vio­lin prac­tice, I dove into ten, eleven, twelve hours a day of study in the beit midrash. Before long, my mind was full of Torah. Frag­ments of wis­dom, worn smooth as stones from hav­ing been passed down oral­ly for gen­er­a­tions. Secret names for God and words that added up to num­bers that sig­ni­fied oth­er words. And sto­ries of sur­pris­ing­ly deter­mined women who used all the resources at their dis­pos­al— voic­es, out­fits, some­times weapons — to get what they needed.
After a cou­ple of years, I returned home. When I opened up my lap­top to write a song, Torah sud­den­ly began to weave itself into my work.
Writ­ing about a first date in a Brook­lyn bar, and think­ing of the mys­tics who believed the aleph-bet to be the build­ing blocks of the world, I found myself describ­ing Hebrew let­ters hov­er­ing in the air around us. When that boyfriend became my hus­band, I com­posed a love song in the voice of Ruth. Heal­ing from my son's birth by C‑section, I wrote a poem invok­ing the kab­bal­is­tic under­stand­ing of the body as two halves: com­pas­sion and judgment.
—
There is a moment in Ulysses where Joyce riffs on con­nec­tions between the Jews and the Irish. ​"What points of con­tact," he asks, ​"exist­ed between these lan­guages and between the peo­ples who spoke them?
Point of con­tact. I can think of no bet­ter way to describe my process of cre­at­ing con­tem­po­rary work in con­ver­sa­tion with an ancient epic. First I ask, What points of con­tact exist? And then I write from that place.
Ali­cia Jo Rabins is the author of Fruit Geode and the cre­ator of Girls in Trou­ble, a musi­cal project about the women of the Torah.