Mari­na Blit­shteyn is the author of the new poet­ry chap­book Russ­ian for Lovers. In her ear­li­er post, she wrote about the ori­gin of Russ­ian for Lovers. She will be blog­ging all week for the Jew­ish Book Coun­cil and MyJew­ish­Learn­ing​'s Vis­it­ing Scribe.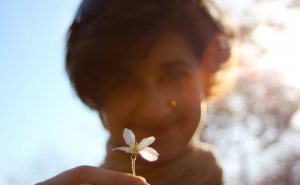 A con­fes­sion about my writing/​editing process: I have none. Which is to say, I wish I could say some­thing about how reg­i­ment­ed I'd been with this project, work­ing a select num­ber of days on select let­ters, send­ing drafts to my edi­tor for proof­ing, receiv­ing feed­back, edit­ing, send­ing them back. The truth is this was my first real long thing up for pub­li­ca­tion, so I'm sur­prised it's even fin­ished, let alone published.
As soon as I get an idea, I obsess over it, work on it reli­gious­ly for a while, then come to a point that resem­bles a cross­roads. Then I don't know where to go. So ordi­nar­i­ly I put it aside until one fine day I fig­ure it will come to me. Because Liz, my dear friend and edi­tor at Argos Books, got invest­ed in the project, I couldn't put it aside for too long. I vowed to myself that I'd work on it last sum­mer, but of course that didn't happen.
There was only a brief glim­mer of promise when I did a series of per­for­mances at the Infringe­ment Fes­ti­val in Buf­fa­lo, NY. My first per­for­mance had to do with con­jur­ing up my mem­o­ries of the old coun­try, immi­gra­tion and accul­tur­a­tion. My sec­ond per­for­mance was a brief Russ­ian alpha­bet les­son, and the third com­po­nent was a read­ing from the man­u­script so far. I fig­ured this would help me imag­ine the project and I was right to a cer­tain extent. I worked on Russ­ian for Lovers dur­ing this one-week stretch. But the progress was slow and not enough to make me feel good about the end product.
Then school hap­pened again. Liz was a great moti­vat­ing force, and I had no excus­es any­more because I was giv­en a dead­line. I end­ed up rewrit­ing the begin­ning let­ters as themes and threads start­ed emerg­ing towards the mid­dle and end of the alphabet.
I'm still not sat­is­fied with the last pieces but Liz gave me per­mis­sion and appre­ci­at­ed the chap­book form for being a lit­tle more ragged. And nat­u­ral­ly it doesn't real­ly feel ​'done' but that's a cer­tain year-long frame of mind of enter­ing into these ques­tions and I like to think it marks the begin­ning of my engage­ment with longer projects and my own history.
Mari­na Blit­shteyn is the author of Russ­ian for Lovers. Come back all week to read her blog posts.