Ear­li­er this week, Haim Watz­man wrote about Super Tues­day, jour­nal­ism, and love. He will be blog­ging here all week for Jew­ish Book Coun­cil and MyJew­ish­Learn­ing.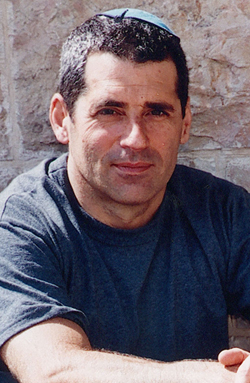 "Are you a pro­fes­sor?" asked the woman sit­ting next to me on the plane from Israel to New York. She'd been eye­ing my lap­top screen on and off for most of the flight, as I did a final pol­ish on my trans­la­tion of Israel and the Cold War, a punc­til­ious­ly-researched tome by Joseph Heller of the Hebrew Uni­ver­si­ty. Heller's the pro­fes­sor, I'm the trans­la­tor. He spent years sift­ing through the dark cor­ners of archives around the world to gath­er the mate­r­i­al in his book. I get the glo­ry of being thought a his­to­ri­an with­out hav­ing looked at a sin­gle doc­u­ment.

Yes, I write my own books, but try buy­ing gro­ceries with that. My fam­i­ly gets fed thanks to books that oth­er peo­ple write, peo­ple who need my help to present their ideas to the pub­lic. Some­times I trans­late in the sim­ple sense of the word — that is, recast a Hebrew work in Eng­lish. But the spe­cif­ic niche I've devel­oped over the years is that of translator/​editor, or per­haps bilin­gual book doc­tor would be a bet­ter term. That means I don't just trans­fer prose from one lan­guage to anoth­er but also help the author rewrite the book.

Of course, the sub­stance remains that of the schol­ar. But sub­stance needs pre­sen­ta­tion. I feel priv­i­leged to have helped bring the work of Israeli schol­ars before the Eng­lish-speak­ing world while mak­ing them more read­er-friend­ly books than they would oth­er­wise have been.

While it's hard­ly ide­al, the pres­sures are such that I often work on two or three book trans­la­tions or edits at the same time, along­side my own writ­ing. Right now I'm trans­lat­ing a book on the Mossad by Ronen Bergman of the news­pa­per Yediot Aharonot, and a book about Eliez­er Gru­en­baum, a Jew­ish Com­mu­nist who became a kapo at Auschwitz, by the his­to­ri­an Tuvia Friling.

On top of that, I'm edit­ing the Eng­lish ver­sion of one of the Israeli pub­li­ca­tion phe­nom­e­na of the past year. Yuval Noah Harari's his­to­ry of the world, from humankind's evo­lu­tion in Africa to the present day, has been a best­seller in Hebrew. It's based on the sur­vey course he teach­es, which has become one of the university's most pop­u­lar class­es.

Harari's book cov­ers a lot of ground that I've writ­ten about in my career as a jour­nal­ist cov­er­ing research and sci­ence, so as I edit I dis­agree, debate, and argue points with him. Like most of my clients, Harari appre­ci­ates this deep involve­ment in his work. I am, of course, an ama­teur schol­ar, not a real one, so it's the client who makes the final deci­sions about the book's ideas and argu­ments. But it's a real plea­sure to engage in dis­pu­ta­tions with my authors.

And, of course, I learn a great deal in the process. Almost enough to be tak­en for a pro­fes­sor myself.
Vis­it Haim Watz­man's offi­cial web­site here.
Haim Watz­man is a Jerusalem-based writer and trans­la­tor. He has worked with many of Israel's lead­ing authors and schol­ars, includ­ing Shlo­mo Avineri, David Gross­man, Hil­lel Cohen, Amos Oz, Tom Segev, and Yuval Noah Harari. His new book, Nec­es­sary Sto­ries, is a col­lec­tion of twen­ty-four of the best of the more than 140 short sto­ries he has writ­ten over the last eleven years for his month­ly col­umn of that name, first in the biweek­ly mag­a­zine The Jerusalem Report and now in The Times of Israel. Haim Watz­man is avail­able to be booked for speak­ing engage­ments through Read On. Click here for more information.