Ger­ald Sorin​

'

s most recent book,
Howard Fast: Life and Lit­er­a­ture in the Left Lane
, is now avail­able. Ger­ald won the

2003

Nation­al Jew­ish Book Award in His­to­ry for
Irv­ing Howe: A Life of Pas­sion­ate Dis­sent
. He will be blog­ging here for Jew­ish Book Coun­cil and MyJew­ish­Learn­ing all week
.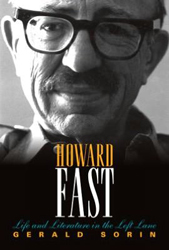 For his­to­ri­ans, writ­ing biog­ra­phy presents a num­ber of chal­lenges. One of the more impor­tant comes from schol­ars who tend to clas­si­fy biog­ra­phy as ​"an infe­ri­or type of his­to­ry." For exam­ple, three years ago the Amer­i­can His­tor­i­cal Soci­ety staged a round­table on ​"biog­ra­phy as his­to­ry," invi­ta­tions to which includ­ed the fol­low­ing : ​"For a long time his­to­ri­ans have been ambiva­lent about the genre of biog­ra­phy…. Many are skep­ti­cal of the capac­i­ty of biog­ra­phy to con­vey the kind of ana­lyt­i­cal­ly sophis­ti­cat­ed inter­pre­ta­tion of the past that aca­d­e­mics have long expected."
But we biog­ra­phers, even those such as myself who want to write cross-over books acces­si­ble to the edu­cat­ed lay pub­lic, don't sim­ply chart the course of a life from womb to tomb; we exam­ine our sub­jects in dialec­ti­cal rela­tion­ship to the mul­ti­ple worlds they inhab­it, social, polit­i­cal, and cul­tur­al. My two sub­jects, Howard Fast and Irv­ing Howe, for exam­ple, rose from immi­grant pover­ty to emi­nence and wealth, and in Fast's case immense wealth. Both were also polit­i­cal activists, and lit­er­ary fig­ures. And both bore the priv­i­leges, bur­dens, and com­plex­i­ties of being Jew­ish. Both were also involved, direct­ly and indi­rect­ly, with events impor­tant to shap­ing the world of the twen­ti­eth cen­tu­ry. It would have been next to impos­si­ble to neglect social con­text in biogra­phies of these men.
Biog­ra­phers are also often accused of voyeurism and sen­sa­tion­al­ism. Indeed, per­haps as acts of self-defense, sev­er­al women and men of note have writ­ten their own biogra­phies or mem­oirs – Howe wrote at least one, depend­ing how you count; Fast, two – con­ceiv­ably as a way of mak­ing one's own case before a pros­e­cu­to­r­i­al or gos­sip-mon­ger­ing historian/​biographer might appear on the scene. Elsa Morante, the Ital­ian writer and wife of nov­el­ist Alber­to Moravia, left a warn­ing for biog­ra­phers: To expose ​"the pri­vate life of a writer is gos­sip," she said, ​"and gos­sip no mat­ter about whom offends me." Janet Mal­colm, the con­tro­ver­sial Amer­i­can jour­nal­ist goes fur­ther, char­ac­ter­iz­ing biog­ra­phers as bur­glars, par­a­sites, and obses­sive stalk­ers who tres­pass and injure.
But there is no escape from the ​"pri­vate" for any­one involved in the bio­graph­i­cal process, which by neces­si­ty is an act of con­scious psy­cho­log­i­cal intru­sion. From my read­ing of Fast's per­son­al cor­re­spon­dence and my ques­tion­ing of his fam­i­ly mem­bers I learned, for exam­ple, that the pro­lif­ic nov­el­ist was dis­liked for his insen­si­tiv­i­ty and arro­gance by many rel­a­tives, includ­ing his chil­dren; that he had an enor­mous ego which, as his grand-daugh­ter said, made it clear that he ​"could be the only star in the room;" and that though mar­ried to his first wife Bette for 57 years, Fast had had sev­er­al affairs, some with actress­es when he was a screen­writer in Hol­ly­wood in the 1970s. I also dis­cov­ered that Fast could be quite gen­er­ous. He qui­et­ly sup­port­ed his old­er sis­ter for most of her life; he helped his broth­er finan­cial­ly from time to time; he gift­ed his house to his daugh­ter and her hus­band when he moved into a larg­er one, and with­out hes­i­ta­tion he took in friends in trou­ble or neigh­bors in danger.
One might ask whether this kind of infor­ma­tion ought to be includ­ed in a biog­ra­phy of a man whose cen­tral sto­ry was nei­ther his gen­eros­i­ty, nor his ten­den­cy to alien­ate those around him, nor his imi­ta­tion of Don Juan, but his rise from neglect­ed street kid to world-renowned writer worth many mil­lions of dol­lars — and who in the midst of his remark­able jour­ney not only became a Marx­ist, but by the late 1940s, had become the pub­lic face of the Com­mu­nist Par­ty in Amer­i­ca – a trans­for­ma­tion which had momen­tous con­se­quences for his life, his writ­ing, and his sense of identity.
For some his­to­ri­ans Fast's arro­gance and infi­deli­ties might be irrel­e­vant. For me, a his­to­ri­an who is also a biog­ra­ph­er, the infor­ma­tion is impor­tant not so much because there are links, even if indi­rect, between Fast's per­son­al life and his pol­i­tics and his writ­ing — but even more impor­tant­ly, because his pri­vate behav­ior (or any­one else's for that mat­ter) is a sig­nif­i­cant part of his iden­ti­ty, and so belongs in what anthro­pol­o­gist Clif­ford Geertz calls ​"thick descrip­tion" – an attempt at expla­na­tion which makes the subject's behav­ior more ful­ly mean­ing­ful to read­ers who don't have the same or sim­i­lar experiences.
Which brings me to yet anoth­er chal­lenge: can the biog­ra­ph­er or their read­ers real­ly know the sub­ject fully?
Check back here on Thurs­day for Part 2.
Ger­ald Sorin is Dis­tin­guished Uni­ver­si­ty Pro­fes­sor of Amer­i­can and Jew­ish Stud­ies at the State Uni­ver­si­ty of New York, New Paltz. His most recent book, ​
"
Irv­ing Howe: A Life of Pas­sion­ate Dis­sent," won the Nation­al Jew­ish Book Award in His­to­ry. He is cur­rent­ly work­ing on a biog­ra­phy of Howard Fast.