On Tues­day, Ger­ald Sorin wrote about ambiva­lence toward the genre of biog­ra­phy. Today, he con­sid­ers the ques­tion: Can the biog­ra­ph­er or their read­ers real­ly know the sub­ject ful­ly? He has been blog­ging here all week for Jew­ish Book Coun­cil and MyJew­ish­Learn­ing.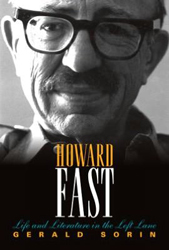 Can biog­ra­phers real­ly know their sub­jects ful­ly? Was Mark Twain right when he said that ​"a man's real life is led in his head, and is known to none but him­self?" And what about Freud who went even fur­ther: ​"Who­ev­er turns biog­ra­ph­er com­mits him­self to lies, to con­ceal­ment, to hypocrisy, to embell­ish­ment, and even to dis­sem­bling his own lack of under­stand­ing, for bio­graph­i­cal truth is not to be had."
Well, if bio­graph­i­cal truth is not to be had, if a self is actu­al­ly unknow­able, can we at least ana­lyze the work of the artist or the writer or the activist as a clue to the mean­ing of the life? Here a biog­ra­ph­er is chal­lenged by the post­mod­ernists or decon­struc­tion­ists who argue for ​"the death of the author," and who see texts and even behav­ior as total­ly inde­pen­dent enti­ties, nei­ther of which tells us any­thing about their human cre­ators. Not sur­pris­ing­ly, I take a some­what dif­fer­ent posi­tion. I acknowl­edge the exis­tence of authors. Of course, the writ­ing of any par­tic­u­lar author may not be – and very often is not – auto­bi­o­graph­i­cal. Indeed, biog­ra­phers, or gen­er­al read­ers for that mat­ter, who con­cen­trate on fer­ret­ing out the self-ref­er­en­tial, often miss the sat­is­fac­tion of immers­ing them­selves in the cre­ative imag­i­na­tion of the writer. In any case, for me, authors are nei­ther absent nor entire­ly inscrutable. Why oth­er­wise would I have under­tak­en a biog­ra­phy of so pro­lif­ic a writer as Fast, whose ear­ly writ­ings seemed to have moved an entire gen­er­a­tion of Jews in the direc­tion of polit­i­cal lib­er­al­ism, or of Irv­ing Howe, who in his lit­er­ary crit­i­cism and teach­ing fought fierce­ly against the ​"death of the author" school?
Of course, all of us remain par­tial­ly hid­den and var­ie­gat­ed, and in cas­es like Howe or Fast, per­haps even more com­plex­ly so. In writ­ing about these men then, I make no claim to defin­i­tive­ness nor do I use a nar­ra­tive strat­e­gy that projects a uni­fied per­sona. Fast, for exam­ple, presents a case of extra­or­di­nary social mobil­i­ty, a man who became wealthy writ­ing more than 150 sto­ries, 20 screen­plays, and near­ly 100 books, sev­er­al sell­ing in the tens of mil­lions of copies; but he also for­ev­er car­ried with­in him­self char­ac­ter­is­tics and mem­o­ries of hav­ing been a poor street urchin. More­over, Fast was not only a writer, but a broth­er, father, hus­band, son of immi­grants, a Jew, a Com­mu­nist, an ​"unfriend­ly wit­ness," a pris­on­er, and a Hol­ly­wood personality.
Many selves, many roles – sev­er­al of which led Fast into incon­sis­ten­cy and even appar­ent con­tra­dic­tion. Still, the his­to­ri­an as biog­ra­ph­er, at least this one, believes that human beings are not just a Babel of voic­es, and that there are such things as indi­vid­u­als who are know­able, at least in part. Even play­wright Samuel Beck­ett, the prince of obscu­ri­ty and ambi­gu­i­ty, even­tu­al­ly wrote, ​"In the place where I have always found myself… it is no longer whol­ly dark or whol­ly silent."
Ger­ald Sorin​'s most recent book, Howard Fast: Life and Lit­er­a­ture in the Left Lane, is now avail­able. Ger­ald won the 2003 Nation­al Jew­ish Book Award in His­to­ry for Irv­ing Howe: A Life of Pas­sion­ate Dis­sent.
Ger­ald Sorin is Dis­tin­guished Uni­ver­si­ty Pro­fes­sor of Amer­i­can and Jew­ish Stud­ies at the State Uni­ver­si­ty of New York, New Paltz. His most recent book, ​
"
Irv­ing Howe: A Life of Pas­sion­ate Dis­sent," won the Nation­al Jew­ish Book Award in His­to­ry. He is cur­rent­ly work­ing on a biog­ra­phy of Howard Fast.