Ear­li­er this week, Haim Watz­man wrote about how to suc­ceed in acad­e­mia with­out doing any research and Super Tues­day. He has been blog­ging here all week for Jew­ish Book Coun­cil and MyJew­ish­Learn­ing.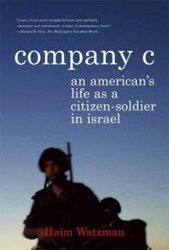 Are Israeli guys real men? Yes, I mean the tank com­man­ders and pilots and infantry sergeants. The ones who are viewed in so many places as the type spec­i­mens of the tough macho Jew.
That was the sub­ject of an intrigu­ing dis­cus­sion I led yes­ter­day at a ses­sion of a course in Hebrew lit­er­a­ture in trans­la­tion taught by my friend Adam Rovn­er at Den­ver Uni­ver­si­ty. (Adam has a vest­ed inter­est in Hebrew lit­er­a­ture in trans­la­tion since his wife, Jes­si­ca Cohen, is respon­si­ble for many of the finest trans­la­tions of Israeli lit­er­a­ture avail­able to the Eng­lish-speak­ing pub­lic.) In prepa­ra­tion for the class, the stu­dents read two texts. The first was Etgar Keret​'s short sto­ry ​"Cocked and Locked," about an Israeli sol­dier being mocked by a Pales­tin­ian rebel at a guard post. The sec­ond was ​"Wimps," Chap­ter Five of Com­pa­ny C, my mem­oir of my ser­vice over near­ly two decades in an Israeli infantry unit.
"Wimps," like Keret's sto­ry, por­trays Israeli sol­diers fac­ing off against Pales­tini­ans in the ter­ri­to­ries. In the case of my chap­ter, it's the height of the First Intifa­da in 1988. As well as chron­i­cling how my unit coped with the chal­lenges and moral issues pre­sent­ed by the Pales­tin­ian upris­ing, my chap­ter explores the rela­tion­ship between army ser­vice and masculinity.
In Keret's sto­ry, a young Pales­tin­ian man taunts an Israeli sol­dier by por­tray­ing him as a sex­u­al object used by his sergeant. The goad­ing indeed dri­ves the sol­dier into an unex­pect­ed response, but per­haps not for the rea­sons that an Amer­i­can read­er might presume.
The men in Com­pa­ny C are tough and deter­mined, but they are also fam­i­ly men and civil­ians serv­ing in the army for a cou­ple months a year. They've been through wars but most of them have chil­dren. Two of them are gay, a fact that the oth­er sol­diers accept mat­ter-of-fact­ly and with­out feel­ing that their mas­culin­i­ty is threat­ened. And remem­ber, this is at a time when homo­sex­u­al­i­ty was for­bid­den in the US army, on the grounds that the pres­ence of gay sol­diers in a mil­i­tary unit would play hav­oc with ​"unit cohe­sion" and destroy it as a fight­ing force.
Com­ic relief in ​"Wimps" is pro­vid­ed by Mar­cel Levy, a French immi­grant and paparaz­zo pho­tog­ra­ph­er who boasts of sleep­ing with every sin­gle one of the celebri­ty actress­es he man­ages to snap in var­i­ous states of undress. The oth­er men think he's total­ly off the wall. Levy's brag­gado­cio about his pur­port­ed mil­i­tary exploits is one rea­son; anoth­er is that sex­u­al con­quest is not some­thing that these men see as par­tic­u­lar­ly mas­cu­line behav­ior. Both the atti­tudes toward gay men and toward casu­al sex show, in my mind, that there are impor­tant dif­fer­ences between Israeli and Amer­i­can con­cepts of mas­culin­i­ty. I don't mean to say that Israeli men aren't macho in their own and often infu­ri­at­ing way, but it's impor­tant to under­stand the contrasts.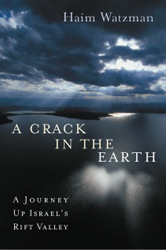 After point­ing this out, I asked the stu­dents what they thought bugged the sol­dier in Keret's sto­ry and what caused him to take the dra­mat­ic action he takes at the end. I sus­pect that before our dis­cus­sion the stu­dents might have assumed that the sol­dier felt that his mas­culin­i­ty was threat­ened — that he was infu­ri­at­ed because a Pales­tin­ian guy his own age was accus­ing him of being queer.
One of the stu­dents hit it on the head, in my opin­ion. ​"I think he's upset," she sug­gest­ed, ​"because the Pales­tin­ian is per­vert­ing the soldier's rela­tion­ship with his sergeant." In oth­er words, he's sug­gest­ing that the soldier's love for his sergeant is a sex­u­al love rather than the love that pre­vails among sol­diers who fight side by side.
Does that make Israeli sol­diers wimps? You might want to read the Com­pa­ny C to find out. An elec­tron­ic edi­tion, for Kin­dle, Ipad, and oth­er plat­forms, will be avail­able very soon. The same goes for my book on the Jor­dan Rift val­ley, Israel's east­ern bound­ary land, A Crack in the Earth. Watch my Face­book page and web­site for the offi­cial announce­ment, or write to me at hwatzman@​gmail.​com and I'll send you an e‑mail notice when the books are out.
Vis­it Haim Watz­man's offi­cial web­site here.
Haim Watz­man lives in Jerusalem and is the author of three books: Com­pa­ny C: An American's Life as a Cit­i­zen-Sol­dier in Israel; A Crack in the Earth: A Jour­ney Up Israel's Rift Val­ley; and a sto­ry col­lec­tion, Nec­es­sary Sto­ries, a selec­tion of the more than 150 he has writ­ten. His play The Chair won the 2021 The­ater Insti­tute Award of the Con­tem­po­rary Jew­ish Dra­ma Inter­na­tion­al Com­pe­ti­tion spon­sored by the Estera Rachel and Ida Makin­skie Jew­ish The­ater in War­saw. He has trans­lat­ed more than 50 books from Hebrew into Eng­lish, among them works by Shlo­mo Avineri, David Gross­man, Hil­lel Cohen, Amos Oz, and Tom Segev. He edit­ed the Eng­lish-lan­guage ver­sion of Yuval Noah Harari's world­wide best­seller, Sapi­ens. Sub­scribe to his Sub­stack newslet­ter here.