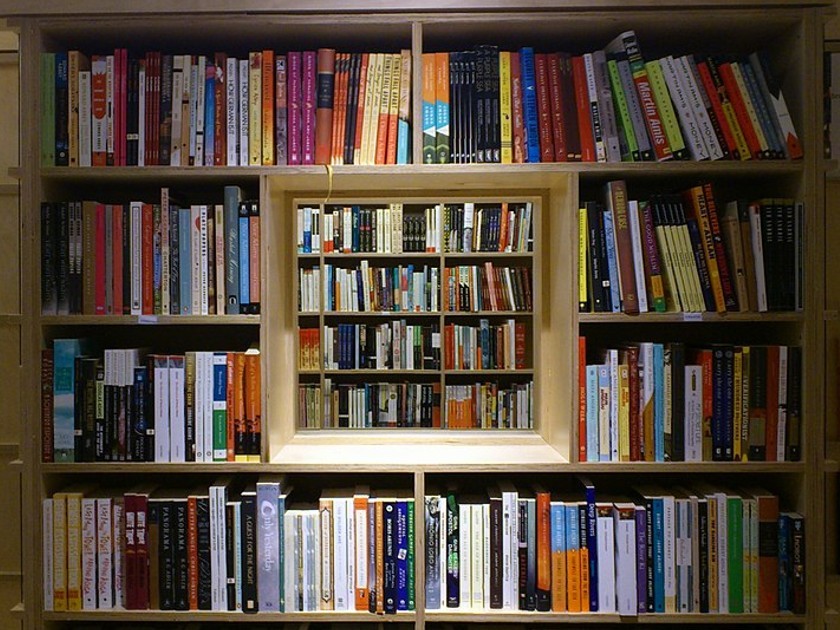 I first vis­it­ed Chicago's Sem­i­nary Co-op Book­store when I was a con­fused and rest­less nine­teen ‑year-old. It was there I found clar­i­ty, repose, and — although I didn't know it then — my career.
Known as one of the finest book­stores in the world, the Sem­i­nary Co-op tout­ed the mot­to, ​"no knick­knacks, no cof­fee, just books." The book­store was a real­iza­tion of a hum­ble but pow­er­ful vision: a broad selec­tion of books whose pres­ence on the shelves cre­at­ed an undi­lut­ed brows­ing expe­ri­ence. The col­lec­tion cre­at­ed a total­iz­ing environment.
It was Judaism, a reli­gion pred­i­cat­ed upon books, from which I was attempt­ing to take my leave. But even then, con­fused about many things and strug­gling to find my way, I knew that, what­ev­er else I left behind, the pres­ence of books should remain. Liv­ing a life among books is an espe­cial privilege.
Dur­ing an event at the Co-op, the Chica­go poet Nate Mar­shall once said, that ​"the great­est thing a poet or poem can give you is per­mis­sion." A book­store too, it turns out, can give you per­mis­sion. That is pre­cise­ly what that first descent into the Co-op estab­lished: per­mis­sion to be among books out­side of an insti­tu­tion of learn­ing – be it a uni­ver­si­ty or a yeshi­va — and out­side of a tele­o­log­i­cal paradigm.
I grew up in an Ortho­dox Jew­ish com­mu­ni­ty in and around Brook­lyn. The rooms of my child­hood homes in Flat­bush, Boro Park, and Eliz­a­beth, New Jer­sey, were all book-lined; my yeshi­va, my shul, my rel­a­tives' homes, and the homes of my friends' fam­i­lies were also laden with large books. The pres­ence of books was a given.
From 1957 until 2012, my grand­par­ents lived in a sec­ond-floor walkup apart­ment that they rent­ed in Boro Park, on the cor­ner of Six­teenth Avenue and Fifty-Third Street. My grandfather's library — or rather, book-lined liv­ing room — made a par­tic­u­lar impres­sion. The book­cas­es were filled with books whose grav­i­ty was clear from the ornate, uni­form spines. Ornate were these books, but not orna­men­tal. The book­shelves always had gaps, and the gaps would move from week to week; an ever-rotat­ing selec­tion of vol­umes would be laid out on my grandfather's book stand and desk.
Books and the land­scapes they cre­ate are excep­tion­al tools to cul­ti­vate our own inte­ri­or land­scape, which, after all, is our portable and per­ma­nent homeland.
These books were read — books are for use, after all — and were treat­ed with rev­er­ence and love. Obser­vant Jews are accus­tomed to kiss­ing the cov­er of a book after clos­ing it — a habit that has remained with me through­out the years. Along with the British lit­er­a­tus Leigh Hunt, who, in effus­ing about books, wrote of how he liked to lean his head against them, fol­low­ers of my giv­en tra­di­tion might say, ​"When I speak of being in con­tact with my books, I mean it literally."
These books were read in groups called chevrusas, a Hebrew word whose root means ​"friend." When I was a young boy, I would join my grandfather's chevrusa on occa­sion, just to observe. Seat­ed on an aus­tere bench in the base­ment of the shul across the street, my head bare­ly clear­ing the table­top, I sat with large men and their large Ara­ma­ic books watch­ing them ques­tion, pon­der, argue with, and delight in what they found on those pages.
Fol­low­ing my grandfather's mod­el — books aren't orna­ments — and know­ing that there were trea­sures to be found with­in the vol­umes, I quick­ly became fear­less in dis­lodg­ing shades. As my intel­lec­tu­al life was devel­oped in the inter­stices between the yeshi­va and the acad­e­my, the jus­ti­fi­ca­tion of the exis­tence of a book­store like the Sem­i­nary Co-op was self-evi­dent. This was the place where one could become learned — a talmid chacham—and fash­ion a dai­ly prac­tice that would lead one through a more mean­ing­ful life.
The Jews are a peo­ple who are raised to ques­tion — inter­ro­gate even — their god. They do so through com­men­tary pri­mar­i­ly, not crit­i­cism. Their libraries (like my grandfather's), com­posed of vol­umes of lov­ing expan­sion of their canon, might be all they'll ever know as home. After all, they are fat­ed to wan­der — a root­less peo­ple who are peren­ni­al strangers in strange lands. With­out a home­land, the Jew­ish peo­ple made the book their homeland.
Jorge Luis Borges, the Argen­tine writer and librar­i­an, was a read­er first. The crit­ic Eliz­a­beth Hard­wick wrote, for Borges ​"the library is the land­scape of human dra­ma; it is expe­ri­ence, tragedy, social his­to­ry." As Jews made their home­land a book, so Borges and I made the library and the book­store, respec­tive­ly, a home­land. And per­haps the imag­ined book that might best rep­re­sent our home­land, as the Tal­mud rep­re­sents the home­land of Jews, is the cat­a­log of catalogs.
In some way, we are all wan­der­ing peo­ple, search­ing for com­mu­ni­ty, search­ing for our­selves. Books and the land­scapes they cre­ate — both as objects and as mech­a­nisms to deliv­er the hopes, dreams, moods, prin­ci­ples, and wis­dom con­tained between their cov­ers — are excep­tion­al tools to cul­ti­vate our own inte­ri­or land­scape, which, after all, is our portable and per­ma­nent homeland.
Jeff Deutsch is the direc­tor of Chicago's Sem­i­nary Co-op Book­stores, which in 2019 he helped incor­po­rate as the first not-for-prof­it book­store whose mis­sion is book­selling. He lives in Chicago.