Post­ed by Nat Bern­stein.
Prayer doesn't come eas­i­ly to every­one. Whether one con­sid­ers one­self reli­gious, spir­i­tu­al, obser­vant, or curi­ous, find­ing that opti­mum of space, inten­tion, litur­gy, and nir­vana is for many a con­stant chal­lenge, height­ened by the stretch of High Hol­i­days on which we embark this week. Jews of all affil­i­a­tions and iden­ti­ties often feel a sense of urgency around this time, search­ing for a ser­vice, prac­tice, or com­mu­ni­ty that will house their spir­i­tu­al needs dur­ing this holy week and a half.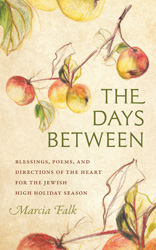 "The High Hol­i­day litur­gy, with its empha­sis on sin and judg­ment, can strike a dis­cor­dant note even for those who pray reg­u­lar­ly dur­ing the year," observes 2014 – 2015 JBC Net­work author Mar­cia Falk in her intro­duc­tion to The Days Between: Bless­ings, Poems, and Direc­tions of the Heart for the Jew­ish High Hol­i­day Sea­son. A wor­thy com­pan­ion to her pre­vi­ous book of orig­i­nal litur­gy, The Book of Bless­ings, Mar­cia has com­posed ​"inclu­sive, non­hier­ar­chi­cal" prayer spe­cif­ic to the Ten Days of Awe ​"for all those seek­ing to par­tic­i­pate in Jew­ish civ­i­liza­tion and cul­ture with­out com­pro­mis­ing intel­lec­tu­al or spir­i­tu­al integri­ty… to speak to the widest pos­si­ble spec­trum of Jews see­ing a new expe­ri­ence of the High Holidays."
Offer­ing orig­i­nal bene­dic­tions in both Hebrew and Eng­lish, Mar­cia Falk guides her read­er from the Rosh Hashanah feast through the sanc­ti­fi­ca­tion of the new year, the Tash­likh rit­u­al, med­i­ta­tions for each of the Ten Days, the pre-fast meal before Yom Kip­pur, and Yizkor remem­brance to N'ilah, the clos­ing of the Heav­en­ly gates. An acces­si­ble expla­na­tion of the rit­u­als attend­ing each cus­tom intro­duce each sec­tion, and the vers­es them­selves do indeed ​"bring fresh lan­guage and mean­ing to the sea­son­al liturgy."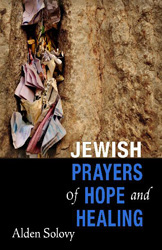 Mar­cia is joined in the 2014 – 2015 JBC Net­work by fel­low bless­ing brew­er Alden Solovy and his Jew­ish Prayers of Hope and Heal­ing, a col­lec­tion of selec­tions from over 400 orig­i­nal prayers and med­i­ta­tions writ­ten since the sud­den death of Alden's wife, Ami. He offers sacred poet­ry for Hopes; Prais­es; Fam­i­ly; Love and Friend­ship; Med­i­ta­tions Near the End of Life; Yizkor and Memo­r­i­al Prayers; 9/11 Remem­brance; Fac­ing the Holo­caust and Anti­semitism; Phys­i­cal Heal­ing; Surgery; Preg­nan­cy and Fer­til­i­ty; Can­cer; Crit­i­cal Ill­ness; Alzheimer's, Parkinson's, and Demen­tia; Addic­tion and Men­tal Ill­ness; Hos­pice Care and Let­ting Go; Med­ical Sci­ence and Med­ical Pro­fes­sion­als; Sor­rows; Bereave­ments; and Sur­ren­der. Fol­low­ing his writ­ing over the past sev­er­al months — with all of the per­son­al and glob­al dif­fi­cul­ties they con­tained — Alden's gift for bring­ing com­fort to oth­ers through words proved its mettle.
"A mod­ern-day litur­gist," he writes," is a wit­ness to the essen­tial long­ing that occurs in all of us dur­ing the most uplift­ing and the most dev­as­tat­ing moments in our lives. A mod­ern-day litur­gist is a wit­ness to the yearn­ing to express our joys — and our fears — to a God, to a high­er pow­er, to the soul of the universe."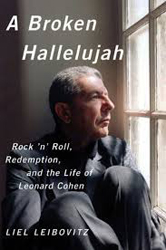 Mod­ern-day litur­gists are not lim­it­ed to paper and pen, either: with the release of Pop­u­lar Prob­lems on his 80th birth­day, Leonard Cohen remind­ed his faith­ful lis­ten­ers and a whole new gen­er­a­tion what a reli­gious expe­ri­ence music can be. It seems no acci­dent that this Cohen's lat­est album came out this week, just in time to inspire reflec­tion and spir­i­tu­al seren­i­ty as we approach the Ten Days of Awe. In his posts on The Pros­en­Peo­ple, 2014 – 2015 JBC Net­work author Liel Lei­bovitz wrote about accept­ing Leonard Cohen as his per­son­al sav­ior—in lieu, almost, of a bar mitz­vah — and on the rel­a­tive expe­ri­ences of rock ​'n' roll and reli­gion. These essays expound on Liel's cur­rent book, A Bro­ken Hal­lelu­jah: Rock ​'n' Roll, Redemp­tion, and the Life of Leonard Cohen, an exquis­ite biog­ra­phy that elu­ci­dates the Jew­ish reli­gious influ­ences on Leonard Cohen's oeu­vre and artic­u­lates the redemp­tive, restora­tive qual­i­ty of his poet­ry, lyrics, and music:
You feel the same hum at a Cohen con­vert that you do in a church or a syn­a­gogue, a feel­ing that emanates from the real­iza­tion that the words and the tunes you're about to hear rep­re­sent the best efforts we humans can make to cap­ture the mys­ter­ies that sur­round us, and that by lis­ten­ing and clos­ing your eyes and singing along, you, too, can some­how tran­scend[…] He is attuned to the divine, what­ev­er the divine might be, not with the thinker's com­pli­ca­tions or the zealot's obstruc­tions, but with the unbur­dened heart of a believ­er — it's not for noth­ing that he referred to him­self in song as ​"the lit­tle Jew who wrote the Bible." Mil­len­nia ago, as we began ask­ing our­selves the same fun­da­men­tal ques­tions we still pon­der, we called men like him prophets, mean­ing not that they could fore­see the future but that they could bet­ter under­stand the present by see­ing one more lay­er of mean­ing to life. The title still applies.
If you're strug­gling to find the spir­i­tu­al seren­i­ty you seek as we approach and enter into the new year, throw on a Leonard Cohen record, read A Bro­ken Hal­lelu­jah, and sift through The Days Between and Jew­ish Prayers of Hope and Heal­ing. You might just find some­thing that works.
Relat­ed content:
Nat Bern­stein is the for­mer Man­ag­er of Dig­i­tal Con­tent & Media, JBC Net­work Coor­di­na­tor, and Con­tribut­ing Edi­tor at the Jew­ish Book Coun­cil and a grad­u­ate of Hamp­shire College.