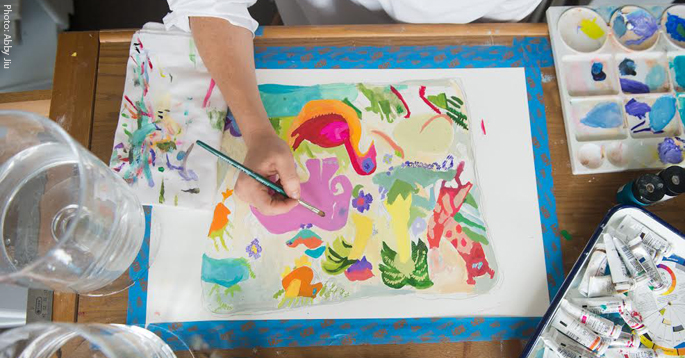 Jew­ish Book Coun­cil sat down with artist Gena Fei­th to talk about the inspi­ration behind her Jew­ish Book Month poster, the con­nec­tion between writ­ing and art, and illus­trat­ing her best friend's chal­lah recipe.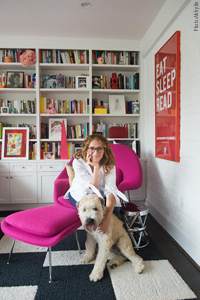 Bec­ca Kan­tor: Tell me about your inspi­ra­tion for the Jew­ish Book Month poster. What drew you to this project?
Gena Fei­th: Books and writ­ing and paint­ing are my pas­sions, so this project com­bined a lot of the things in my wheel­house. It seemed like a great fit. When I talked to Nao­mi [the Exec­u­tive Direc­tor of Jew­ish Book Coun­cil] about what the vision was, I under­stood the essence of what they were try­ing to com­mu­ni­cate — that what the Jew­ish Book Coun­cil has done for nine­ty years is not just the pro­mo­tion of Jew­ish books, but it's also fos­ter­ing com­mu­ni­ty and con­nec­tion through books. The idea was to depict com­mu­ni­ty through read­ing. I pitched them a bunch of dif­fer­ent ideas, and it's fun­ny, this is the one I threw on at the end. It was actu­al­ly a pho­to­graph of three blind chil­dren read­ing. That's why the books are so big. But I kept the books real­ly big because I liked that their pres­ence is sort of like anoth­er char­ac­ter in the painting.
BTK: What does the com­po­si­tion of the paint­ing sym­bol­ize to you?
GF: Some­times you don't even know what you're paint­ing until you're paint­ing it, and then you find mean­ing in it. I like the fact that the chil­dren are all involved in their own books, and the girl in the cen­ter is day­dream­ing. Even when I'm very absorbed in a book I have the ten­den­cy to drift off and think about how it relates to my life, or life in gen­er­al. I like how the paint­ing end­ed up evok­ing the dreamy qual­i­ty of enter­ing into these oth­er worlds, and the work you can get done while dreaming.
Read­ing is such an inti­mate thing — it's just you and this book — but some of my great­est friend­ships have been forged through read­ing togeth­er. Life doesn't always allow for soli­tary, unin­ter­rupt­ed qui­et time, espe­cial­ly when you have kids, when you have work, when you have this and that. But it can be such an impor­tant get­away into anoth­er reality.
BTK: In addi­tion to being an accom­plished artist, you also earned an MFA in cre­ative writ­ing and worked as speech­writer for sev­er­al years. How does your back­ground in writ­ing influ­ence your visu­al art?
GF: I got my MFA in cre­ative non­fic­tion at Colum­bia. When I was get­ting my MFA I had a ten­den­cy to write with a painter­ly qual­i­ty. I col­lect­ed words sort of like they were dabs of paint on my palette. I do appre­ci­ate a good sto­ry, but what was tricky was that I would get so con­sumed by the wordy paint­ing of these worlds that it was like: what real­ly hap­pened in the sto­ry? I'm not real­ly sure!
When my daugh­ter was born, I start­ed paint­ing again because it was sort of a way of writ­ing; it was a way of mak­ing stuff and telling sto­ries. I found a lot of joy in it. And it made sense — I used to write how I paint­ed, a lit­tle bit, and I hope that I paint a lit­tle bit like how I write. Just the digres­sions, and the things that catch my eye, and the things I think are beautiful.
BTK: You've also com­bined writ­ing and art in pre­vi­ous projects, like your graph­ic nov­el The Illus­trat­ed Eulo­gy of Her­man Katz: Spaniel, Lover, Snackohol­ic. Do you feel that illus­tra­tions or art can be an inte­gral part of books? Were you influ­enced by illus­tra­tions when you read as a child?
GF: Total­ly, com­plete­ly. And I do miss that in books. The illus­tra­tions in Alice in Won­der­land are like noth­ing else. I wish that there were more of that. Even now with my daugh­ter we read the same books over and over and over again. That gets a lit­tle tedious, but I enjoy going back to these books so much. I've always loved writ­ing and paint­ing, but some of my favorite painters and writ­ers, even my favorite adult painters and writ­ers, are sort of like visu­al storytellers.
BTK: Is Judaism impor­tant themati­cally in your art?
GF: Prob­a­bly the most res­onate ways that my Jew­ish iden­ti­ty comes through in my work is through my focus on fam­i­ly and mem­o­ry. I work most­ly from pho­tographs and I paint a lot of paint­ings of old pic­tures of my fam­i­ly and new pic­tures of friends and memen­tos and keep­sakes. I did a whole series of pil­low­cas­es that my moth­er needle­pointed in the 1970s while wait­ing in cars for my father (who is notori­ously unpunc­tu­al). And they're such trea­sures to me — to me they tell such a sto­ry. It's fun­ny how these things that you paint can become a lit­tle bit of the per­son but they also become a lit­tle bit of you.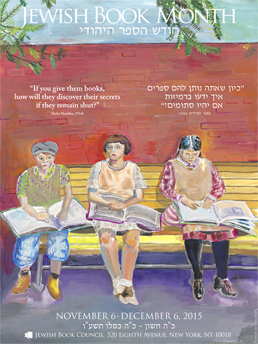 Right now I'm illus­trat­ing my best friend's chal­lah recipe. She taught me how to make chal­lah maybe six months ago, and it's become a mind­ful­ness prac­tice for me. I'd love to tell you that I'm the most mind­ful per­son, but actu­al­ly I'm some­what fre­net­ic and I don't real­ly think in a very lin­ear way at all. But mak­ing chal­lah every Fri­day helps me remem­ber the rest of my week, because oth­er­wise it's a blur. And the rit­u­al of it — I love it. It just makes my soul feel good. I can't explain it. It's sort of magical.
BTK: What are you look­ing for­ward to read­ing dur­ing Jew­ish Book Month?
GF: I just read After Birth by Elisa Albert. It was unput­down­able. It was com­pelling to hear a lot of my inco­her­ent gripes so lucid­ly and beau­ti­ful­ly dis­tilled. I start­ed reread­ing The Col­lect­ed Sto­ries of Isaac Bashe­vis Singer, who is the coolest guy in the world. He was total­ly a ladies' man. He looked like a lit­tle troll, but he used to walk around the Upper West Side and just pick women up, appar­ent­ly. That's one of the tid­bits I learned in my MFA. And The Col­lect­ed Short Sto­ries of Deb­o­rah Eisen­berg. All of her short sto­ries are like lit­tle paint­ings in them­selves. They're weird and fun­ny and deep.
Bec­ca Kan­tor received her BA from the Uni­ver­si­ty of Penn­syl­va­nia and her MA in Cre­ative Writ­ing from the Uni­ver­si­ty of East Anglia. She is the Man­ag­ing Edi­tor of Jew­ish Book World.
Relat­ed Content:
Bec­ca Kan­tor is the edi­to­r­i­al direc­tor of Jew­ish Book Coun­cil and its annu­al print lit­er­ary jour­nal, Paper Brigade. She received an MA in cre­ative writ­ing from the Uni­ver­si­ty of East Anglia. Bec­ca spent a year in Esto­nia on a Ful­bright schol­ar­ship, writ­ing and study­ing the coun­try's Jew­ish his­to­ry, and anoth­er year in Ger­many vol­un­teer­ing at the Neuengamme Con­cen­tra­tion Camp Memo­r­i­al. She lives in Brooklyn.