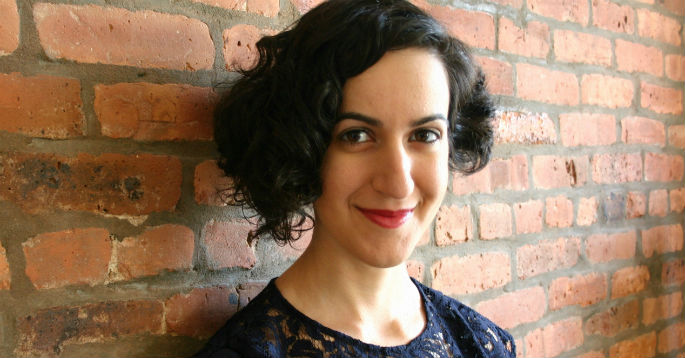 Sigal Samuel is the author of the debut nov­el The Mys­tics of Mile End, pub­lished this Octo­ber by William Morrow.
Elie Lichtschein: The Mys­tics of Mile End is writ­ten from four dis­tinct per­spec­tives. How did you go about chan­nel­ing these dif­fer­ent voic­es? Were there any dif­fi­cul­ties you faced in doing so?
Sigal Samuel: When I decid­ed to write from the per­spec­tives of a lit­tle boy, a mid­dle-aged pro­fes­sor, a female col­lege stu­dent, and an old man, I thought the hard­est part would be access­ing an authen­tic voice for each, but the trick­i­er thing was actu­al­ly stay­ing ​"in the zone" of any one voice long enough to fin­ish writ­ing that character's sec­tion. For a while, I actu­al­ly had to give up read­ing fic­tion that was writ­ten in a vast­ly dif­fer­ent voice from the one I was try­ing to create.
EL: A recur­ring theme in this book is that of the out­sider stand­ing on the fringes of a close-knit com­mu­ni­ty. David, Sama­ra, and Mr. Katz each man­i­fest this at times. Which is a neat embod­i­ment of the Kab­bal­ah's role in tra­di­tion­al Jew­ish study — it's not meant to be exam­ined until one is forty years of age, and even then only with a spe­cial tutor. Do you find that the study of Kab­bal­ah is essen­tial for a Jew­'s intel­lec­tu­al devel­op­ment, or is it more sup­ple­men­tary in nature?
SS: I think it depends on the per­son. For many Jews, Kab­bal­ah is unnec­es­sary at best and hereti­cal at worst. For me, it's the most inter­est­ing (and mov­ing, and rad­i­cal, and lit­er­ary!) thing that Judaism has to offer.
EL: What first inspired your inter­est in the mys­ti­cal side of Judaism? Were you raised with it or did it devel­op later?
SS: My father was a pro­fes­sor of Jew­ish mys­ti­cism, so I was exposed to Kab­bal­is­tic texts and ideas from a young age. Once, when I was maybe eight years old, I sat in on one of his uni­ver­si­ty lec­tures. Look­ing up from the flash­ing lights of my Game­boy, I saw that he was using a yoyo to illus­trate the move­ment of the mystic's soul as it ascends and descends on the path toward God. That was it — I was hooked.
EL: What oth­er works informed your writ­ing of this book? Which authors — clas­sic or con­tem­po­rary — were most influ­en­tial while you worked on The Mys­tics of Mile End?
SS: I was inspired by Jew­ish works rang­ing from the ancient (Torah, Tal­mud) to the medieval (Zohar) to the mod­ern (S.Y. Agnon) to the post­mod­ern (Myla Gold­berg, Nicole Krauss). The mag­i­cal real­ist ele­ment in my fic­tion owes itself to con­tem­po­rary Jew­ish writ­ers (Etgar Keret, Jonathan Safran Foer) as well as South Amer­i­can writ­ers (Gabriel Gar­cia Mar­quez, Jorge Luis Borges). While writ­ing Mys­tics, I kept return­ing to my all-time favorite nov­el, Dostoyevsky's Broth­ers Kara­ma­zov—the char­ac­ter of Alyosha Kara­ma­zov being a loose inspi­ra­tion for Lev.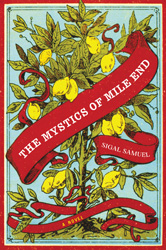 EL: I'm curi­ous about your process in writ­ing the book. Did you know from the out­set that there would be four dis­tinct voic­es, or was that a deci­sion that came about once you had already begun writing?
SS: Orig­i­nal­ly, I tried writ­ing the whole sto­ry from Samara's per­spec­tive. But it felt claus­tro­pho­bic to stay in the head of one increas­ing­ly insane nar­ra­tor for 300 pages. So I tried writ­ing it in four sec­tions, with the final sec­tion writ­ten entire­ly from the per­spec­tive of the old neigh­bor, Mr. Glass­man. But many read­ers told me that they want­ed to return to Lev's voice at the end of the book, since they'd bond­ed with him so strong­ly at the begin­ning. So I rewrote that last sec­tion from the point of view of the neigh­bor­hood, swivel­ing between the per­spec­tives of a few res­i­dents (includ­ing Lev), and was hap­py with the result. I was sur­prised to find that the book could take so many dif­fer­ent forms — it was almost infi­nite­ly malleable.
EL: You have a won­der­ful grasp on the lone­ly hope that is a major com­po­nent to child­hood — I found Lev­'s con­stant attempts to set up his wid­owed father espe­cial­ly poignant. What are some of the dif­fi­cul­ties in writ­ing about child­hood? Do you find it eas­i­er in your writ­ing to grab the reigns of a twelve year old's mind or that of an adult?
SS: I find it eas­i­er to inhab­it an adult's mind. Writ­ing in a kid's voice is tough because you have to remem­ber that all kids, even pre­co­cious ones like Lev, are self-cen­tered — they think the whole world revolves around them. I read Lev's whole sec­tion out loud to myself to make sure every phrase sound­ed like some­thing he would real­ly say. Liv­ing in a child's mind is also reward­ing, though: it forces you to recon­nect with your child­hood self, to remem­ber that expe­ri­ence in all its lone­li­ness and lush­ness and con­fu­sion and awe.
EL: What do you hope read­ers will take away from The Mys­tics of Mile End?
SS: I think that some of us are so hun­gry for mean­ing that we get obsessed with cer­tain ideas — often seduc­tive reli­gious or mys­ti­cal ideas — and we for­get that pur­su­ing this obses­sion comes at a cost to the peo­ple around us. With­out mak­ing any moral judg­ment about this, I want­ed read­ers to con­sid­er what's the val­ue of devot­ing your­self to some notion of holi­ness if it means leav­ing behind those who love you most?
EL: What can read­ers expect from you next?
SS: I'm inter­est­ed in writ­ing about India these days. After I fin­ished writ­ing Mys­tics, I found out that my own fam­i­ly has a mys­ti­cal con­nec­tion — my great-great-grand­fa­ther was a revered Kab­bal­ist in Bom­bay. I trav­eled there to hunt down his for­got­ten secret soci­ety and came back with a long­form arti­cle for the For­ward, ​"Search­ing for My Indi­an Jew­ish Fam­i­ly, from Kab­bal­ah to Bol­ly­wood." That trip left me with such pow­er­ful impres­sions — I wouldn't be sur­prised if they find their way into my fiction.
EL: What are you read­ing now?
SS: I'm read­ing Sarah Wildman's amaz­ing mem­oir, Paper Love: Search­ing for the Girl My Grand­fa­ther Left Behind. On the sur­face, it's a Holo­caust sto­ry root­ed in Vien­na, but it's also a sto­ry about grow­ing obsessed with a deeply unre­li­able fam­i­ly mythology.
Elie Lichtschein is a writer and musi­cian based in New York. He is cur­rent­ly pur­su­ing an MFA degree in Cre­ative Writ­ing from the New School, where he is com­plet­ing a mysti-fan­ta­sy Mid­dle Grade adven­ture novel.
Relat­ed Content:
Elie Lichtschein is a writer and musi­cian based in New York. He is cur­rent­ly pur­su­ing an
MFA
degree in Cre­ative Writ­ing from the New School, where he is com­plet­ing a mysti-fan­ta­sy Mid­dle Grade adven­ture novel.