Post­ed By Nao­mi Firestone-Teeter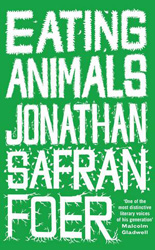 Jonathan Safran Foer​'s newest book Eat­ing Ani­mals
will be pub­lished on Novem­ber 2nd by Lit­tle, Brown and Com­pa­ny. Eat­ing Ani­mals fol­lows Safran Foer on his quest to make the right dietary choic­es on behalf of his chil­dren. He explores the folk­lore, fam­i­ly tra­di­tions, myths, and pop cul­ture that jus­ti­fy our eat­ing habits.
While the book is not specif­i­cal­ly Jew­ish, Safran Foer does sprin­kle the book with his Jew­ish upbring­ing, includ­ing a sec­tion ​"Kosher?" in which he looks at the scan­dal sur­round­ing Postville and the response from the Rab­bini­cal Assem­bly and the Ortho­dox chair of the Tal­mud Depart­ment at Israel's Bar Ilan Uni­ver­si­ty. He also exam­ines ani­mal ethics, specif­i­cal­ly in India and the Russ­ian tun­dra, as well as in Islam and Judaism.
Want more on Judaism and con­tem­po­rary food issues? Check out Hazon's upcom­ing food con­fer­ence (Decem­ber 24th):
Join the thinkers and doers of the New Jew­ish Food Move­ment – where con­tem­po­rary food con­ver­sa­tions meet ancient Jew­ish tra­di­tions. The fourth annu­al Hazon Food Con­fer­ence is the only place in the world where farm­ers and rab­bis, nutri­tion­ists and chefs, veg­ans and omni­vores, come togeth­er to explore the dynam­ic inter­play of food, Jew­ish tra­di­tion and con­tem­po­rary life.

The Hazon Food Con­fer­ence is at the fore­front of a nation­al move­ment that explores the inter­sec­tion of Jew­ish life and con­tem­po­rary food issues. Con­fer­ence themes focused on Jew­ish food cul­ture, cut­ting edge food law and pol­i­cy, food jus­tice, kosher meat issues, health and nutri­tion, cook­ing and gar­den­ing, and Israeli food and agriculture.
More infor­ma­tion about Hazon and the food con­fer­ence can be found here.