Ear­li­er this week, Rab­bi Shmu­ly Yan­klowitz wrote about tax­a­tion in Amer­i­ca and Hur­ri­cane Sandy,

FEMA

, and the Need for Big Gov­ern­ment and . He has been blog­ging here all week for Jew­ish Book Coun­cil and MyJew­ish­Learn­ing.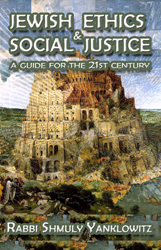 The great French Jew­ish philoso­pher and Tal­mud­ist Emmanuel Lev­inas, in his Dif­fi­cult Free­dom (pp. 176 – 177), taught about the pow­er of Jew­ish rit­u­al to inform and inspire our work to make the world more just, which is of para­mount impor­tance. He wrote: ​"The Jus­tice ren­dered to the Oth­er, my neigh­bor, gives me an unsur­pass­able prox­im­i­ty to God… The pious per­son is the just person.…For love itself demands jus­tice and my rela­tion with my neigh­bor can­not remain out­side the lines which this neigh­bor main­tains with var­i­ous third par­ties. The third par­ty is also my neigh­bor." Thus, when we pur­sue jus­tice in a Jew­ish way, we come clos­er to G‑d. This is because "[t]he rit­u­al law con­sti­tutes the aus­tere law that strives to achieve jus­tice. Only this law can rec­og­nize the face of the Oth­er which has man­aged to impose an aus­tere role on its true nature…"
This dis­ci­pline found in reli­gious life through rit­u­al is need­ed in our dai­ly lives: ​"The way that leads to God there­fore leads … to humankind; and the way that leads to humankind draws us back to rit­u­al dis­ci­pline and self-edu­ca­tion. Its great­ness lies in dai­ly reg­u­lar­i­ty…" One can­not rely on an occa­sion­al, pas­sive reli­gious ser­vice, but on dai­ly rit­u­al. To Lev­inas, rit­u­al tames man and calms the spir­it: ​"The law is effort. The dai­ly fideli­ty to the rit­u­al ges­ture demands a courage that is calmer, nobler and greater than that of the war­rior…. The law of the Jew is nev­er a yoke. It car­ries its own joy…" Far from reli­gion as dour, drudge-like labor, rit­u­al is joy­ful labor.
We can see this truth in oth­er areas, as well. Social work­ers have seen the ben­e­fi­cial effects of rit­u­als on youths who have grown up with pover­ty, domes­tic vio­lence, sex­u­al abuse, drug addic­tion, crime, and par­ents who either aban­doned their fam­i­lies or have been incar­cer­at­ed. Mark Red­mond, Exec­u­tive Direc­tor of Spec­trum Youth and Fam­i­ly Ser­vices, observed: ​"Rit­u­als, whether reli­gious or not, are vital to fam­i­ly life. Hav­ing din­ner togeth­er every night — with­out any tele­vi­sion, cell phones or e‑mail present — is extreme­ly impor­tant. Bed­time rit­u­als are also impor­tant. And mak­ing a big deal about birth­days and anniver­saries and hol­i­days — all impor­tant." These rit­u­als, and reli­gious rit­u­als, pro­vide safe­ty, sta­bil­i­ty, and pur­pose to chil­dren who oth­er­wise would live in a world of anx­i­ety and hopelessness.
In a sim­i­lar vein, Lev­inas argues that the human-Divine rela­tion­ship formed in rit­u­al gives us the strength to fight for jus­tice: ​"The fact that the rela­tion­ship with the Divine cross­es the rela­tion­ship with peo­ple and coin­cides with social jus­tice is there­fore what epit­o­mizes the entire spir­it of the Jew­ish bible. Moses and the prophets pre­oc­cu­pied them­selves not with the immoral­i­ty of the soul but with the poor, the wid­ow, the orphan and the stranger." This human-Divine rela­tion­ship should not be char­ac­ter­ized as ​"spir­i­tu­al friend­ship," but one ​"that is man­i­fest­ed, test­ed and accom­plished in a just econ­o­my for which each per­son is ful­ly respon­si­ble…" Rit­u­al, there­fore, is hope­ful, joy­ful, and nec­es­sary to cre­ate a just world.
The Jew­ish sense of slav­ery, which we return to so fre­quent­ly in Jew­ish prayer and rit­u­al, defines our nar­ra­tive and eth­i­cal con­scious­ness. ​"The trau­mat­ic expe­ri­ence of my slav­ery in Egypt con­sti­tutes my very human­i­ty, a fact that imme­di­ate­ly allies me to the work­ers, the wretched and the per­se­cut­ed peo­ples of the world. My unique­ness lies in the respon­si­bil­i­ty I dis­play to the Other…Humankind is called before a form of Judg­ment and jus­tice that rec­og­nizes this respon­si­bil­i­ty…" Once again, Lev­inas chal­lenges the view of rit­u­al as insu­lar and pas­sive, recast­ing it as cen­tral in rais­ing our aware­ness of our com­mon­al­i­ty with all the poor and vulnerable.
Rit­u­als are non-util­i­tar­i­an, sym­bol­ic acts that involve and pro­mote the cul­ti­va­tion of mind­ful­ness. The trans­for­ma­tive pow­er of rit­u­al is achieved when we take the oppor­tu­ni­ty to explore our­selves, our hearts, and our ideals. We step out of this world to cul­ti­vate a mean­ing­ful expe­ri­ence and then to return to life changed. This is why we seek to per­form rit­u­al on our own and not by proxy. The great­est pow­er of reli­gious rit­u­al, in my view, is the oppor­tu­ni­ty to deep­en aware­ness about one's own moral and spir­i­tu­al val­ues. In rit­u­al, we slow down, refo­cus on the big pic­ture, and reaf­firm our core val­ues. Some­times we do this in sacred pri­va­cy but more often we do it with­in the spir­i­tu­al part­ner­ship of community.
Lev­inas remind­ed us that when we hon­or the dig­ni­ty of the oth­er we are also hon­or­ing the Oth­er. And when we embrace the Oth­er we are prepar­ing for our work in social jus­tice for the oth­er. May we return to Jew­ish rit­u­al with fer­vor and deter­mi­na­tion, and may we allow its spir­i­tu­al pow­er to trans­form us to be agents of love and jus­tice in emu­la­tion of the Divine.
Rab­bi Shmu­ly Yan­klowitz is the Founder and Pres­i­dent of Uri L'Tzedek, the Senior Rab­bi at Kehi­lath Israel, and is the author of Jew­ish Ethics & Social Jus­tice: A Guide for the 21st Cen­tu­ry. Newsweek named Rav Shmu­ly one of the top 50 rab­bis in Amer­i­ca!