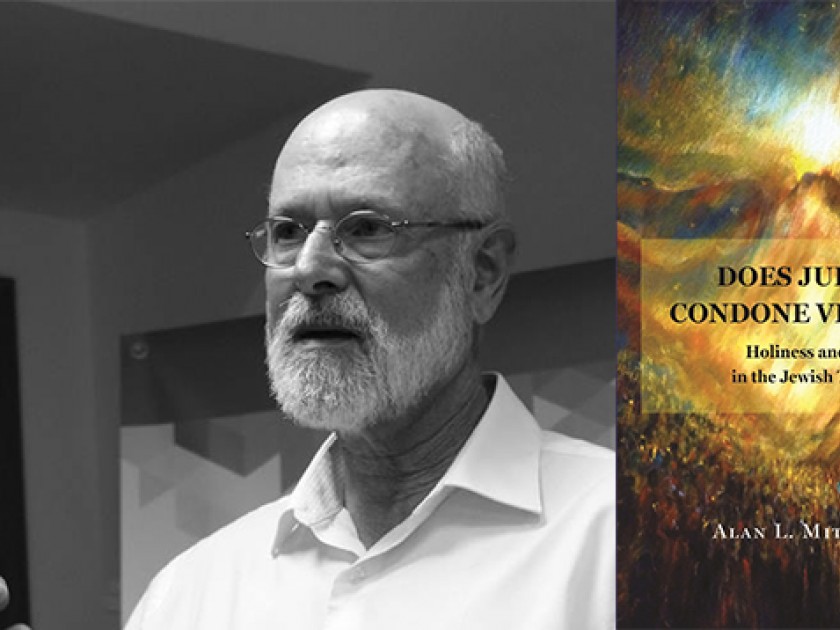 In advance of the 68th Annu­al Nation­al Jew­ish Book Awards cer­e­mo­ny on March 5th, 2019 (which you can buy tick­ets for here), Jew­ish Book Coun­cil is shar­ing short inter­views with the win­ners in each category.
Alan L. Mittleman's book, Does Judaism Con­done Vio­lence?: Holi­ness and Ethics in the Jew­ish Tra­di­tion, is the win­ner of the 2018 Dorot Foun­da­tion Award for Mod­ern Jew­ish Thought and Expe­ri­ence in Mem­o­ry of Joy Unger­lei­der May­er­son. In his book, Mit­tle­man offers a pow­er­ful analy­sis of the con­cept of holi­ness and a rich philo­soph­i­cal explo­ration of some of the most chal­leng­ing bib­li­cal texts involv­ing acts of vio­lence. The judges on the Mod­ern Jew­ish Thought and Expe­ri­ence pan­el say: ​"This book was select­ed as win­ner … because of Mittleman's excep­tion­al abil­i­ty to blend an intel­lec­tu­al­ly rig­or­ous analy­sis of bib­li­cal texts and philo­soph­i­cal con­cepts with acces­si­ble lan­guage and imagery. He suc­ceeds in pre­sent­ing a com­pli­cat­ed and often mis­un­der­stood top­ic in a way that is engag­ing to a wide range of read­ers who may them­selves be search­ing for a deep­er under­stand­ing of holi­ness and moral­i­ty, and who strug­gle with the reli­gious vio­lence we see all too often in our world today."
Which three Jew­ish writ­ers, dead or alive, would you most like to have din­ner with?
Phi­lo, Has­dai Crescas, and Isaac Breuer. I would like to dis­suade Phi­lo from his misog­y­ny, find out just what Crescas thought about free will and deter­min­ism because his sur­viv­ing views are so unclear, and let Breuer talk to his heart's con­tent about Kant and Schopenhauer.
What's your favorite book that no one else has heard of?
I can't say that I have a favorite book. Two books which made a huge impact on me as a ten­der under­grad­u­ate were the late Michael Novak's The Expe­ri­ence of Noth­ing­ness and my teacher William A. Johnson's The Search for Tran­scen­dence. Many years lat­er, I got to know Michael, which was very sat­is­fy­ing. Bill John­son is still, thank­ful­ly, a part of my life. I ded­i­cat­ed one of my books to him a few years ago.
Which Jew­ish writ­ers work­ing today do you admire most?
I very much like Alle­gra Goodman's nov­els, as well as her father, Lenn Goodman's, philo­soph­i­cal and schol­ar­ly work. I also draw a lot of intel­lec­tu­al stim­u­la­tion from David Novak's philo­soph­i­cal the­ol­o­gy. They are all at the top of their game.
What are you read­ing right now?
Right now I'm read­ing a book by a British math­e­mati­cian and philoso­pher, E. Bri­an Davies, called Why Beliefs Mat­ter. It's a set of reflec­tions on the epis­te­mol­o­gy of sci­ence. Most­ly it's an argu­ment against lin­ger­ing traces of Pla­ton­ism, espe­cial­ly in mathematics.
What are your great­est cre­ative influ­ences (oth­er than books)?
The show­er. Every good idea that comes to me seems to come first thing in the morn­ing in the show­er. Then it's all down­hill the rest of the day.
What do you hope read­ers will take away from your book?
It won't sur­prise any read­er to learn that there are often sig­nif­i­cant con­flicts between our con­tem­po­rary under­stand­ing of ethics and some of the very old moral norms embed­ded in the Bible. Hard­est to under­stand are bib­li­cal texts that seem to under­write vio­lence for an alleged holy pur­pose. The rela­tion­ship between holi­ness and ethics can be sup­port­ive — or it can be fraught. This book pro­vides read­ers with mod­els for think­ing about that rela­tion­ship and, I hope, defus­ing the poten­tial for vio­lence that reli­gious texts still contain.