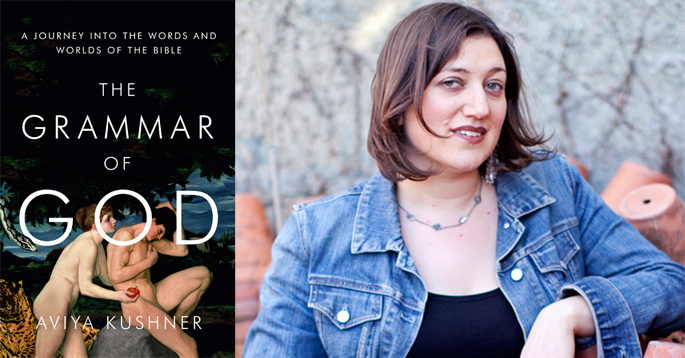 Jew­ish Book Coun­cil is proud to intro­duce read­ers to the five emerg­ing non­fic­tion authors named as final­ists for the 2016 Sami Rohr Prize for Jew­ish Lit­er­a­ture. Today, we invite you to learn more about Aviya Kush­n­er and her book The Gram­mar of God: A Jour­ney into the Words and Worlds of the Bible, a mem­oir of redis­cov­er­ing in trans­la­tion the Bible she knew by heart in Hebrew.
A warm con­grat­u­la­tions to Aviya and the oth­er four final­ists: Dan Ephron, Lisa Moses Leff, Adam D. Mendel­sohn, and Yehu­dah Mirsky. Be sure to check back soon to see which of these authors will be tak­ing home the $100,000 prize!
What are some of the most chal­leng­ing things about writ­ing nonfiction?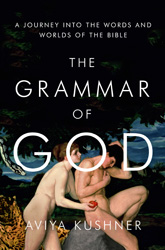 Non­fic­tion demands an engage­ment with facts, and the chal­lenge is to make infor­ma­tion inter­est­ing. Some­times the writer has to make the case that the seem­ing­ly arcane and nit­ty-grit­ty mat­ters help us under­stand our world. The best non­fic­tion writ­ing reframes real­i­ty and by pro­vid­ing essen­tial con­text, makes the read­er see the world we live in anew.
What or who has been your inspi­ra­tion for writ­ing nonfiction?
I became inter­est­ed in the pos­si­bil­i­ties of non­fic­tion while work­ing as a jour­nal­ist in Jerusalem. I inter­viewed the 14-year-old broth­er of two sis­ters who were killed in the Dol­phi­nar­i­um bomb­ing, and I could not stop think­ing about him — and how his life was for­ev­er changed. Most jour­nal­ists quick­ly moved on to the next bomb­ing, because the news cycle focus­es on event, but I felt that what hap­pened to the broth­er after this tragedy was an impor­tant sub­ject, and that how peo­ple live after ter­ror was some­thing worth explor­ing too. I real­ized that the essay was a place to explore after­math, to look at the deep roots of events and to con­sid­er their long­stand­ing effects.
Who is your intend­ed audience?
I think the Bible should inter­est every­one — reli­gious and sec­u­lar — because it has shaped West­ern cul­ture and has had a major influ­ence on law, lit­er­a­ture, pol­i­tics, and finance. The Bible mat­ters whether you are Jew­ish or Chris­t­ian or Mus­lim or nei­ther, in part because it has meant some­thing so dif­fer­ent to each of these groups. So my intend­ed audi­ence is intel­li­gent read­ers who want to under­stand how dif­fer­ent read­ings of the Bible have made our world.
Are you work­ing on any­thing new right now?
I'm deep in a new book that takes place in the twelfth cen­tu­ry. It was also a time of reli­gious vio­lence, and I am inter­est­ed in one par­tic­u­lar thinker who crossed bound­aries of faith and thought.
What are you read­ing now?
Right now I'm read­ing many books of con­tem­po­rary glob­al non­fic­tion, for a grad­u­ate course I am teach­ing. I rec­om­mend The Fault Line by Pao­lo Rumiz, which I recent­ly taught for that class. I also loved a recent nov­el titled The Big Green Tent by Lud­mil­la Ulit­skaya, as well as the mas­ter­ful nov­el The Bliz­zard by Vladimir Sorokin.
Top five favorite books?
It's hard to choose, but here are some books I love:
The Col­lect­ed Poems by W. H. Auden
The Mag­ic Bar­rel by Bernard Mala­mud
The Lit­tle Virtues by Natalia Ginzburg
Open Closed Open by Yehu­da Amichai
And of course, the Tanach, espe­cial­ly the Book of Isaiah.
When did you decide to be a writer? Where were you?
We were read­ing a Faulkn­er sto­ry titled ​"Dry Sep­tem­ber"; I was eigh­teen and a col­lege sopho­more. I remem­ber that every time I read that sto­ry I thought some­thing else hap­pened, and in class, there were sev­er­al dif­fer­ent read­ings pre­sent­ed. I remem­ber think­ing ​"I want to learn to do that" and ​"I will give it the best shot I have," and I have nev­er looked back. I loved the idea that a writer could make the read­er ques­tion every­thing she believed, and that one sto­ry could be read in such wild­ly dif­fer­ent ways. Faulkn­er made me see the pow­er of rumor and accu­sa­tion, and he made me ask myself what I real­ly thought. I want­ed to be able to do that.
What is the moun­tain­top for you? How do you define success?
All I ever want­ed was to con­tin­ue writ­ing. Doing that is the only def­i­n­i­tion I have of suc­cess. Being able to write the books I want to write is the moun­tain­top; I want to work hard and to write some­thing that will last. I love how James Bald­win phrased it: ​"I want to be an hon­est man and a good writer." That's all there is, to tell the truth and write well.
How do you write — what is your pri­vate modus operan­di? What tal­is­mans, rit­u­als, props, do you use to assist you?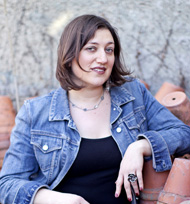 I often write my first and sec­ond drafts, by hand, in cof­fee shops.
What do you want read­ers to get out of your book?
I want read­ers to think about the Hebrew of the Hebrew Bible, and to con­sid­er what hap­pened as the Bible became both the best-sell­ing and most trans­lat­ed book in human his­to­ry. I hope read­ers will be inspired to read trans­la­tions from dif­fer­ent faiths and cen­turies, and to think about how lan­guage shapes how we read and what we believe.
Aviya Kush­n­er teach­es in the non­fic­tion writ­ing pro­gram at Colum­bia Col­lege Chica­go. She is also a con­tribut­ing edi­tor at A Pub­lic Space and a men­tor for the Nation­al Yid­dish Book Center.
Relat­ed Content: