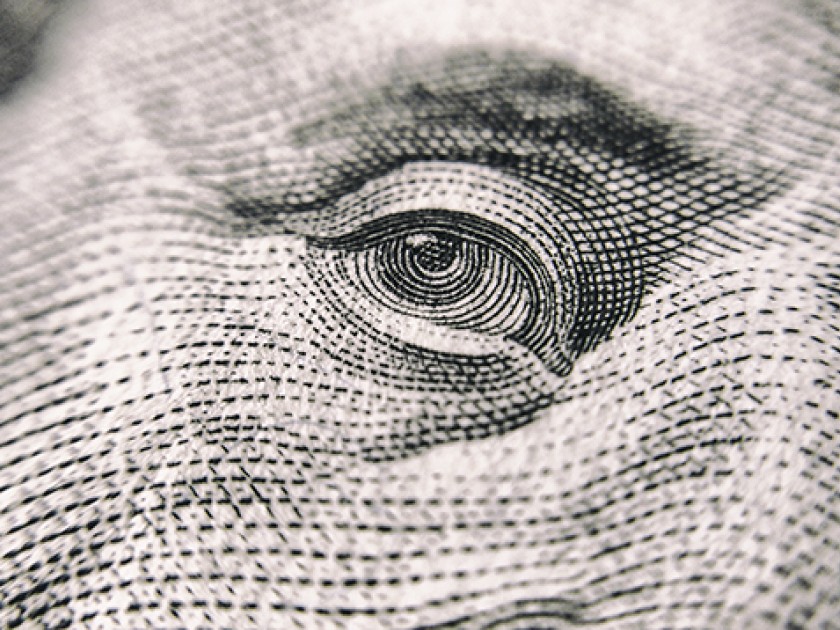 Ear­li­er this week, Randy Susan Mey­ers shared how the UJA-Fed­er­a­tion impact­ed and even saved her life. With the release of her fourth nov­el, The Wid­ow of Wall Street, Randy is guest blog­ging for the Jew­ish Book Coun­cil all week as part of the Vis­it­ing Scribe series here on The ProsenPeo­ple.
Mon­ey. It's our last taboo. Peo­ple spill seamy details about their sex lives before talk­ing about their finances, salary, or sav­ings accounts. Yet despite this cur­tain of silence, mon­ey is not only (sup­pos­ed­ly) the root of all evil, it's at the heart of rela­tion­ship bat­tles, shat­tered dreams, and mid­night wakefulness.
Mon­ey, sad­ly, is often how men mea­sure their worth and how women mea­sure men. We for­give drea­ry peo­ple their dread­ful­ness a lot quick­er when they pos­sess fat check­books — par­tic­u­lar­ly when their rich­es are com­bined with a suc­cess­ful career. Writ­ers laugh loud­er at the jokes of acclaimed fel­low authors; rel­a­tives give a bit more lat­i­tude to rich aun­ties and uncles. All of us, whether with aware­ness or not, bow a bit in the face of a fat wallet.
Women — espe­cial­ly women of my age — grow up expect­ing to if not be sup­port­ed by, be with a part­ner who pays the lion's share of the rent. Young women today grow up with high­er expec­ta­tions (yes!), but they still har­bor dreams of Prince Mon­ey­pants res­cu­ing them; how could they not after watch­ing fairy tale mes­sages in clas­sic movies such as Pret­ty Woman. These images stalk us; we buy into them, despite our­selves. When that man of ours walks out still hold­ing the reins to the fam­i­ly mon­ey, we're destroyed.
Each time a finan­cial scan­dal unfolds, I won­der what was the self-told sto­ry the per­pe­tra­tor believed that let him hurt so many peo­ple, and what is it like for his family?
When Bernie Madoff's crimes made head­lines, I thought about his wife Ruth and what it would be like to wake up one day and learn that one's entire life was built on air. Every crime has mul­ti­ple vic­tims — and those vic­tims usu­al­ly include the fam­i­ly of the per­pe­tra­tor. I know from work­ing with crim­i­nals for ten years about the sto­ries they told to excuse them­selves — excus­es that simul­ta­ne­ous­ly fas­ci­nat­ed and repulsed me. I learned how even those engag­ing in the most heinous behav­ior, man­age to explain away their exploits — even if only to themselves.
Writ­ing The Wid­ow of Wall Street allowed me to explore my fas­ci­na­tion with how crim­i­nal scan­dal affects those clos­est to the per­pe­tra­tor — and how they applied to the fam­i­ly of Bernie and Ruth Mad­off — by inhab­it­ing the point of view of both my main char­ac­ters, caught in a sim­i­lar crime: hus­band, Jake Pierce, and wife, Phoebe Pierce. My lens on mar­riage and mon­ey sharpened.
White-col­lar crim­i­nals, accus­tomed to enti­tle­ment, com­mit the most out­ra­geous schemes and crimes, always believ­ing they'll find a way out. Women, con­di­tioned to sec­ond chair finan­cial­ly, don't ques­tion the most unlike­ly of finan­cial sce­nar­ios claimed by their partners.
So many women — many of my friends and rel­a­tives— are clue­less about their finances. This added to my belief from the out­set that some­one like Ruth Mad­off could absolute­ly be unaware of what her Ponzi-schem­ing hus­band had done. (He pulled the wool over the eyes of cap­tains of indus­try and CEOs. Why not his wife?)
I learned the word knip­pel at my mother's knee. She was so secre­tive about her mon­ey that I assume she even had some she hid from her­self. She urged me to keep a knip­pel when upon the occa­sion of my first marriage.
At 19.
Look­ing back, not such bad advice. At the time, high on fem­i­nism, equal­i­ty, and a cot­ton hip­pie wed­ding dress, I scoffed at the idea of hid­ing any­thing in mar­riage. How­ev­er, I soon learned equal­i­ty as an ide­al was not equal­ly promi­nent in my husband's mind as it was in mine.
By the time my mar­riage end­ed, I longed for full purview over the checkbook.
Ten years lat­er, divorced, I had it. Broke, I let my cred­it card debt pile up — ignor­ing the grow­ing inter­est, excus­ing myself because I was the sole sup­port of the house and being unable to pay bills is tir­ing — and buy­ing stuff for is sooth­ing. So, you charge one more thing, open one more cred­it line … and the road to mad­ness con­tin­ues. I pushed the prob­lems back; they woke me at three in the morn­ing. Wor­ry gnawed. How did I assuage my fears? By spend­ing more mon­ey. The cycle grew.
Avoid­ance brings stress. I should have lis­tened to my moth­er, who always said pay your­self first. My moth­er, hor­ri­fied at the idea of my debt, res­cued me via a kind (and wealthy, thus wor­shipped by her) rel­a­tive who gave me an inter­est-free loan, which I used to pay off my cred­it cards and I vowed to nev­er have cred­it card inter­est again. Inter­est makes banks fat and turns us into twist­ed ropes of tension.
Since then, my hus­band has con­vinced me that avoid­ing the truth nev­er makes the truth go away. What is, is. But some­times, what we're told is, isn't. There were many mes­sages I took away from writ­ing The Wid­ow of Wall Street, includ­ing how often peo­ple wake up learn­ing they live in a dif­fer­ent mar­riage than their spouse, and how chil­dren always end up as col­lat­er­al dam­age in their parent's crimes.
Most of all, I'll nev­er for­get this: If it sounds too good to be true, it prob­a­bly is.
Randy Susan Mey­ers is the best­selling author of Acci­dents of Mar­riage, The Com­fort of Lies, The Murderer's Daugh­ters, and The Wid­ow of Wall Street. Her books have twice been final­ists for the Mass Book Award and named ​"Must Read Books" by the Mass­a­chu­setts Cen­ter for the Book. She teach­es writ­ing at the Grub Street Writ­ers' Cen­ter in Boston.