Excerpt­ed from On the Move: A Life by Oliv­er Sacks.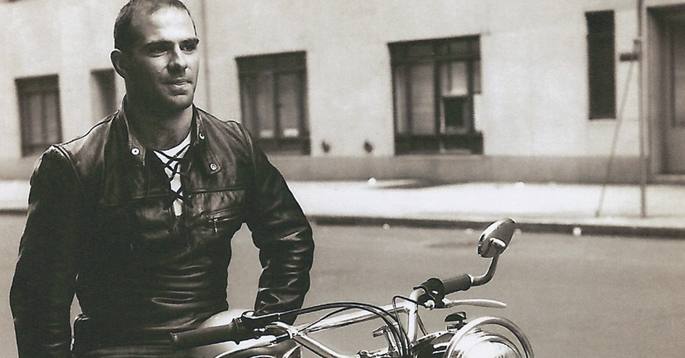 When I final­ly made it to New York in June of 1961, I bor­rowed mon­ey from a cousin and bought a new bike, a BMW R60 — the trusti­est of all the BMW mod­els. I want­ed no more to do with used bikes, like the R69 which some idiot or crim­i­nal had fit­ted with the wrong pis­tons, the pis­tons that had seized up in Alabama.
I spent a few days in New York, and then the open road beck­oned me. I cov­ered thou­sands of miles in my slow, errat­ic return to Cal­i­for­nia. The roads were won­der­ful­ly emp­ty, and going across South Dako­ta and Wyoming, I would scarce­ly see anoth­er soul for hours. The silence of the bike, the effort­less­ness of rid­ing, lent a mag­i­cal, dream­like qual­i­ty to my motion.
There is a direct union of one­self with a motor­cy­cle, for it is so geared to one's pro­pri­o­cep­tion, one's move­ments and pos­tures, that it responds almost like part of one's own body. Bike and rid­er become a sin­gle, indi­vis­i­ble enti­ty; it is very much like rid­ing a horse. A car can­not become part of one in quite the same way.
I arrived back in San Fran­cis­co at the end of June, just in time to exchange my bike leathers for the white coat of an intern in Mount Zion Hospital.
Dur­ing my long road trip, with snatched meals here and there, I had lost weight, but I had also worked out when pos­si­ble at gyms, so I was in trim shape, under two hun­dred pounds, when I showed off my new bike and my new body in New York in June. But when I returned to San Fran­cis­co, I decid­ed to ​"bulk up" (as weight lifters say) and have a go at a weight- lift­ing record, one which I thought might be just with­in my reach. Putting on weight was par­tic­u­lar­ly easy to do at Mount Zion, because its cof­fee shop offered dou­ble cheese­burg­ers and huge milk shakes, and these were free to res­i­dents and interns. Rationing myself to five dou­ble cheese­burg­ers and half a dozen milk­shakes per evening and train­ing hard, I bulked up swift­ly, mov­ing from the mid-heavy cat­e­go­ry (up to 198 pounds) to the heavy (up to 240 pounds) to the super­heavy (no lim­it). I told my par­ents about this — as I told them almost every­thing — and they were a bit dis­turbed, which sur­prised me, because my father was no light­weight and weighed around 250 himself.
I had done some weight lift­ing as a med­ical stu­dent in Lon­don in the 1950s. I belonged to a Jew­ish sports club, the Mac­cabi, and we would have pow­er-lift­ing con­tests with oth­er sports clubs, the three com­pe­ti­tion lifts being the curl, the bench press, and the squat, or deep knee bend.
Very dif­fer­ent from these were the three Olympic lifts— the press, the snatch, and the clean and jerk — and here we had world-class lifters in our lit­tle gym. One of them, Ben Helf­gott, had cap­tained the British weight-lift­ing team in the 1956 Olympic Games. He became a good friend (and even now, in his eight­ies, he is still extra­or­di­nar­i­ly strong and agile). I tried the Olympic lifts, but I was too clum­sy. My snatch­es, in par­tic­u­lar, were dan­ger­ous to those around me, and I was told in no uncer­tain terms to get off the Olympic lift­ing plat­form and go back to pow­er lifting.
The Cen­tral YMCA in San Fran­cis­co had par­tic­u­lar­ly good weight-lift­ing facil­i­ties. The first time I went there, my eye was caught by a bench-press bar loaded with near­ly 400 pounds. No one at the Mac­cabi could bench-press any­thing like this, and when I looked around, I saw no one in the Y who looked up to such a weight. No one, at least, until a short but huge­ly broad and thick-chest­ed man, a white-haired goril­la, hob­bled into the gym — he was slight­ly bow­legged — lay down on the bench, and, by way of warmup, did a dozen easy reps with the bench-press bar. He added weights for sub­se­quent sets, going to near­ly 500 pounds. I had a Polaroid cam­era with me and took a pic­ture as he rest­ed between sets. I got talk­ing to him lat­er; he was very genial. He told me that his name was Karl Nor­berg, that he was Swedish, that he had worked all his life as a long­shore­man, and that he was now sev­en­ty years old. His phe­nom­e­nal strength had come to him nat­u­ral­ly; his only exer­cise had been heft­ing box­es and bar­rels at the docks, often one on each shoul­der, box­es and bar­rels which no ​"nor­mal" per­son could even lift off the ground.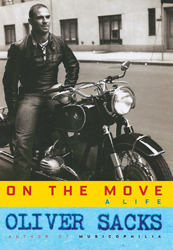 I felt inspired by Karl and deter­mined to lift greater poundages myself, to work on the one lift I was already fair­ly good at — the squat. Train­ing inten­sive­ly, even obses­sive­ly, at a small gym in San Rafael, I worked up to doing five sets of five reps with 555 pounds every fifth day. The sym­me­try of this pleased me but caused amuse­ment at the gym — ​"Sacks and his fives." I didn't real­ize how excep­tion­al this was until anoth­er lifter encour­aged me to have a go at the Cal­i­for­nia squat record. I did so, dif­fi­dent­ly, and to my delight was able to set a new record, a squat with a 600-pound bar on my shoul­ders. This was to serve as my intro­duc­tion to the pow­er-lift­ing world; a weight-lift­ing record is equiv­a­lent, in these cir­cles, to pub­lish­ing a sci­en­tif­ic paper or a book in academia.
Copy­right © 2015 by Oliv­er Sacks. Excerpt­ed by per­mis­sion of Knopf, a divi­sion of Ran­dom House, Inc. All rights reserved. No part of this excerpt may be repro­duced or reprint­ed with­out per­mis­sion in writ­ing from the publisher.
Relat­ed Content: