On Mon­day, Gal Beck­er­man wrote about bar­be­cu­ing with hijack­ers. His first book, When They Come for Us, We'll Be Gone: The Epic Strug­gle to Save Sovi­et Jew­ry, is now avail­able. Gal, a staff writer at the For­ward, will be blog­ging for the Jew­ish Book Coun­cil and MyJew­ish­Learn­ing​'s Vis­it­ing Scribe all week.
I've repeat­ed it so many times these past few months that I don't even think about it any­more. ​"I had two babies this year," I'll say, smil­ing wide­ly. Or some­times I'll hold up the book and say, ​"Here's my oth­er baby." I try to avoid the line if my wife is any­where nearby.
It's both a cliché and a kind of reflex at this point – both rea­sons to drop the whole baby thing alto­geth­er. It also feels like some­thing a woman who's gone through labor might not utter so glibly. And yet, I can't give it up. It's hard to untan­gle my feel­ings about how the book and my baby start­ed life – my edi­tor actu­al­ly called me while I was at the hos­pi­tal because I was late to deliv­er (!) the man­u­script. It's always felt more than just a thought­less metaphor for me.
But now that my daugh­ter is almost turn­ing one and my book has made its way onto the shelves of book­stores, maybe it's time to test if the com­par­i­son actu­al­ly stands up.
Ges­ta­tion peri­od: Hands down, the book wins if we're talk­ing about time. I start­ed work­ing on it over five years ago, before I even met the moth­er of my lit­tle girl. It involved hours upon hours of research in archives and oral inter­views. And beyond the work, there was the anx­i­ety. There was plen­ty of that to go around while my wife's bel­ly grew, but it was con­cen­trat­ed in a dis­tinct – and rel­a­tive­ly short – peri­od of time. Anx­i­ety for the book took dif­fer­ent forms at dif­fer­ent times over the years, and it was always wait­ing for me around the cor­ner, even at my most con­fi­dent moments.
See­ing her/​it for the first time: Since I had no idea what she would look like and had not slept all night and my wife had gone through an intense labor that involved her yelling at me about get­ting rid of var­i­ous things in the room whose smells she couldn't stand, I would say that the first sight of the book was a more con­trolled and pre­dictable thing. My edi­tor and I had been dis­cussing the cov­er for months, then I saw the gal­ley, and by the time the actu­al book came in the mail, it was thrilling (of course), but not the earth shat­ter­ing event I had always fan­ta­sized about. It was already famil­iar to me. And as time pass­es it becomes even more famil­iar as an object, while my daughter's face becomes more a thing of crazy won­der to me every day (it's a lit­tle like this writer's response to the book vs. baby question).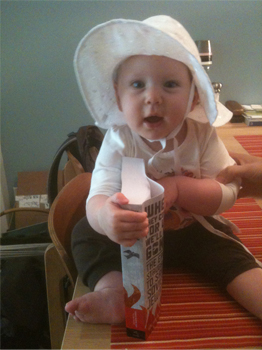 Fourth trimester: This is long over for my daugh­ter, but I'm at the tail end of it with the book. It's the three-month peri­od after a baby is born when they are more blob than human. It's before you real­ly know what her per­son­al­i­ty will be, before she can inter­act in any way besides scream­ing uncon­trol­lably. It made me a bit impa­tient. The anal­o­gous time for the book is once every­thing is done and before it is actu­al­ly pub­lished, reviewed, received by the world. You are wait­ing and hop­ing and wor­ried that your book might be ignored, that it will fall in the vast cul­tur­al for­est with­out mak­ing a sound. All I can hope for now is that the end of that peri­od for the book is as reward­ing as it was when my daughter's per­son­al­i­ty began to man­i­fest itself.
These days she's a mis­chief- mak­er and a col­lec­tor of every speck of dust and stray Chee­rio hid­den in the cor­ners of our small one-bed­room apart­ment, exclaim­ing ​"wow!" with gus­to when­ev­er she dis­cov­ers some­thing. If only read­ing my reviews fills me with as much joy as hear­ing those ​"wows"!
When They Come for Us, We'll Be Gone is now available.