On Wednes­day, March 9th, Gal Beck­er­man accept­ed the 2010 Jew­ish Book of the Year Award for When They Come for Us, We'll Be Gone: The Epic Strug­gle to Save Sovi­et Jew­ry
. His cer­e­mo­ny remarks follow: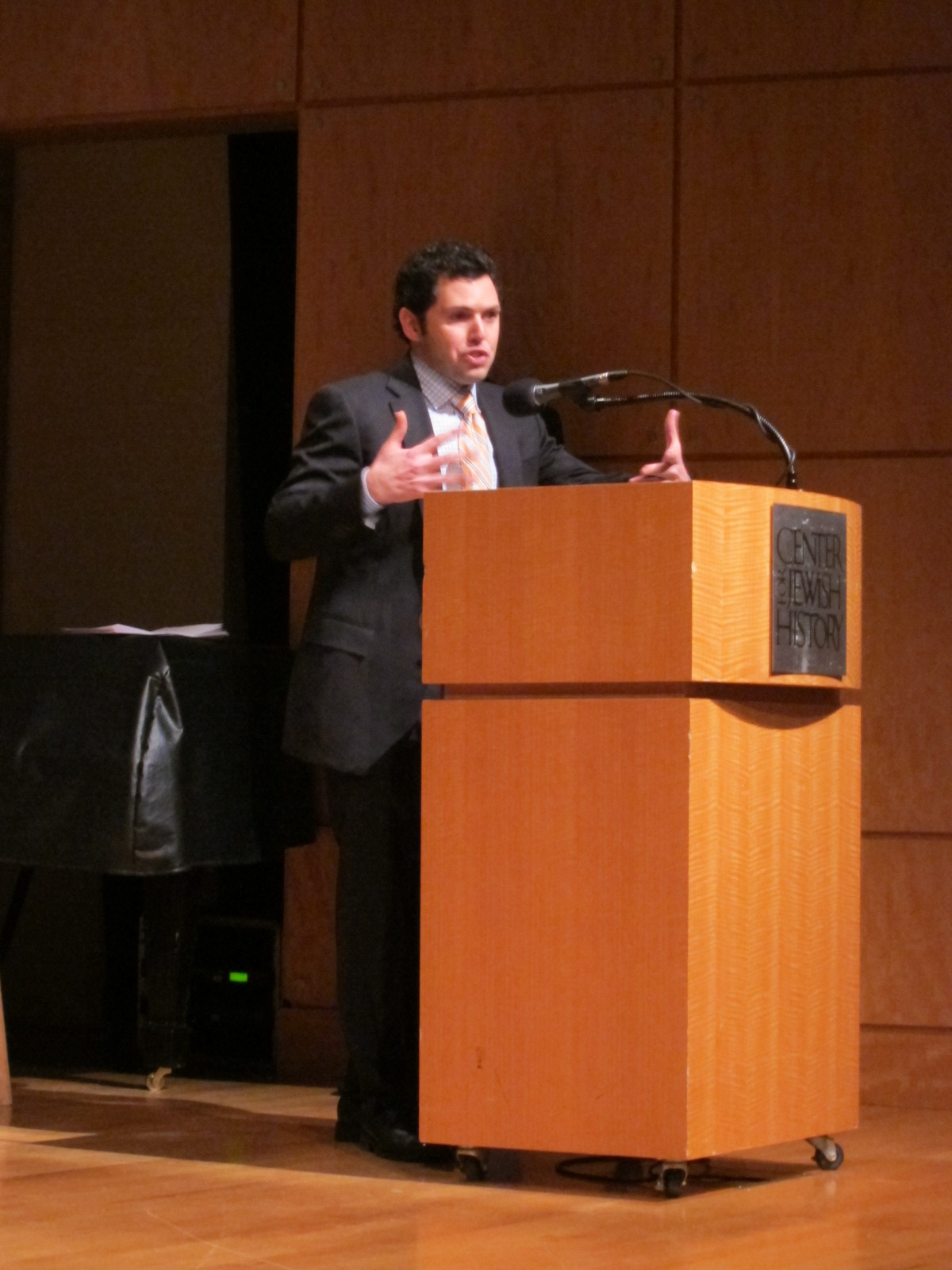 I'm extreme­ly hum­bled to have won this award. I tru­ly can't think of a greater hon­or than to receive a prize that so many giants have received before me – Amoz Oz, Michael Oren, Jonathan Sar­na, Joseph Telushkin, to name just a few. On top of that, to be here on the same evening that we hon­or the leg­endary Cyn­thia Ozick, is just tru­ly more than I could have ever hoped for.
The last time I can remem­ber feel­ing so com­plete­ly hum­bled had to be when I walked into Houghton Mifflin's offices for the first time in 2004 to meet with an edi­tor who was inter­est­ed in the book. I was 27 and very ner­vous and so I dressed in a suit, try­ing to look as seri­ous as pos­si­ble. The edi­tor, Jane Rosen­man, kind of sized me up, look­ing me up and down, and final­ly said, ​"You look so young. I bet the last time you wore that suit was your Bar Mitzvah."
Hope­ful­ly I've made a lit­tle progress since then.
It's actu­al­ly very spe­cial for me that Cyn­thia Ozick should be here. I used a won­der­ful metaphor of hers for the book's epi­graph and it's one I'd like to dis­cuss a bit this evening. The line is about a sho­far and it comes from a 1970 essay she wrote about the need for Jew­ish writ­ers in Amer­i­ca to draw on their own tra­di­tion for inspi­ra­tion. This is what she wrote: ​"If we blow into the nar­row end of the sho­far, we will be heard far. But if we choose to be Mankind rather than Jew­ish and blow into the wide part, we will not be heard at all; for us, Amer­i­ca will have been in vain."
It's an image that also helps explain a lot about the Sovi­et Jew­ry move­ment and why it had such a pro­found affect on Amer­i­can Jews. To bor­row her metaphor, my book is the his­to­ry of this com­mu­ni­ty learn­ing for the first time just how far they could be heard if the blew out of the nar­row end of the shofar.
Put anoth­er way, it's a sto­ry of recal­i­bra­tion. Amer­i­can Jew­ish iden­ti­ty has always been a strug­gle between, on the one hand, a com­mit­ment to uni­ver­sal, human­is­tic, deeply-held Amer­i­can val­ues and on the oth­er, a pull towards a trib­al, par­tic­u­lar­is­tic, Jew­ish iden­ti­ty. The move­ment bal­anced these two alle­giances bet­ter than at any oth­er moment in our history.
We learned that by blow­ing out of the nar­row end of the sho­far, we could more effec­tive­ly express our hopes for humankind — that being Amer­i­can, ful­ly Amer­i­can, did not mean sub­sum­ing the par­tic­u­lar to the uni­ver­sal, but using the par­tic­u­lar to make the uni­ver­sal sing. The result was not just the free­dom of fel­low Jews who were in need of help. Through their activism, Amer­i­can Jews put human rights at the cen­ter of Amer­i­can for­eign pol­i­cy – a lega­cy we still feel today.
The beau­ty of the move­ment – and the one ele­ment, more than any oth­er, that led to its suc­cess and, per­son­al­ly, allowed it to sus­tain my inter­est all these years – was its pow­er to bridge so many divides. This was a move­ment embraced as both an anti-Com­mu­nist cause by those on the right and a human rights strug­gle for those on the left. It was a pri­or­i­ty of Carter's no less than of Reagan's. A very broad swathe of peo­ple marched under the ban­ner of the Sovi­et Jew­ry move­ment, a ban­ner that I some­times like to say was pulled taut between two poles, with Meir Kahane, the extrem­ist right-wing rab­bi who was the very paragon of Jew­ish trib­al­ism gone awry, hold­ing up one, and Andrei Sakharov, the great Sovi­et democ­ra­cy activist, hold­ing up the other.
In Feb­ru­ary 1986 – 25 years ago last month – when Ana­toly Sha­ran­sky, a fight­er both for Sovi­et Jew­ry and human rights, final­ly walked to free­dom after nine years in Sovi­et pris­ons, there was much anx­i­ety about what his ide­o­log­i­cal ori­en­ta­tion might be once he was in the West. His wife Avi­tal, who had tire­less­ly cam­paigned on his behalf all those years, had become very close with the right-wing reli­gious set­tler move­ment, Gush Emu­nim, and many peo­ple won­dered how Sha­ran­sky would pos­si­bly rec­on­cile this with his iden­ti­ty as a human rights activist. A jour­nal­ist posed the ques­tion to Yehu­da Amichai, Israel's great­est poet, and he had a telling answer. ​"I hope they don't ruin him," he said. ​"He's the last one who belongs to all of us."
This was indeed a move­ment that belonged to all of us. But was it the last? Do Jews have any­thing like this today? It's a ques­tion I get asked almost every time I talk about the book to Jew­ish audi­ences. And the truth is that I don't think we do. Israel cer­tain­ly doesn't serve this uni­fy­ing pur­pose. The same inter­ests that over­lapped so har­mo­nious­ly on Sovi­et Jew­ry are vehe­ment­ly opposed to one anoth­er when it comes to Israel. There are some Jews today who hear the words ​"human rights" and assume it must be some veiled threat against the Jew­ish state. And on the oth­er side, there are those who see in Israel a nefar­i­ous force, enthralled only to its worst angels and inca­pable of act­ing for the good of the world.
I feel a deep sad­ness when­ev­er I tried to com­pare the clar­i­ty of pur­pose that must have accom­pa­nied being a part of a cause like Sovi­et Jew­ry with the kinds of hard choic­es and often com­pro­mis­es young Amer­i­can Jews feel they have to nav­i­gate today when they decide to have some kind of active Jew­ish identity.
What I tell those peo­ple who ask me about repli­cat­ing the move­ment is that I'm not sure its pos­si­ble. There was so much about the his­tor­i­cal con­text, about the par­tic­u­lar­i­ties of the Cold War itself, which also helped account for its suc­cess. But what I can do is iden­ti­fy what worked with­out try­ing to pre­scribe how it might work again.
I can say that under­stand­ing which end of the sho­far to blow out of cer­tain­ly was cru­cial – tap­ping into the his­to­ry, cul­ture and human­is­tic val­ues of Judaism gave the com­mu­ni­ty the back­bone it need­ed to try and alter history.
But it was equal­ly impor­tant that this move­ment worked towards goals that were indis­putably good not just for Jews, but for all peo­ple, goals that were in the end about get­ting the Sovi­et Union to respect basic human rights. As a human right, free­dom of move­ment is, after all, always the first step to bring­ing down any total­i­tar­i­an soci­ety. When you can leave, you can vote with your feet.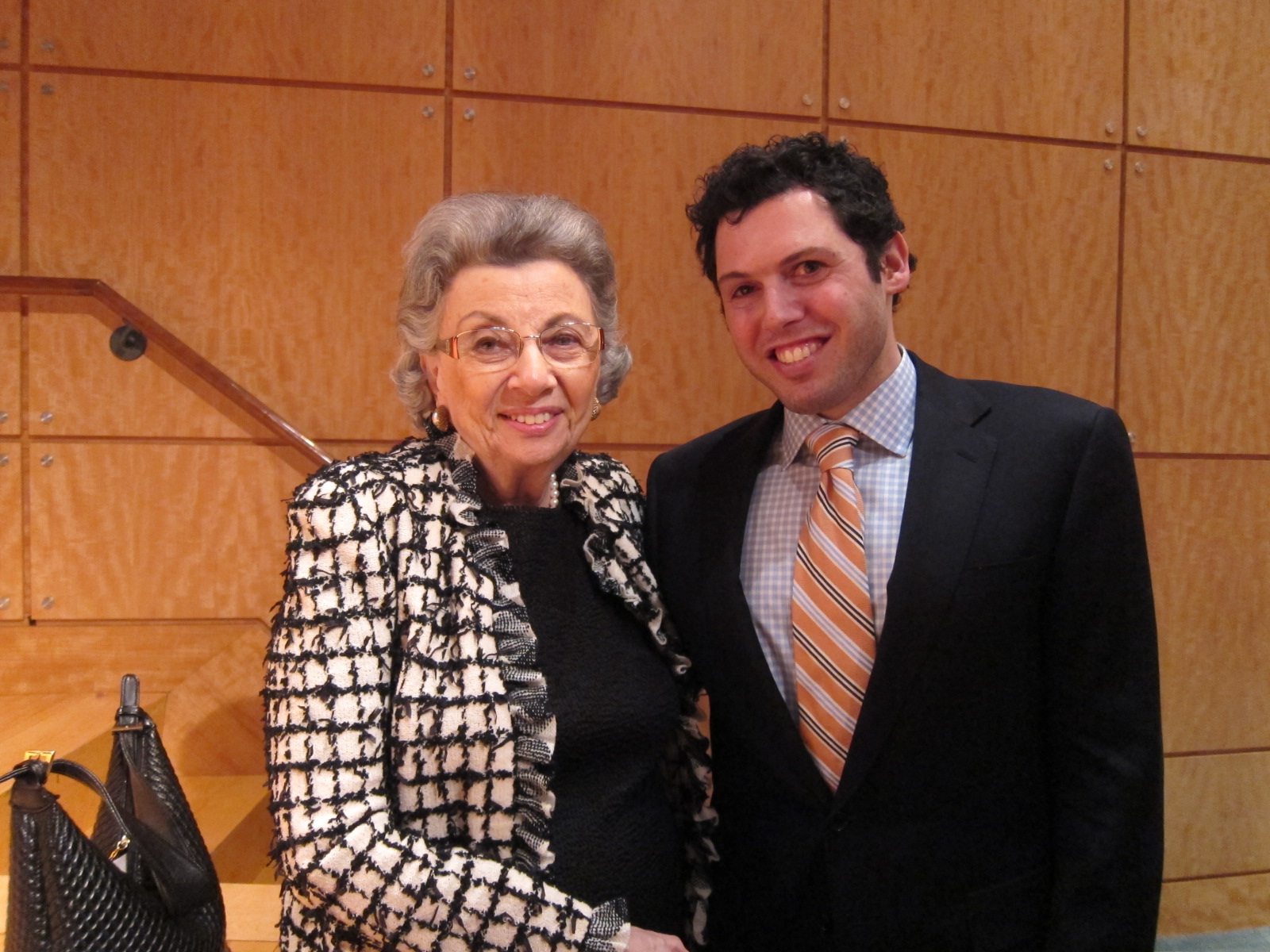 There is rea­son to be hope­ful in just know­ing that that such a move­ment hap­pened, that these dis­parate ele­ments came togeth­er, that the uni­ver­sal and par­tic­u­lar over­lapped in this spe­cial way, and it means that the poten­tial exists for it to hap­pen again.
But first we have to escape from a Jew­ish parochial­ism that blinds us to the rest of the world. And at the same time, we have to aban­don the unre­al­is­tic – how­ev­er laud­able – notion that we can be a light unto the nations. Between these two, is where I believe the poten­tial exists: that we can achieve a good that not only helps our­selves as Jews, as mem­bers of a tribe, but that also changes human­i­ty for the better.
If there is one big les­son then that I learned about my own peo­ple from writ­ing this book, it is that this poten­tial, though too often squan­dered, is in the end our great­est strength.
I've been told to avoid thank yous, which is actu­al­ly a very hard thing to do on a day like today when I feel so grate­ful to the help and sup­port of so many peo­ple who have believed in me and this project for so long. Suf­fice it to say then that to those peo­ple – and you know who you are – I could not have done this with­out you.
Thank you.