Gabi Gle­ich­mann was born in Budapest in

1954

and moved to Swe­den at the age of

10

. After stud­ies in lit­er­a­ture and phi­los­o­phy, he worked as a jour­nal­ist and served as pres­i­dent of the Swedish

PEN

club. Gle­ich­mann now lives in Oslo and works as a pub­lish­er, writer and lit­er­ary crit­ic. His debut nov­el,
The Elixir of Immor­tal­i­ty
, will be pub­lished on Octo­ber

1

st by Oth­er Press. He will be blog­ging here all week for Jew­ish Book Coun­cil and MyJew­ish­Learn­ing.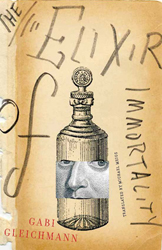 Books have always fas­ci­nat­ed me, even from the very ear­li­est days of my child­hood. As the child of Jew­ish intel­lec­tu­als I imbibed with my mother's milk the con­cept that lit­er­a­ture is nour­ish­ment for the soul; no oth­er activ­i­ty mer­its greater respect or in fact deserves more affec­tion­ate devo­tion from us.
I lived in Hun­gary for the first decade of my life, back when the coun­try was held in the steely grip of the Com­mu­nist Par­ty and the truths of the author­i­ties could nev­er be brought into ques­tion. The media were con­trolled by the state, and jour­nal­ists were accom­plished liars about every­thing except the scores of soc­cer match­es, which were impos­si­ble to fal­si­fy. Seek­ers after truth had to resort to works of lit­er­a­ture, even though the offi­cial cen­sors kept a close watch on such publications.
In search of the few avail­able crumbs of truth, my par­ents bought copies of all new nov­els and poet­ry col­lec­tions pub­lished in the coun­try. Our home was like a library, piled high with books. Per­haps that's why I'm always astound­ed when I encounter peo­ple who haven't the slight­est inter­est in literature.
My first vivid expe­ri­ences of the world of books were pure­ly sen­su­al delights: the smell of paper and printer's ink, the nuanced col­ors of the book jack­ets. Lat­er, once I'd learned to read, I trav­eled, pow­ered by the fuel of the alpha­bet, to inner and out­er worlds, down into the depths of his­to­ry, some­times into the future, toward the vast rich­es of life that extend­ed far­ther than any eye could see. I spent time with peo­ple who had lived long before me in places I would nev­er be able to vis­it; per­haps those places had nev­er exist­ed at all. I often curled up under the cov­ers to read, liv­ing in a bound­less world of dreams, full of adventures.
For a long time my favorite book was A Thou­sand and One Nights, that per­pet­u­al­ly enchant­i­ng cock­tail filled to the brim with the most deli­cious ingre­di­ents of the Mid­dle East­ern storyteller's art, spiced with lib­er­al dos­es of inven­tion and humor, sen­su­al­i­ty and cru­el­ty. Some­times I would skip school, pre­fer­ring the com­pa­ny of Aladdin, Ali Baba and Sin­bad the sailor. One time I was caught and as my moth­er seized me by the ear, I couldn't help exclaim­ing, ​"I wish I was grown up already and could spend all my time just read­ing, read­ing and read­ing!" Per­haps that episode was influ­en­tial in my deci­sion ten years lat­er to ded­i­cate myself full­time to a life in the world of books.
My next tumul­tuous lit­er­ary expe­ri­ence came in my late teens when I read The Tri­al. It was earth-shak­ing for me. With just the first few pages I real­ized that I adored Kaf­ka, espe­cial­ly the ten­sion between daz­zling light and absolute depths of dark­ness that char­ac­ter­ized his prose. More than any­thing else I was impressed by his con­ver­sa­tion­al style, rec­og­niz­able for its sim­plic­i­ty and crys­tal clear trans­paren­cy. And I took his mot­to for my own: ​"Cor­rect­ly com­pre­hend­ing a thing is no guar­an­tee that one hasn't failed to under­stand it at the same time."
Kaf­ka the strict moral­ist became my guide, one who point­ed out the right path but nev­er dis­closed the goal. That great prophet of ambi­gu­i­ties taught me to look at the world with fresh eyes and with­out illu­sions. Read­ing Kaf­ka gave me insight into myself; I dis­cov­ered that I'm a com­pli­cat­ed, eclec­tic and urban Jew, one who believes in no God but still has spir­i­tu­al needs, and, I hope, has a moral dimen­sion: a man who accepts uncer­tain­ty as the only con­stant and change as the only certainty.
Oth­ers who have enriched my world are the great writ­ers of Latin Amer­i­ca. Gabriel Gar­cía Mar­quez and Mario Var­gas Llosa have taught me that with­in a work of the imag­i­na­tion every­thing can exist simul­ta­ne­ous­ly and on the same lev­el, out­side our famil­iar sense of chronol­o­gy, with no dis­tinc­tions drawn between the real­is­tic and the fan­tas­tic or between real­i­ty and myth. Their approach allows one to cre­ate a world com­plete in itself, a land­scape in which every­thing leaps into view as if lit by a flash of lightning.
I've lived my whole life sur­round­ed by nov­els, works of the imag­i­na­tion and invent­ed sto­ries. The ques­tion there­fore presents itself: Why, exact­ly, do I read and I write?
As far as I'm con­cerned, read­ing and writ­ing serve the same pur­pose. They help me to come to grips with myself and with the world around me. I read and write so as to see more clear­ly, so as to ful­ly devel­op and exact­ly express my feel­ings and thoughts. I do this above all in order to explore and to encounter — not things that I already know, but instead those that still remain obscure to me, half intu­it­ed and vir­tu­al­ly unknown. For I aim to push my way into that hid­den real­i­ty and per­ceive things in new ways. In such an endeav­or, not even cut­ting-edge psy­cho­log­i­cal research can come close to what poet­ry can achieve.
I am nev­er alone when I read or write, even though a casu­al observ­er would see these activ­i­ties as a pro­fes­sion prac­ticed entire­ly solo. In a dif­fer­ent sense, how­ev­er, they pro­vide one with an ample and reward­ing cir­cle of acquain­tances. When I read, I enter a world con­ceived by anoth­er per­son, and when I write, I am reach­ing out to my fel­low human beings. These tasks sus­tain and uplift my spir­it by extend­ing its worlds of fan­ta­sy, feel­ing and play. In lit­er­a­ture noth­ing is sacred. Its works are the prod­ucts of dreams, thoughts, feel­ings and fan­tasies that nev­er pet­ri­fy into dog­ma. Lit­er­a­ture is the eter­nal con­ver­sa­tion of the human race.
Check back here all week for more from Gabi Gleichmann.
Gabi Gle­ich­mann, born in Budapest in
1954
, was raised in Swe­den. After stud­ies in lit­er­a­ture and phi­los­o­phy, he worked as a jour­nal­ist and served as pres­i­dent of the Swedish
PEN
orga­ni­za­tion. Gle­ich­mann lives in Oslo and works as a writer, and pub­lish­er. His first nov­el,
The Elixir of Immor­tal­i­ty
, was sold to twelve coun­tries pri­or to its pub­li­ca­tion in Norway.