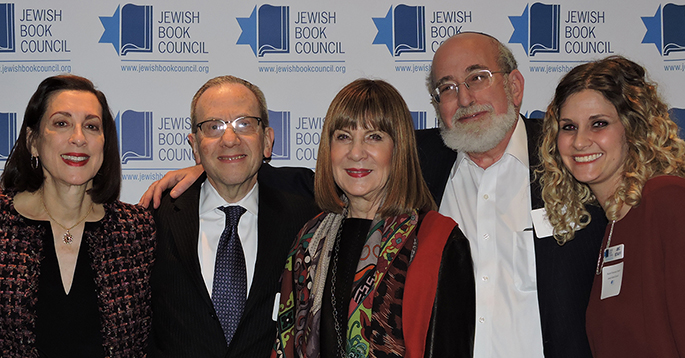 Cel­e­brat­ing its 66th year, Jew­ish Book Coun­cil is pleased to announce two new devel­op­ments for the Nation­al Jew­ish Book Awards. Start­ing this year, a new cat­e­go­ry focused on book clubs has been added to the pro­gram: The Deb­by and Ken Miller Book Club Award, ded­i­cat­ed to pro­mot­ing Jew­ish con­ti­nu­ity for the next gen­er­a­tion, will rec­og­nize out­stand­ing work of fic­tion or non­fic­tion that inspires mean­ing­ful con­ver­sa­tion about Jew­ish life, iden­ti­ty, prac­tice, or his­to­ry. The award rec­og­nizes the pow­er of books to inspire Jew­ish com­mu­ni­ty and thought-pro­vok­ing discussions.
Addi­tion­al­ly, the Nation­al Jew­ish Book Award for Poet­ry is new­ly named the Berru Award in Mem­o­ry of Ruth and Bernie Wein­flash, ded­i­cat­ed to hon­or the mem­o­ries of Ruth and Bernie Wein­flash, who were respect­ed lead­ers in their North­ern New Jer­sey com­mu­ni­ty for over 50 years. A dynam­ic cou­ple with both sub­stance and style, Ruth and Bernie Wein­flash were not just avid read­ers but were astute crit­ics, hon­ing in on what spoke to both them as well as the world at large.
The Nation­al Jew­ish Book Awards are pre­sent­ed at a cel­e­bra­to­ry gath­er­ing each spring, fol­low­ing the pub­li­ca­tion of the books under con­sid­er­a­tion. The evening includes a din­ner and cer­e­mo­ny for the win­ning authors and is attend­ed by the authors and lead­ing names in Jew­ish pub­lish­ing and literature.
The Nation­al Jew­ish Book Awards pro­gram began in 1950 when the Jew­ish Book Coun­cil pre­sent­ed awards to authors of Jew­ish books at its annu­al meet­ing. Past notable lit­er­ary win­ners include Chaim Grade, Deb­o­rah Lip­stadt, Bernard Mala­mud, Michael Oren, Chaim Potok, Philip Roth, Elie Wiesel, Jonathan Safran Foer, Deb­o­rah Dash Moore, and Sandy Eisen­berg Sasso.
Today, the Nation­al Jew­ish Book Awards hon­or excep­tion­al Jew­ish lit­er­a­ture in over 20 dif­fer­ent cat­e­gories annu­al­ly. Guide­lines for sub­mis­sion and the online appli­ca­tion, which must be com­plet­ed by Octo­ber 7, 2016 to qual­i­fy for this year's nom­i­na­tions, can be found on Jew­ish Book Council's web­site to sub­mit a book for this year's awards. Please con­tact njba@​jewishbooks.​org with any ques­tions regard­ing sub­mis­sions or reser­va­tions for the spring ceremony.
Relat­ed Content: