Bruce Hen­der­son, author of Sons and Sol­diers, has been guest blog­ging for the Jew­ish Book Coun­cil this week as part of the Vis­it­ing Scribe series. Check back through­out the week to read more from him.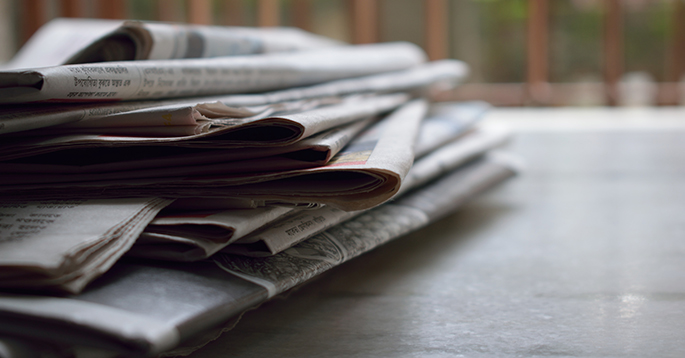 How we get ideas for a book is the one ques­tion most asked of authors. Giv­en that I am a non­fic­tion writer, my sub­jects gen­er­al­ly don't come from a day­dream or bolt out of the blue. Often, I find the nuggets I'm look­ing for in a doc­u­men­tary or an arti­cle or book. I'll tell you this secret: a num­ber of my ideas for books have come from obit­u­ar­ies, my favorite sec­tion of the news­pa­per because they intro­duce me to inter­est­ing peo­ple I nev­er had the chance to meet. (The New York Times obits are the best.)
In ear­ly 2014, I was in the midst of writ­ing a book about World War II in the Pacif­ic when I read an obit­u­ary in my local paper about a Ger­man-born nona­ge­nar­i­an who had escaped the Nazis as a young boy in the 1930s with the help of a Jew­ish Relief Orga­ni­za­tion, was draft­ed into the U.S. Army dur­ing the war, and trained to be an inter­roga­tor of Ger­man POWs at a top-secret Mil­i­tary Intel­li­gence cen­ter at Camp Ritchie, Mary­land. Only a decade removed from his boy­hood escape, he returned to Nazi-occu­pied Europe as a mem­ber of a spe­cial band of U.S. sol­diers-most of them Ger­man Jews-known as The Ritchie Boys. My first thought was that his life sto­ry had an aston­ish­ing dra­mat­ic arc from near­ly vic­tim to lib­er­a­tor. As a vora­cious read­er of mil­i­tary his­to­ries and the author of sev­er­al books about World War II, I could­n't believe that I had nev­er heard of the Ritchie Boys. Who were they? How many were they? What had it been like for them to go back and fight the Nazi evil from which they had only a few years ear­li­er escaped? I ripped the arti­cle from the paper, looked at my wife, and said, ​"I think I've found my next book."
Six months lat­er, I was ready to start answer­ing those ques­tions. First, I searched online for book titles on the sub­ject, and found none. I did find and watch the doc­u­men­tary, ​"The Ritchie Boys," which was very mov­ing. I was soon on the trail of retired Wayne State Uni­ver­si­ty pro­fes­sor Guy Stern, him­self a for­mer Ritchie Boy, who had curat­ed a 2011 spe­cial exhib­it called, ​"Secret Heroes: The Ritchie Boys," at the Holo­caust Memo­r­i­al Cen­ter in Farm­ing­ton Hills, Michi­gan. I tele­phoned Guy, and learned that the trav­el­ing exhib­it had been up for a year but was now in stor­age. He told me that it was all dig­i­tized, how­ev­er, and I could have access to it if I came to Michi­gan. I quick­ly packed my bag. I spent a week in Farm­ing­ton Hills, going over oral his­to­ries, let­ters, offi­cial doc­u­ments and wartime pho­tos, and inter­view­ing Guy, a warm, intel­li­gent man blessed with a pho­to­graph­ic mem­o­ry. I returned home con­vinced that the sto­ry of the Ritchie Boys was one of the last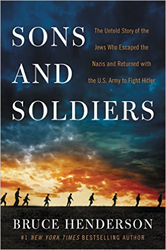 great sagas of World War II that had not yet been the sub­ject of a major book. An esti­mat­ed 300 Ritchie Boys-all in their nineties-were alive when I began my research, and I went around the coun­try inter­view­ing dozens of them. When I was ready to start writ­ing, I select­ed six Ger­man-born Ritchie Boys to fol­low in ​"Sons and Sol­diers," begin­ning with their har­row­ing escapes from the Nazis, reach­ing their new homes in Amer­i­ca, and their expe­ri­ences in the war when they went back to their home­land in the fight against fascism.
Although there were many more who could have been includ­ed, I did­n't want the book to read like the Man­hat­tan white pages; I decid­ed on a infi­nite num­ber of char­ac­ters who were doing dif­fer­ent things at dif­fer­ent times and gave us com­plete cov­er­age of a big the­ater of war. Also, I want­ed the read­ers to remem­ber the char­ac­ters when­ev­er we came back to them, and feel a bond with them. That would have been more dif­fi­cult with a larg­er cast. The Ritchie Boys returned to the Unit­ed States after the war, and many went on to stel­lar careers in a vari­ety of fields, includ­ing sci­ence, pol­i­tics, busi­ness, the law, the arts, and acad­e­mia. Even more than half a cen­tu­ry lat­er, their sur­viv­ing mem­bers vivid­ly recalled fight­ing two dif­fer­ent wars: the world's and their own.I am hon­ored to tell the epic sto­ry of these lit­tle-known heroes.
Bruce Hen­der­son is the author or coau­thor of more than twen­ty non­fic­tion books, includ­ing the #1 New York Times best­seller And the Sea Will Tell, the nation­al best­seller Hero Found: The Great­est POW Escape of the Viet­nam War, and Res­cue at Los Banos: The Most Dar­ing Prison Camp Raid of World War II, as well as Sons and Sol­diers. An award-win­ning jour­nal­ist and writer, he has pub­lished work in Esquire, Play­boy, Read­er's Digest, and oth­er peri­od­i­cals. Hen­der­son has taught writ­ing and report­ing at USC School of Jour­nal­ism and Stan­ford Uni­ver­si­ty. He lives in Men­lo Park, California.
Bruce Hen­der­son is the author of more than twen­ty non­fic­tion books, includ­ing Sons and Sol­diers: The Untold Sto­ry of the Jews Who Escaped the Nazi and Returned with the U.S. Army to Fight Hitler, and True North: Peary, Cook and the Race to the Pole. He is the co-author of the #1 New York Times best­seller And the Sea Will Tell (with Vin­cent Bugliosi). An award-win­ning jour­nal­ist who has taught report­ing and writ­ing at USC School of Jour­nal­ism and Stan­ford Uni­ver­si­ty, Hen­der­son lives in north­ern California.