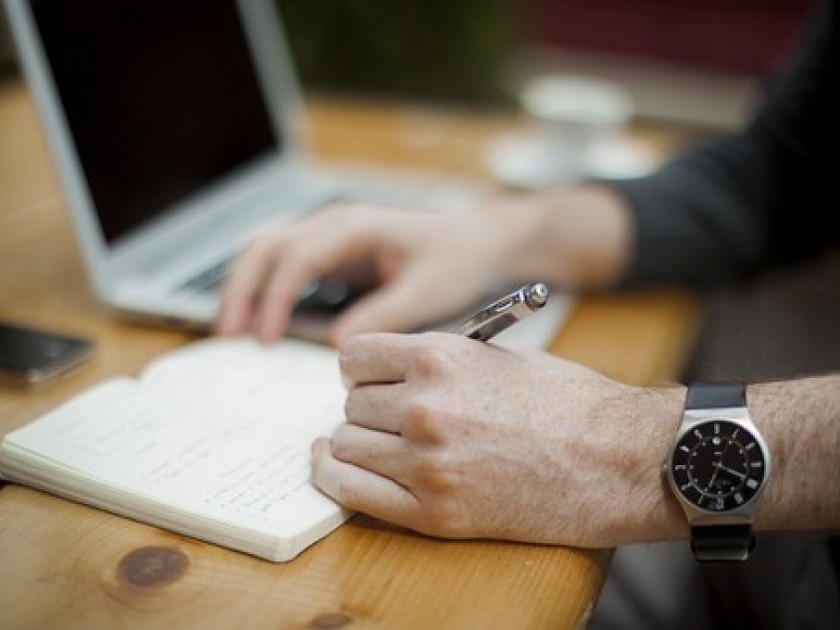 Bruce Hen­der­son, the author of Sons and Sol­diers, has been guest blog­ging this week as part of our Vis­it­ing Scribe series.
Q: Was there a par­tic­u­lar moment when you knew you were a writer?
I start­ed out as a news­pa­per reporter in my ear­ly 20s, and at some point­down the road, amid all the inter­views and dead­lines and sto­ries filed, Ire­al­ized that I was becom­ing a writer. It did­n't hap­pen overnight, and I've told­my writ­ing stu­dents over the years (at Stan­ford and the USC School ofJour­nal­ism) that writ­ing is like exer­cis­ing. The more you do it, the strongery­ou get. For me, news­pa­per arti­cles led to mag­a­zine pieces which led to books; each­step was a nat­ur­al pro­gres­sion. My first book was pub­lished when I was still­in my 20s, and it was an expan­sion of a news­pa­per arti­cle I had writ­ten. Idid­n't become a full-time book author until about 10 years later.
Q: Career high point and career low point?
The high point was when my third book, And the Sea Will Tell, became #1on The New York Times hard­cov­er best­seller list. I kept call­ing, over and over,the Times record­ed mes­sage num­ber to hear the week­ly best­seller list: ​"And#1 is…" What a thrill!

Low point: When after deliv­er­ing a book, I go more than afew months with­out a new deal. It always feels as if I'll nev­er work again. Thatdoesn't hap­pen very often, as I usu­al­ly am able to go from one book to thenext, but when it does I get very antsy. I don't play golf or work with wood orpaint still lifes or tend a gar­den. Writ­ing is my hob­by, as well as my career.
Q: Most unfor­get­table char­ac­ters you've encoun­tered through your pastwriting?
Mer­cury 7 astro­naut ​"Gor­do" Coop­er is one. After first read­ing about him inThe Right Stuff, I was able some years lat­er to work with him on hisauto­bi­og­ra­phy, Leap of Faith.
Also on the list is Dieter Den­gler, the sub­ject ofmy book, Hero Found. Dieter was a U.S. Navy pilot who was shot down dur­ingthe Viet­nam War, and led an orga­nized escape from a POW camp in Laos.Against seem­ing­ly over­whelm­ing odds, he made it out alive. We served on the­same air­craft car­ri­er, the USS Ranger, and were good friends for many years. Hewas big­ger-than-life, unfor­get­table, and one of my heroes.
Q: Was there a book that changed your life or career?
There were two: In Cold Blood and The Right Stuff. Tru­man Capote and Tom­Wolfe opened up to me the world of long-form nar­ra­tive non­fic­tion, whichthey almost sin­gle-hand­ed­ly made com­mer­cial. They not only pro­vid­ed abridge from jour­nal­ism to books for writ­ers like myself, but they cre­at­ed anen­tire genre — one in which I have made my liv­ing for twen­ty-plus years.
Q: You have sold sev­er­al books for film adap­ta­tion. Some writ­ers gotheir whole careers with­out hav­ing a book turned into a movie. What'syour for­mu­la for film sales?
And the Sea Will Tell was a four-hour CBS minis­eries, and went to the heart ofwhat tele­vi­sion exec­u­tives were look­ing for at that time: true mur­dermys­ter­ies set in par­adise. A cou­ple of oth­er books of mine are cur­rent­ly under­op­tion, and are in var­i­ous stages of devel­op­ment as either a fea­ture film or fortele­vi­sion. Movie folks are always look­ing for good sto­ries, and they­par­tic­u­lar­ly like true ones. This brings us back to nar­ra­tive non­fic­tion, inwhich we uti­lize the tools of a nov­el­ist, descrip­tive scenes, dia­log and so forth,and only every word is true. More than one film­mak­er has told me that a book ofmine is easy to visu­al­ize as a movie. Also, authors need to have spe­cial­ized­film agents — and good ones — to rep­re­sent their work to Hol­ly­wood, just aswrit­ers need lit­er­ary agents to sub­mit their works to book publishers.
Q: What have you read recent­ly that you couldn't put down?
The Lost City of Z by David Grann. For fun, I always jump on the lat­est Boschtitle by Michael Connelly.
Q: What does it mean to you to be a writer?
That I have a plat­form to tell real sto­ries about real peo­ple. A writer is asto­ry­teller. Facts teach peo­ple, and ​"tru­isms" are often arguable opin­ions. Tel­la good sto­ry, how­ev­er, and it will live in hearts forever.
Q: What's new and upcoming?
My new book, Sons and Sol­diers: The Untold Sto­ry of the Jews Who Escaped the Nazis and Returned with the U.S. Army to Fight Hitler, was pub­lished on July 25​.It will also be pub­lished in six for­eign coun­tries. It's my third con­sec­u­tive­World War II book. For all of them, I went around the coun­try inter­view­ing­mem­bers of the Great­est Gen­er­a­tion, which turned into a labor of love. The­yare now nona­ge­nar­i­ans, and we are los­ing them rapid­ly. They are anex­tra­or­di­nary gen­er­a­tion who fought a good-against-evil war. Had they not­been vic­to­ri­ous, the world would look much dif­fer­ent today. I am now writin­ga pro­pos­al for anoth­er WWII book set in Europe, a sto­ry I came across whilere­search­ing Buchen­wald con­cen­tra­tion camps for Sons and Soldiers.
Bruce Hen­der­son is the author of more than twen­ty non­fic­tion books, includ­ing Sons and Sol­diers: The Untold Sto­ry of the Jews Who Escaped the Nazi and Returned with the U.S. Army to Fight Hitler, and True North: Peary, Cook and the Race to the Pole. He is the co-author of the #1 New York Times best­seller And the Sea Will Tell (with Vin­cent Bugliosi). An award-win­ning jour­nal­ist who has taught report­ing and writ­ing at USC School of Jour­nal­ism and Stan­ford Uni­ver­si­ty, Hen­der­son lives in north­ern California.