Ear­li­er this week, Richard Dean Rosen wrote about Sophie Turn­er-Zaret­sky, one of the sub­jects of his new book, as well well as how he came to write his recent­ly pub­lished book, Such Good Girls: The Jour­ney of the Holocaust's Hid­den Child Sur­vivors. He has been blog­ging here all week for Jew­ish Book Coun­cil's Vis­it­ing Scribe series.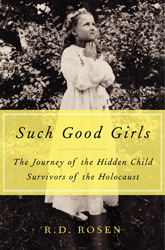 When I began research­ing and writ­ing Such Good Girls: The Jour­ney of the Holocaust's Hid­den Child Sur­vivors, I thought it would be great to cross the Holo­caust off that list of sub­jects that I hadn't stud­ied, and didn't under­stand. What I didn't antic­i­pate was that the more you read about the Holo­caust, the more you talk to Holo­caust sur­vivors, the more you seem to know about it, the less you can com­pre­hend it.
I was sur­prised by the tenac­i­ty of the depressed feel­ings that study­ing the Holo­caust left me with. When I shared my dis­tress with friends, it turned out that this was a com­mon occu­pa­tion­al haz­ard for peo­ple who tack­led the sub­ject with any seri­ous­ness. I felt I had unwit­ting­ly joined a club whose mem­bers had strug­gled, and failed, to under­stand the most con­cen­trat­ed, orga­nized, indus­tri­al­ized, large-scale, and inter­na­tion­al act of inhu­man­i­ty in history.
When a close friend of mine, Paul — a bril­liant­ly well-informed, rav­en­ous­ly curi­ous, and very com­pet­i­tive man — read the gal­leys of my book, he set out to see for him­self about the Holo­caust. He's a man accus­tomed to mas­ter­ing new sub­ject mat­ter with ease. After a week of read­ing, he called me in frus­tra­tion, already defeat­ed by the enor­mi­ty of it, the scale of the inhu­man­i­ty. That the Final Solu­tion mocks one's efforts to under­stand it became, for me, no longer just a clever intel­lec­tu­al remark made at din­ner par­ties, but a deeply felt emo­tion­al reality.
An emo­tion­al real­i­ty that, once I start­ed work­ing on the book, began to man­i­fest itself all around me. After attend­ing a con­fer­ence of hid­den child sur­vivors and their descen­dants in Cleve­land, I jumped on an Amtrak train back to New York (Hur­ri­cane Kat­ri­na was clos­ing in), and was seat­ed in the din­ing car next to a non-Jew­ish woman who told me that, when she was a child in Flori­da, her par­ents had adopt­ed a Jew­ish refugee who had been one of Mengele's exper­i­men­tal sub­jects. Then I dis­cov­ered that the hus­band of one of the women in my book had hid in the Dutch Resis­tance dur­ing the war, and he has a broth­er who lives a few blocks from where I grew up in High­land Park, Illi­nois. How strange to go home, where I had grown up in a state of such obliv­i­ous­ness to the Holo­caust, to inter­view him. Then I heard from a high school class­mate of mine, whose par­ents had been child sur­vivors, and she told me about anoth­er class­mate of mine, whose par­ents were sur­vivors, and no one had ever said any­thing about it! And then, just a month ago, I was vis­it­ing my sis­ter, walk­ing the dog with her, and she intro­duced me to a man my age whose par­ents were on Schindler's list. And he told me that his fam­i­ly was one of the rare ones where the Holo­caust and the camps were talked about open­ly. So open­ly that when his par­ents told this man at the age of sev­en that they were send­ing him to sum­mer camp, he assumed it was a con­cen­tra­tion camp, that this was just some­thing of a fam­i­ly tradition!
I can't even count the num­ber of peo­ple I've run into recent­ly who turn out to be the chil­dren of sur­vivors. There will soon come a time, how­ev­er, when the Holo­caust will take its silent place in the his­to­ry of inhu­man­i­ty, when even the chil­dren of the chil­dren will be gone, and the sto­ries will all begin, ​"A long time ago, when my grand­moth­er was a lit­tle girl" in Poland or France or Hol­land or Hungary….
Richard Dean Rosen has writ­ten many books, but none pre­sent­ed more chal­lenges than Such Good Girls: The Jour­ney of the Holocaust's Hid­den Child Sur­vivors. It's a book that nei­ther he ini­tial­ly want­ed to write nor his sub­jects want­ed writ­ten, but fate and the author's own hid­den agen­da intervened.
Relat­ed Content: