Ear­li­er this week, Richard Dean Rosen wrote about how he came to write his recent­ly pub­lished book, Such Good Girls: The Jour­ney of the Holocaust's Hid­den Child Sur­vivors. He will be blog­ging here all week for Jew­ish Book Coun­cil's Vis­it­ing Scribe series.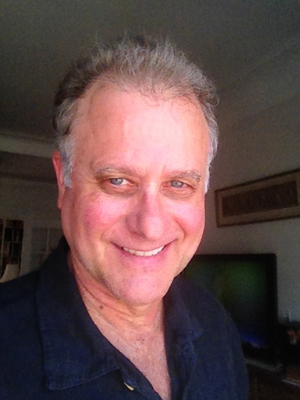 The main sub­ject of my book Such Good Girls: The Jour­ney of the Holocaust's Hid­den Child Sur­vivors had come very close to bow­ing out dur­ing the dif­fi­cult process of sub­mit­ting to my inter­views about her large­ly sup­pressed expe­ri­ences hid­ing in plain sight with her Jew­ish moth­er dur­ing World War II. All Sophie Turn­er-Zaret­sky had to do was tell me ​"I can't do this any­more," and I would have had to ​"write off" a year or two of work. For­tu­nate­ly, Sophie and the oth­er sub­jects of my book grad­u­al­ly rec­on­ciled them­selves to shar­ing their sto­ries, and we all sur­vived the book's pub­li­ca­tion. More­over, and hap­pi­ly, we sur­vived as friends.
Sophie even agreed to appear with me at a talk and read­ing I gave at a Barnes & Noble in Man­hat­tan. I don't know how often it's hap­pened that the sub­ject — and impe­tus — of a non­fic­tion book has joined its author at a pub­lic event, but her appear­ance added a very mov­ing dimen­sion to the typ­i­cal author reading.
"It's not easy get­ting up in front of an audi­ence to talk about a book about some­thing as unspeak­able as the Holo­caust," I told the audi­ence. ​"It's even less easy when the main char­ac­ter in your non­fic­tion book is sit­ting in the front row, look­ing at you as if to say, ​'And how the hell did I end up as the main char­ac­ter in your book?'" Lat­er, I invit­ed Sophie to the stage, where she gave flesh and blood to pas­sages I'd just read about how she had not only passed as a Catholic between the ages of 5 and 11, but actu­al­ly believed she was an anti-Semit­ic Pol­ish school­girl while her moth­er, also pass­ing as a Catholic and work­ing for a Nazi func­tionary, feared dai­ly for both of their lives.
The most emo­tion­al moment came when Sophie told the audi­ence of a hun­dred peo­ple how upset­ting it had always been to her when oth­ers bemoaned the pas­siv­i­ty of the Jew­ish peo­ple dur­ing the Holo­caust, giv­en the incred­i­ble courage and resource­ful­ness of peo­ple like her moth­er, who had sin­gle­hand­ed­ly saved their lives against all the odds.
The most sur­pris­ing moment for me came when Sophie con­fessed to the audi­ence some­thing she had nev­er con­fid­ed in me: that the stress of coop­er­at­ing with me on the book had prompt­ed her to take an anti­de­pres­sant for the first time in her life. She had come to under­stand that the val­ue of record­ing the expe­ri­ence of hid­den sur­vivors as chil­dren, and lat­er as adults, was worth the per­son­al mis­ery stirred up by the book. I will always be indebt­ed to ​"good girls" Sophie, Flo­ra Hog­man, and Car­la Less­ing for bear­ing with me as I com­mit­ted their sagas to posterity.
As Sophie said when I once asked her if it was okay for The New York Post to pub­lish an excerpt from the book, ​"Well, I guess it's too late to go back into hiding."
Richard Dean Rosen has writ­ten many books, but none pre­sent­ed more chal­lenges than Such Good Girls: The Jour­ney of the Holocaust's Hid­den Child Sur­vivors. It's a book that nei­ther he ini­tial­ly want­ed to write nor his sub­jects want­ed writ­ten, but fate and the author's own hid­den agen­da intervened.
Relat­ed Content: