Ear­li­er this week, David Samuel Levin­son wrote about the beau­ti­ful cat­a­stro­phe that is New York City and ded­i­cat­ing his first nov­el,
Anto­nia Live­ly Breaks the Silence
(Algo­nquin Books). He has been blog­ging here all week for Jew­ish Book Coun­cil and MyJew­ish­Learn­ing.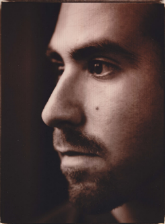 I'm sit­ting on the back porch of my tem­po­rary lodg­ings in Atlanta, while two spi­ders go at it, the small­er invad­ing the larger's web. (Why? Who knows. Maybe he or she is lone­ly.) Larg­er lunges at small­er, until small­er retreats, and both set­tle down again to await the arrival of an unsus­pect­ing fly. Watch­ing them, I am remind­ed of Charlotte's Web, which I read when I was boy, and how caught up I became in the strug­gles of Char­lotte and Wilbur and how I nev­er want­ed the sto­ry to end. Unfor­tu­nate­ly, it did, yet for­tu­nate­ly for me I found many oth­er sto­ries to get tan­gled up in—Ency­clo­pe­dia Brown, The West­ing Game, The Tales of Nar­nia, and The Bridge to Ter­abithia.
Back then, I read only for plea­sure and escape and erro­neous­ly imag­ined these books I so loved to be hand­ed down through a series of mag­ic tricks to end up in my favorite book­store. I had no idea they were writ­ten by real peo­ple, who sat at real desks and typed them out on real type­writ­ers, ardu­ous page after ardu­ous page. These books, these authors, changed the way I saw the world, but more than this they changed the way I inter­act­ed with it. I learned about sleuthing, betray­al, love, and death by falling head­first into these cre­at­ed uni­vers­es, which matched the real­i­ty of my own only inso­far as they resem­bled the famil­iar — hous­es, trees, the sun and moon, stars, streets, etc. Oth­er than this, they were as fan­tas­ti­cal as they were absorb­ing; I couldn't wait to flip the page to find out what hap­pened next.
While work­ing on my own nov­el, I had a sim­i­lar expe­ri­ence, yet now I was in com­plete con­trol (or so I thought) of what hap­pened next. The process of writ­ing and pub­lish­ing Anto­nia Live­ly Breaks The Silence took ten years and through it, I learned many valu­able lessons, the most impor­tant of which is this: we writ­ers have lit­tle say in the fate of our char­ac­ters, who ulti­mate­ly dic­tate to us how they want the sto­ry to be told and what will hap­pen to them. So it was that one writer after anoth­er began to appear in the pages of Anto­nia Live­ly Breaks The Silence and I had noth­ing to say about it. No, real­ly. They turned up and took over and sud­den­ly the nov­el became more than a nov­el about a fraught tri­an­gu­la­tion of wid­ow, crit­ic, and ingénue. It became a nov­el that asked where sto­ries come from and who owns them, how we write nov­els and why we do. Like a fly, I was trapped in my novel's web and the less I strug­gled, the more I dis­cov­ered about the char­ac­ters and myself and the more I dis­cov­ered, the more the impos­si­ble began to occur — the char­ac­ters told me what was going to hap­pen and held me to this, refus­ing to let me go until they were sat­is­fied I'd told their sto­ries as hon­est­ly and as well as I could.
Learn more about David Samuel Levin­son here.
DAVID SAMUEL LEVIN­SON is the author of the nov­el, Anto­nia Live­ly Breaks the Silence and the sto­ry col­lec­tion, Most of Us Are Here Against Our Will. He has been nom­i­nat­ed for the Push­cart Prize and has received fel­low­ships from Yad­do, the Jen­tel Foun­da­tion, Ledig House, the San­ta Fe Arts Insti­tute, the Sewa­nee Writ­ers' Con­fer­ence and the Mar­guerite and Lamar Smith Fel­low­ship for Writ­ers. He has for­mer­ly served as the Emerg­ing Writer Lec­tur­er at Get­tys­burg Col­lege and as the Fel­low in Fic­tion at Emory University.