by Leslie A. Kimmelman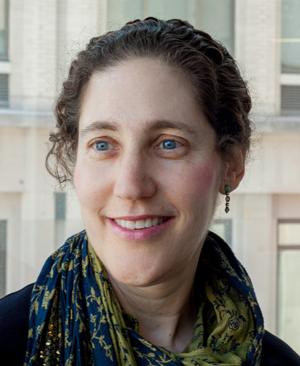 "Why do you write so many Jew­ish books for kids?" I'm asked frequently.
The truth is, writ­ing Jew­ish books for kids was nev­er my inten­tion. Judaism is an impor­tant part of my life, but it wasn't until some time after I'd fin­ished my first pic­ture book in the late 1980s and couldn't find a good Hanukkah book for my then-preschool-aged daugh­ter, that I even con­sid­ered it. I'd been look­ing for some­thing sim­ple — not the sto­ry of the hol­i­day, but rather, what she'd expe­ri­ence dur­ing the hol­i­day: the light­ing of the can­dles, the tast­ing of the latkes, the spin­ning of the drei­dels. And please, some col­or­ful pic­tures to go with. The Jew­ish books I remem­bered from my child­hood were dis­ap­point­ing­ly didac­tic, with way too much text and way too lit­tle col­or — drab cousins to the vibrant sto­ries and lav­ish illus­tra­tions of the Christ­mas titles (think The Night Before Christ­mas or The Gift of the Magi). They were more about the respon­si­bil­i­ty of being Jew­ish than about the fun and warmth of being part of a wider reli­gious com­mu­ni­ty. I can't say I was enticed.
So I wrote my own, very basic, man­u­script. It even­tu­al­ly became Ha­nukkah Lights, Hanukkah Nights. Because I was a children's book edi­tor then in a large pub­lish­ing house, I went first to my own col­leagues. It's hard to believe today, but there was a lot of dis­cus­sion about whether there'd be enough peo­ple inter­est­ed in a Hanukkah title from a trade (rather than a spe­cial­ty Jew­ish) pub­lish­er. My response, only part­ly tongue-in-cheek, was some­thing along the lines of, We may be small in num­ber, but we're all read­ers, and we all cel­e­brate Hanukkah! After the title went on to good sales in hard­cov­er, paper­back, and board book edi­tions, my edi­tor asked me to do some­thing sim­i­lar for Passover, then Rosh Hashanah and Yom Kip­pur, and then a book for all the hol­i­days togeth­er. And I was off…
The world of Jew­ish children's books has, hap­pi­ly, grown exponen­tially; there are a dizzy­ing num­ber of great choic­es now, from just about every pub­lish­er and about every con­ceiv­able top­ic — fic­tion and nonfic­tion, fun­ny and seri­ous, thought­ful and inspir­ing, con­tem­po­rary and old-fash­ioned, and most of the time, gor­geous­ly illus­trat­ed. It's hearten­ing to see a grow­ing library of high-qual­i­ty titles that intro­duce Jew­ish chil­dren to the core beliefs and val­ues of their reli­gion and con­nect them to their roots. Books in which they can see them­selves reflect­ed. It is no less impor­tant that chil­dren of oth­er faiths have access to these books. Liv­ing in New York City, it's easy to for­get how many peo­ple there are with lit­tle or no expo­sure to the Jew­ish reli­gion. (I remem­ber how shocked I was to learn from my first col­lege room­mate that she'd nev­er met any­one Jew­ish before; lat­er in my fresh­man year, the col­lege food ser­vice con­sid­er­ate­ly — and naive­ly — ordered beau­ti­ful braid­ed chal­lahs ​"all the way from New York City" to help cel­e­brate Passover.)
I've been asked if it's lim­it­ing to write Jew­ish books. Judaism has an ancient his­to­ry and fas­ci­nat­ing cul­ture to research, col­or­ful tra­di­tions to explore, a rich reli­gion to delve into, and a won­der­ful­ly unique sense of humor to make use of. I keep a list of col­or­ful Yid­dish proverbs above my desk, in case one should spark an idea — say­ings like Truth nev­er dies, but lives a wretched life and If God were liv­ing on Earth, peo­ple would break his win­dows. How can writ­ing about Judaism be limiting?!
Many peo­ple involved in children's books will tell you that, in gen­er­al, while girls will read books with boys as the main char­ac­ter, the reverse isn't typ­i­cal­ly true. Boys most­ly want to read only about boys. In the same vein, could it be true that Jew­ish chil­dren will read books with non-Jew­ish main char­ac­ters, but not the oth­er way around? Jew­ish chil­dren are used to read­ing about their favorite char­ac­ters irre­spec­tive of reli­gion, and they don't bat an eye­lash. I'm not sure if the reverse is always true. I believe that the more children's books are avail­able with explic­it­ly Jew­ish char­ac­ters, whether or not they have explic­it­ly Jew­ish sto­ries, the clos­er we will get. It feels good to be a small part of cre­at­ing this library.
Leslie A. Kim­mel­man has been a children's book edi­tor for more than twen­ty-five years, and cur­rent­ly works at Sesame Work­shop. She is also the author of many pic­ture books for chil­dren, includ­ing many with Jew­ish themes, such as The Lit­tle Red Hen and the Passover Matzah and The Shab­bat Pup­py. She and her fam­i­ly live near New York City.
Leslie Kim­mel­man grew up out­side Philadel­phia and grad­u­at­ed from Mid­dle­bury Col­lege in Ver­mont. She is the author of many children's books, awards for which include Best Children's Books of the Year from the Bank Street Col­lege of Edu­ca­tion; Notable Children's Trade Books in the Field of Social Stud­ies; and Syd­ney Tay­lor Notable Books. Kim­mel­man is an edi­tor at Sesame Work­shop and lives with her fam­i­ly just north of New York City.