Ear­li­er this week, Melis­sa Fay Greene wrote about the adop­tion of her daugh­ter, Helen, from Ethiopia, and telling jokes at church. Her new book, No Bik­ing in the House With­out A Hel­met, is now available.
My hus­band and I are white peo­ple. We shop at R.E.I. for the clothes. We have cousins on both sides who are veg­ans and have attend­ed more than one bean-filled wed­ding recep­tion. We could move to Dubuque, Iowa, or Ban­gor, Maine, if we want­ed to, with­out any­one won­der­ing what on earth we were think­ing. If pulled over by a traf­fic cop for a mov­ing vio­la­tion, we await him at our driver's side win­dow with the wide-eyed inno­cent-look­ing expec­ta­tion that the exchange will pro­ceed cor­dial­ly and with­out undue sus­pi­cion. We are well-acquaint­ed with the many bonus­es of what is known on the street as White Skin Priv­i­lege.
We were born just this side of the mid-20th-cen­tu­ry, to Jew­ish par­ents, when eth­nic­i­ty was on the verge of being accept­ed as an accept­able Amer­i­can lifestyle. Jer­ry Lewis, Prime Min­is­ter David Ben-Guri­on of Israel, Supreme Court Jus­tice Felix Frank­furter, Dan­ny Kaye, and Sam­my Davis, Jr., were major Jews of our child­hood. We weren't told about the Holo­caust.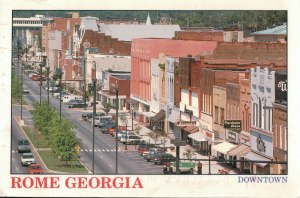 In 1980, my hus­band Don Samuel and I, new­ly­weds, moved to Rome, a north­west Geor­gia hill-town that hadn't got­ten the news yet that eth­nic peo­ple were just reg­u­lar folks. ​"Where y'all from?" every­one asked us. Our new neigh­bors asked us, the land­lord asked us, the Big Boy's wait­ress asked us, the fill­ing sta­tion man asked us. The peo­ple down the street whose car had a bumper stick­er read­ing, ​"Oil Yes, Jews No," did not ask us.
We'd moved to Rome, Geor­gia, from Athens, Geor­gia, after Don­ny grad­u­at­ed from the UGA School of Law, but our Rome ques­tion­ers — ​"Where y'all from?" — felt per­plexed rather than sat­is­fied when we replied, ​"Athens." ​"Athens?" said the Big Boy's wait­ress, squint­ing at us. ​"Y'all Greeks?"
A vari­a­tion on ​"Where y'all from?" was offered by cit­i­zens who had once acci­den­tal­ly seen a Woody Allen movie. Those peo­ple know­ing­ly asked, ​"Y'all from New York?" It made us not want to con­fess that Don­ny was from New York.
No mat­ter how we hedged, say­ing we were from Athens, men­tion­ing that I was born in Macon and that Don­ny used to work in Brunswick and that we'd got­ten mar­ried in Savan­nah, every­one had a sure-fire fol­low-up ques­tion. ​"Well, what church do y'all go to?"
Then we had to say it: ​"We're Jewish."
"Yeah," they said. Then every­one — every­one — every­one asked the same thing: ​"Do y'all know the Esser­mans?" The mail­man asked, the wait­ress asked, the Dunkin Dough­nuts guy asked, the roofer asked.
We had moved to Rome the pre­vi­ous Thurs­day; no, we hadn't met the Esser­mans yet.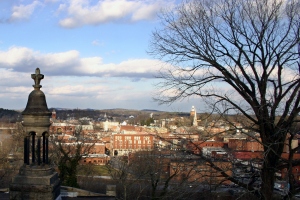 A few years ear­li­er, when research­ing my first book, Pray­ing for Sheetrock, on the wood­ed Geor­gia coast, I'd fall­en prey to sim­i­lar inter­ro­ga­tions. The rur­al black peo­ple of McIn­tosh Coun­ty accu­rate­ly sensed that, for obscure rea­sons, I was not part of the local white pow­er struc­ture, and they accept­ed that. They wel­comed me warm­ly. The local white peo­ple, how­ev­er, with sim­i­lar intu­ition, won­dered what I was hid­ing. In the mid­dle of a an inter­view with the city attor­ney, the rud­dy big-faced man inter­rupt­ed me, leaned for­ward across his kitchen table, and asked, ​"Melis­sa? Do you know Mor­ley Safer?"
"Mor­ley Safer?"
"Mor­ley Safer."
"The anchor on the TV pro­gram, 60 Min­utes?"
"That's the fel­la. You know him?"
"No, I don't know him."
"Unh hunh," he said skeptically.
I had no idea what he was dri­ving at. We pushed on. A few min­utes lat­er he inter­rupt­ed me again, leaned for­ward even more con­fid­ing­ly, and probed: ​"Melis­sa, do you know Jesus?"
Now I saw where we were head­ed. ​"No, I don't know Jesus," I said, ​"and I don't know Mor­ley Safer either."
Now, in Rome, it was the Esser­mans every­one asked about. But it turned out that ask­ing Jews if they knew the Esser­mans made a lot more sense than ask­ing them if they knew Mor­ley Safer or Jesus. The Esser­mans had immi­grat­ed from Latvia in the late 19th cen­tu­ry, join­ing an already-thriv­ing ante­bel­lum Rome Jew­ish Com­mu­ni­ty. Two Esser­man broth­ers opened Esserman's Depart­ment Store on Broad Street in 1896, where it would last for most of a cen­tu­ry: a beau­ti­ful cloth­ing store with per­fume dis­plays and jew­el­ry coun­ters, a children's depart­ment, men's wear, ladies' wear, and for­mal wear, with­out which the local cit­i­zen­ry might have dressed them­selves in over­alls made out of feed sacks or, worse, plaid coun­try-club slacks. An Esser­man cousin, Joseph Esser­man, opened the Lad & Lassie children's cloth­ing store. The Esser­mans, short sol­id peo­ple with smooth round heads and thick enthu­si­as­tic eye­brows, instant­ly embraced Don­ny and me as lands­men, gave us the fam­i­ly dis­count at the store, includ­ed us in the week­ly card games attend­ed by oth­er Esser­mans, and gave us gifts of large oil paint­ings of East­ern Euro­pean vil­lage scenes cre­at­ed by the liv­ing patri­arch, Hyman Esser­man. We spent most of our two years in Rome, Geor­gia, hang­ing out with peo­ple forty and fifty years our senior. Because they were Jews.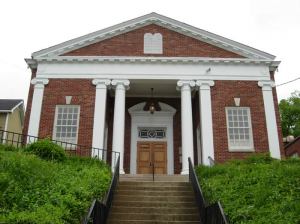 We imme­di­ate­ly joined Rodeph Shalom, a con­gre­ga­tion found­ed in 1875 (its first rab­bi had been an Esser­man). The hand­some hill­top brick syn­a­gogue with white pil­lars had been built in 1937. Until 1955, the tem­ple had had a full­time rab­bi. Now a Reform stu­dent rab­bi flew to town twice a month from Hebrew Union Col­lege in Cincin­nati to lead Shab­bat ser­vices. She stayed in a motel owned by a cou­ple from India who referred to her as the Rib-Eye. There were about 30 Jews in Rome when we lived there, and a sprin­kling of non-Jew­ish spous­es. Sev­er­al curi­ous local peo­ple attend­ed ser­vices, too. The moment Don­ny and I walked into the build­ing for the first time, the entire con­gre­ga­tion turned around and breathed, as one: ​"YOUNG peo­ple!" With­in the week, Don­ny was on the board and I was pres­i­dent of Sis­ter­hood. After our very first Fri­day night ser­vice, we invit­ed our newest friends, Oscar and Ruth Boro­choff, to come home with us for a piece of cake. I guess they were in their sev­en­ties. The moment they entered our house, Mrs. Boro­choff stepped into our tiny kitchen, put on an apron, and insist­ed on wash­ing the din­ner dish­es still soak­ing in the sink. I had to drag her in embar­rass­ment into the liv­ing room. These were the nicest peo­ple in the world.
When these coiffed, belt­ed, per­fumed ladies showed up at my house for the first Sis­ter­hood meet­ing of my pres­i­den­cy, I, age 27, sug­gest­ed that we become a branch of Amnesty Inter­na­tion­al. They liked the idea very much. On our sec­ond meet­ing, I hand­ed out lit­er­a­ture about the iron-fist­ed mil­i­tary dic­ta­tor­ship of Pres­i­dent Augus­to Pinochet of Chile. Then we all wrote let­ters on behalf of Chilean polit­i­cal pris­on­ers. The ladies wrote with flow­ing pen­man­ship on scal­loped pink sta­tion­ary. ​"Dear Mr. Pinochet," wrote one, ​"I am just so very dis­ap­point­ed to hear about this behavior."
Don­ny and I lived in Rome when Mel Brooks' His­to­ry of the World: Part I came out. It didn't open in Rome, though. Porky's opened in Rome. Peo­ple lined up to see The Can­non­ball Runin Rome. Cad­dyshack was wild­ly pop­u­lar in Rome. Char­i­ots of Fire did not open in Rome. We had to dri­ve an hour and a half out of the Blue Ridge Moun­tains, across the clean rivers and past the dis­count car­pet out­lets, to the traf­fic-clogged state cap­i­tal of Atlanta to see movies with Jews in them. In the famous clos­ing sequence of His­to­ry of the World Part I—​"Jews in Space" — space shut­tles shaped like Jew­ish stars, with Kosher writ­ten in Hebrew along the wings, whiz across the solar sys­tem, while rab­bis peer anx­ious­ly out of their wind­shields through binoc­u­lars and then do some Israeli danc­ing. The Jews are in space, they sing with Yid­dish accents.
They're zoom­ing along, pro­tect­ing the Hebrew race.
The Jews are in space.
If trou­ble appears they'll put it right back in its place…
"If this movie ever comes to Rome, peo­ple won't under­stand this part," we told our friends in Atlanta as we exit­ed the theater.
"When­ev­er they sing, ​'The Jews are in space,'" said our friend Allen Baver­man, ​"they'll need a sub­ti­tle that says, ​'The Esser­mans are in space.'"
Our next-door-neigh­bor in Rome, a rail­road man and Viet Nam vet named Steve Long, couldn't delin­eate what about us was urban, what was col­lege-edu­cat­ed, and what was Jew­ish. He was fas­ci­nat­ed by every aspect of our lives (like why we sub­scribed to the New York Times instead of the Rome News-Tri­bune which car­ried the day's TV list­ings and boy scout announce­ments) but it was the Jew­ish angle that intrigued him the most. He drove Don­ny all over North Geor­gia in search of a box of Passover Mat­zo that spring. While Don­ny tried to explain to yet anoth­er gro­cery store man­ag­er what exact­ly he was look­ing for, Steve leaned over and con­fid­ed, man to man: ​"It's some kind of Jew food." He popped in one day when we were steam­ing arti­chokes for din­ner. He got that strange half-smile on his face he got when­ev­er he knew he was approach­ing some­thing real­ly pecu­liar. He donned an oven mitt, lift­ed the pot lid, and sprang back in shock. He returned to stand in the steam, sad­ly regard­ing the arti­chokes for a long minute, replaced the lid, and turned to face us. ​"I know, I know," he said, already chuck­ling and putting up his hands in self-defense. ​"It's Jew food."
Some­thing is gained, of course, in the increas­ing­ly wide­spread accep­tance of eth­nic­i­ties in Amer­i­ca, in the mush­room­ing of small restau­rants with inter­na­tion­al cui­sine, in the rain­bow-hued class­rooms of Amer­i­can chil­dren, in the Babel of tongues heard on the streets even of mod­er­ate-sized and small cities, and in the fact of Repub­li­can politi­cians try­ing to use words like chutz­pah. Actu­al­ly, a lot is gained. We're all the rich­er in this coun­try. If any­thing at all is lost, I guess it's the way we 20 or 25 Jews in Rome — almost as far out of our ele­ment as Mel Brooks's Jews in Space — embraced one anoth­er, laughed togeth­er, gath­ered — the entire com­mu­ni­ty — under one roof to make a seder, to kin­dle a meno­rah, to cel­e­brate our daugh­ter Molly's baby-nam­ing. Far from the Lat­vian-Jew­ish world left behind by the Esser­mans, and from the Lithuan­ian-Jew­ish world left by my grand­par­ents, we made a Jew­ish vil­lage in Rome, Geor­gia. Some­times it takes a shtetl.
Melis­sa Fay Greene has been blog­ging all week for the Jew­ish Book Coun­cil and MyJew­ish­Learn­ing​'s author blog­ging series.


A two-time Nation­al Book Award final­ist and win­ner of the Robert F. Kennedy Book Award, the Hadas­sah Myr­tle Wreath Award, the ACLU Nation­al Civ­il Lib­er­ties Award & oth­er hon­ors, Melis­sa Fay Greene is a cur­rent Guggen­heim Fel­low, a reg­u­lar con­trib­u­tor to The New York Times Mag­a­zine, and a fre­quent guest on NPR.