Michael Levy is the author of Kosher Chi­nese: Liv­ing, Teach­ing, and Eat­ing with China's Oth­er Bil­lion
. He will be blog­ging all week for the Jew­ish Book Coun­cil and MyJew­ish­Learn­ing​'s Author Blog.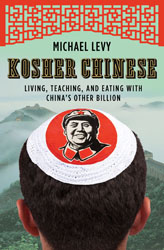 My ther­a­pist once told me a joke: ​"Chi­nese cul­ture is old, per­haps 4000 years. But Jew­ish cul­ture is 1000 years old­er! The only ques­tion is: how did we sur­vive for 1000 years with­out Chi­nese food?"
He's a great ther­a­pist, but a lousy come­di­an. Nev­er­the­less, our inter­ac­tion — like a Chi­nese box — was lay­ered. We were knee-deep in stereo­types, each con­tain­ing a grain of truth. Jews are either stand-up come­di­ans or failed stand-up come­di­ans. Jews are either in ther­a­py, ther­a­pists them­selves, or both. Jews love Chi­nese food.
I fit all these stereo­types. The last one is par­tic­u­lar­ly true, in large part because I lived in Chi­na for three years, serv­ing as a Peace Corps vol­un­teer in Guizhou Province (drop a fin­ger on the dead-cen­ter of Chi­na, and you'll like­ly hit this remote location).
It was a sur­re­al expe­ri­ence. I was one of the only for­eign­ers my stu­dents had ever seen, and they react­ed to me the way I would react to Chew­bac­ca walk­ing into a class­room. I was stared at. I was feared. I was recruit­ed to play on a uni­ver­si­ty bas­ket­ball team (the only Jew to ever tru­ly earn the nick­name Shaq). I was told I must play San­ta Claus in a Walmart.
When things set­tled down and I was a bit more inte­grat­ed into the com­mu­ni­ty, I got down to my actu­al job. I taught gram­mar and vocab­u­lary to hun­dreds of kids from tiny farm­ing vil­lages. They, in turn, taught me how to eat every­thing from mil­li­pede to chick­en talon… and beyond.
Unlike David Sedaris—pos­si­bly the worst trav­eller on earth — I fell in love with the food in Chi­na. Notice I did not write ​"Chi­nese food." This is delib­er­ate. ​"Chi­nese food" is what I eat every Christ­mas Eve in Amer­i­ca. It is lo mein, won­ton soup, and moo shu. It is Gen­er­al Tsao. ​"Food in Chi­na" is not remote­ly like this. Not remotely.
I love food in Chi­na. I also love Chi­nese food. I also try to keep kosher. Can these three state­ments co-exist? Over the next week, I will be blog­ging about my attempt to find the restau­rant in New York that best fits all three cri­te­ria. As Karl Marx — the most beloved Jew in all of Chi­na— once wrote, ​"Work­ing peo­ple of the world unite and find good Kosher Chi­nese food!"
Check back all week for more posts from Michael Levy, author of the recent­ly pub­lished Kosher Chi­nese: Liv­ing, Teach­ing, and Eat­ing with China's Oth­er Bil­lion
.
Michael Levy is an edu­ca­tor, writer, and trav­el­er, who cur­rent­ly teach­es in Brook­lyn, New York, at Saint Ann's School. Levy returns fre­quent­ly to Guiyang to check in on his stu­dents and vis­it the bas­ket­ball courts where he momen­tar­i­ly attained star­dom. While in the Unit­ed States, he keeps strict­ly kosher. While in Chi­na, he eats any­thing with four legs except the table.