Jes­si­ca Sof­fer​'s debut nov­el, Tomor­row There Will Be Apri­cots, will be pub­lished on April 16th. Win a signed copy here. She will be blog­ging here for Jew­ish Book Coun­cil and MyJew­ish­Learn­ing all week.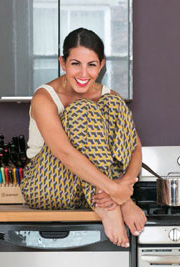 I am bored to death, dying of star­va­tion and on the brink of los­ing my mind at Passover din­ner at my father's sister's house on Long Island. I'm four, maybe five. My moth­er has refilled my grape juice many more than four times but it's not cut­ting it. She has a look on her face like she would have made a PB&J if she'd known what she was in for — what we were both in for — but she didn't. There are many more rel­a­tives vis­it­ing from Israel than usu­al, which means, appar­ent­ly, that there is no goof­ing around and no snack­ing. Who knew? We didn't. I will die of star­va­tion, I think to myself. They will find me in a pud­dle of grape juice with the yarmulke I've demand­ed to wear over my face, dead.
But I don't die. Instead, I put my head into my mother's lap and quick­ly fall into a deep sleep. Even­tu­al­ly, she nudges me awake. I sit up. Why am I awake? Same stuff, dif­fer­ent bless­ing. But then I see. From across the table, my father is giv­ing me the eye. I look around, every­one is engrossed in the text and so I slink under the table, lift up a bit of table­cloth to let in light. There are twen­ty sets of adult shoes and I have the urge to untie every one. But I've got big­ger fish to fry. My father's got a hand­ful of romaine let­tuce from who knows where and I snatch it up, scarf it down, bare­ly chew­ing. I'm a rab­bit on speed. I yank on his pant leg for more. What else you got? He lifts his index fin­ger. One sec­ond. He can do bet­ter, I'm think­ing. I know he can do bet­ter. I pray like they do in the movies. It's Passover, after all. Moments lat­er, the white­cap curl of a hard­boiled egg has arrived. I've willed it here, I think. I should pray more often. I near­ly skin my father's fin­gers with my teeth. I won­der why I don't eat eggs at every moment of every day. They are heav­en. Noth­ing bet­ter. But I'm still hun­gry. I'm dying again. I wait. Is that it? I start unty­ing my father's shoes. He catch­es my drift. Anoth­er egg. Unty­ing. Then anoth­er. Now, I'm over eggs. I nev­er want to see an egg again.
Still, I wait.
Just before I lose hope, die not of star­va­tion but egg over­dose, my father's palm is open and flat in front of me, as if reveal­ing the tini­est baby bird. But it's bet­ter than that. It's a raft of mat­zo, a clus­ter of haroset bal­anc­ing on top, shim­mer­ing and pre­cious like some­thing stolen from the Hall of Min­er­als and Gems at the Muse­um of Nat­ur­al His­to­ry. I treat it as he did, lift it from his hand into mine with care. Ever so gen­tly. Lit­tle tiny nib­bles. The sweet­est. The most amaz­ing. This is the best thing I've ever eat­en. Why don't I eat this every moment of every day? I savor it.
My father claps his hands with­out mak­ing a sound. Show's over, folks, and just in time. I make my way back to my seat, my moth­er brush­ing a crumb off my bot­tom lip, the pars­ley is being passed around and I'm up. ​"No," I say but my moth­er ignores me, puts a pile of it on my plate. ​"I'm full," I begin to say but she cov­ers my mouth with her hand, and smiles gra­cious­ly at the crowd. ​"She's starv­ing," she says and I know to nod.
Read more about Jes­si­ca Sof­fer here.
Relat­ed: Iraqi Jews Read­ing List
Jes­si­ca Sof­fer earned her
MFA
at Hunter Col­lege. A Her­tog Fel­low and recip­i­ent of the Bernard Cohen Prize, she teach­es fic­tion at Con­necti­cut Col­lege. She grew up in New York City, the daugh­ter of an Iraqi-Jew­ish painter and sculp­tor who immi­grat­ed to the U.S. in
1948
. This is her first book.