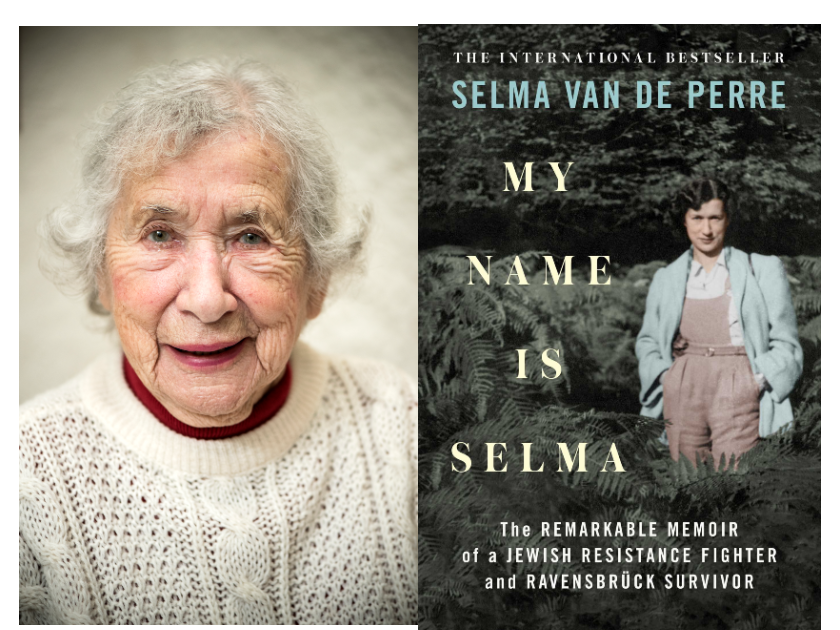 Marc Katz: What made you tell your sto­ry now? What about this moment felt right for talk­ing about your expe­ri­ence dur­ing the Shoah?
Sel­ma van de Perre: I was very busy build­ing up my life. I took over my husband's jour­nal­ist job after his death in 1979. For relax­ation, I start­ed a paint­ing class. So many books had been writ­ten by vic­tims of the Holo­caust that mine was not need­ed. One day I told the teacher I could not come next week because I was going to Hol­land. ​"Have a nice hol­i­day," she said. I told them it was no hol­i­day; I had to lay the wreath at the cer­e­mo­ny in Ams­ter­dam. They asked details and I told them about the resis­tance. They had nev­er heard of resis­tance in Hol­land nor about con­cen­tra­tion camps for non-Jews. I decid­ed then that I had to write a book about it. It was only when I learnt that peo­ple in Eng­land did not know that there were con­cen­tra­tion camps all over Europe where non-Jew­ish resis­tance fight­ers were also impris­oned and killed. By then, in the 80s, they knew about Bergen-Belsen and Auschwitz and resis­tance in France and some knew about Arnhem.
My nephews and friends told me to write my sto­ry down — ​"You are the last of the generation."
So I start­ed to make notes. But I had no time dur­ing the day when I worked, and could not write in the evening, oth­er­wise I would not sleep.
Friends kept ask­ing how the book was going and I had to say not very much. Final­ly, in about 2004 I start­ed to write. But my first foolscap page was in 2013, and it took to 2017 to get it fin­ished. I did not think it would be any good to pub­lish. I was very sur­prised when it went so well and became top of the best­sellers list for weeks.
MC: One of the things that make your sto­ry unique is how you were able to pass as a non-Jew and still work in the resis­tance. Why did you decide to fight rather than hide?
SVDP: I often thought of it after the war. I nev­er thought of flee­ing or of not doing the resis­tance work. It was need­ed to save lives. I also saw many non-Jew­ish peo­ple help­ing so I thought it nec­es­sary. I was young and active and capa­ble to help.
MC: You had so many close calls, both dur­ing your work in the resis­tance and when you went into Ravens­brück. When were you the most scared?
SVDP: There were sev­er­al. In the begin­ning, I was not used to the check­ups. I think I was very scared when I had to open the suit­case with ille­gal papers on the Lei­den sta­tion. Also when the chap called out my name, Sel­ma, in Lei­den. And of course in Paris. And I was also scared when I lost the suit­case in Lei­den and the Ger­man told me to get out of the train.
I was also scared when I sat in the Gestapo head­quar­ters in the Euterpe straat in Amsterdam.
They had nev­er heard of resis­tance in Hol­land nor about con­cen­tra­tion camps for non-Jews. I decid­ed then that I had to write a book about it.
MC: Although you were Jew­ish, you end­ed up in Ravens­brück because of your resis­tance activ­i­ties. What did it mean to you to know that you were treat­ed dif­fer­ent­ly because you were able to hide your Jewishness?
SVDP: I was treat­ed like all the oth­er non-Jew­ish women. I had pushed my Jew­ish iden­ti­ty away.
MC: Tell us a lit­tle about your father's foun­tain pen. Why did you decide to keep it with you through­out your time in the camps?
SVDP: A resis­tance friend had smug­gled the pen in a ther­mome­ter hold­er (she was a nurse) and it was easy to hide. I felt my father near me. It felt ter­ri­ble to lose it.
MC: When you were work­ing in the fac­to­ry, you were offered pay. You gath­ered every­one togeth­er and declined. Tell us about the deci­sion to stand up to the Ger­mans in that way.
SVDP: It was forced work so I felt we must refuse pay for it.
MC: You have a very pow­er­ful pas­sage in the mid­dle of your book:
"I had a strong feel­ing that I want­ed to sur­vive — it's an instinct that is part of my char­ac­ter and has been with me my entire life — but for that to hap­pen I know you had to have hope. If you gave up hope you could sink into a depres­sion and your chances of sur­vival would disappear."
Tell us a lit­tle bit about how you kept up your hope.
SVDP: I used to say I had luck. But a Ger­man friend (non-Jew­ish and born after the war) said, ​"No Sel­ma it was not luck, you knew what you did. You said no and yes at the right time and turned around when nec­es­sary. Call it instinct, but that is what you did." And she was prob­a­bly right.
And I knew I want­ed to sur­vive; I did not want the Ger­mans to have the sat­is­fac­tion of get­ting me dead. And friends were very impor­tant. My Czech friend Valy used to say to me ​"Don't give up Mar­ga," and she brought me some food.
MC: As your sto­ry shows, there were good peo­ple in the Nether­lands, but it was also one of the most dan­ger­ous coun­tries in Europe for Jews. Tell us about your rela­tion­ship with Amsterdam.
SVDP: Although many peo­ple worked in the resis­tance, and many non-Jews lost their lives because they were hid­ing Jews, many oth­er Chris­tians betrayed Jews or resis­tance fight­ers in hid­ing just for mon­ey. They got 7 guilders for every Jew­ish per­son they betrayed.
Ams­ter­dam was com­plete­ly changed in 1945 after the war with­out the Jew­ish pop­u­la­tion. Artists, singers, come­di­ans, shop­keep­ers and more had most­ly disappeared.
Rab­bi Marc Katz is the Rab­bi at Tem­ple Ner Tamid in Bloom­field, NJ. He is author of the book The Heart of Lone­li­ness: How Jew­ish Wis­dom Can Help You Cope and Find Com­fort (Turn­er Pub­lish­ing), which was cho­sen as a final­ist for the Nation­al Jew­ish Book Award.