Ear­li­er this week, Marc Tra­cy chal­lenged Jew­ish sports fans to a lit­tle quiz and wrote about Jews in sports and Hol­ly­wood. He has been blog­ging here all week for Jew­ish Book Coun­cil and MyJew­ish­Learn­ing.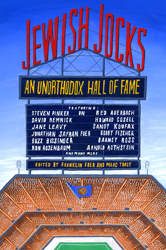 Each of our 50 essays focus­es on an indi­vid­ual fig­ure. (The clos­est there is to an excep­tion is Deb­o­rah Lip­stadt​'s mov­ing piece, which is a memo­r­i­al to the 11 Israeli ath­letes mur­dered by Pales­tin­ian ter­ror­ists at the 1972 Sum­mer Games in Munich; it focus­es on the wrestler Yossef Romano.) Which got me think­ing: if we were going to write a book called Jew­ish Teams—or, to keep the allit­er­a­tion, Semit­ic Squads—which would make the cut?
Base­ball: This one seems more dif­fi­cult than it is. The Chica­go Cubs' peren­ni­al under­dog sta­tus seems to reflect the Jew­ish ethos; the Boston Red Sox' almost mes­sian­ic redemp­tion seems to reflect the Jew­ish sto­ry (unless it too close­ly reflects the Chris­t­ian one!). The Detroit Tigers had Hank Green­berg, the Mil­wau­kee Brew­ers have Ryan Braun. The San Fran­cis­co Giants trace their route back to New York City, and the New York Mets have claimed the man­tle of New York teams depart­ed. Which is to say noth­ing of the Yan­kees. How­ev­er, talk of New York of course leads us to the Los Ange­les Dodgers. Had this mere­ly been the fran­chise that host­ed Sandy Koufax, dayenu. But, of course, this was the last pro­fes­sion­al fran­chise to call Brook­lyn home until the Brook­lyn Nets debuted a cou­ple of weeks ago. (In fact, for the first cou­ple years of his career, Koufax played home games at Ebbets Field, about five miles from the Ben­son­hurst neigh­bor­hood where he'd grown up.) So, Dodgers it is.
Bas­ket­ball: After New York, Philadel­phia was the hotbed of Jew­ish bas­ket­ball: Eddie Got­tlieb man­aged the South Philadel­phia Hebrew Asso­ci­a­tion squad (the SPHAs) before becom­ing coach and then own­er of the NBA's Philadel­phia War­riors. After they skipped town for San Fran­cis­co (they now play in Oak­land and are known as the Gold­en State War­riors), the great Dolph Schayes' Syra­cuse Nation­als moved down to become the 76ers. Of course, the key phrase here is ​"after New York." It was New York Jews who devel­oped the game; Ossie Schecht­man who scored the first bas­ket in NBA his­to­ry while play­ing for the New York Knicker­bock­ers; and Red Holz­man, pro­filed in our book by Todd Gitlin, who coached the Knicks to two cham­pi­onships 25 years lat­er. Also, Woody Allen is a Knicks fan. This one isn't even close.
Foot­ball: It would be sim­ple to give this to the New York (foot­ball) Giants. They won the sec­ond-ever NFL cham­pi­onship when five-foot equip­ment man­ag­er Abe Cohen secured them spe­cial shoes to play on the iced-over Polo Grounds. They were quar­ter­back Ben­ny Fried­man's team. Even today, they are half-owned by film pro­duc­er Steve Tisch. But enough with New York, right? Let's give this to Al Davis' team, the Oak­land Raiders, now owned by his son. The real ques­tion is: are the Raiders a point of pride, or a shan­da fur de goyim?
Hock­ey: In Jew­ish Jocks, Grant­land writer Jon­ah Keri — whose pro­fes­sion­al focus is base­ball — makes a case for his home­town Mon­tre­al Cana­di­ens in the course of pro­fil­ing defend­er Math­ieu Schnei­der, and it's a con­vinc­ing one. The Cana­di­ens have won more cham­pi­onships than any team in any oth­er major sport except for the Yan­kees — but have not done so for near­ly two decades, and these days (espe­cial­ly as a can­celled NHL sea­son looms), they are as much an exer­cise in nos­tal­gia as any­thing else. Sound famil­iar? Besides, hock­ey is like smoked meat to bas­ket­bal­l's pas­tra­mi, right?
Soc­cer: If we were restrict­ing our­selves to the Eng­lish Pre­mier League, this would be the Tot­ten­ham Hot­spurs, whose fans call them ​"Yids" — in a good way — in part due to their North Lon­don envi­rons. But as Simon Kuper makes clear in his Jew­ish Jocks essay on Ben­nie Muller, it's the Dutch squad Ajax that is unde­ni­ably the world's most Jew­ish soc­cer club. It's so Jew­ish that even non-Jew­ish play­ers like super­star Johan Crui­jff were assumed to be of the Tribe.
Olympics: On the one hand, there is a more or less offi­cial Jew­ish coun­try. (More or less: I don't mean to start any argu­ments here.) On the oth­er hand, a dif­fer­ent coun­try has, by far, sent the most Jew­ish medal-win­ners to var­i­ous Games. Our pick? The Unit­ed States of America.
Marc Tra­cy is the co-edi­tor of the new book Jew­ish Jocks: An Unortho­dox Hall of Fame. He is a staff writer atThe New Repub­lic. Pre­vi­ous­ly, he was a staff writer at Tablet, where his blog, The Scroll, won the 2011 Nation­al Mag­a­zine Award.