Ear­li­er this week, Matthew Kres­sel explored the Jew­ish sources under­ly­ing fan­ta­sy literature's great­est time-trav­el­ing epics. He is guest blog­ging for the Jew­ish Book Coun­cil all week as part of the Vis­it­ing Scribe series here on The ProsenPeo­ple.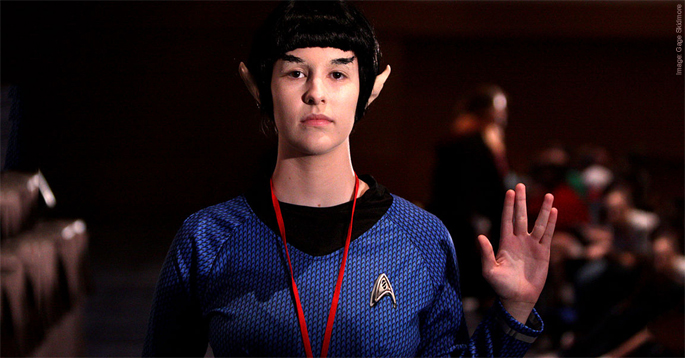 Leg­end has it that actor Leonard Nimoy, z"l, was rehears­ing a scene where his famous sto­ic char­ac­ter, Spock, meets a fel­low Vul­can for the first time. Rather than have the aliens shake hands, a very human ges­ture, Nimoy felt the pair need­ed to do some­thing dif­fer­ent. His thoughts went back to a pow­er­ful moment he expe­ri­enced with his father in shul.
The High Priests, the Cohan­im, have a spe­cial duty dur­ing the prayer ser­vice to bless the con­gre­gants. Accord­ing to tra­di­tion, those descend­ed from the tribe of Levi wash the Cohen's hands, then the Cohen removes his own shoes. He cov­ers his head with his tallis, recites a bless­ing, then turns to the con­gre­gants and rais­es his hands so that his palms face down­ward and the thumbs of his out­spread hands touch. The fin­gers on each hand are split into two sets of two fin­gers to rep­re­sent the let­ter Shin, for Shad­dai, Almighty God. With his prayer shawl cov­er­ing his hands, the Cohen recites the priest­ly bless­ing, and while he utters his words, the Shekhi­nah, the Divine Pres­ence, shines through the Cohen's hands to bless the con­gre­ga­tion. (The Priest­ly Bless­ing is pop­u­lar in Chris­t­ian litur­gy as well, and var­i­ous forms are used in Chris­tian­i­ty around the world, but with­out the hand signs and head covering.)
Jews believe one should nev­er look at the Cohen's hands when he recites the bless­ing, for harm might befall a per­son if he does. Instead, we should cov­er our eyes, or turn our backs to the Cohen dur­ing the prayer. If a man has a child, he should take him under his own tallis, to bless him and pro­tect him, just as God bless­es and pro­tects the congregation.
And so when Leonard Nimoy was a boy, he was in shul, and his father draped his tallis over him and told him not to look as the Cohan­im recit­ed the prayer. Well, Nimoy looked. And lived, long and pros­per­ous­ly. Ever after that moment, he became fas­ci­nat­ed with this ter­ri­fy­ing pow­er the priests had to heal with a ges­ture, and so decades lat­er, when he need­ed an alter­na­tive greet­ing for his Vul­can char­ac­ter, he sug­gest­ed what is now famil­iar to Jews and gen­tiles across the world. A hand raised, palm for­ward, thumb extend­ed, fin­gers part­ed between the mid­dle and ring fin­ger while say­ing, ​"Live long and pros­per." Not too dif­fer­ent from the actu­al bless­ing, ​"May the Lord bless you and pro­tect you…"
Now, decades after Spock­'s sug­ges­tion, sci­ence fic­tion fans all over the globe still walk around bless­ing each oth­er with a (slight­ly altered) ancient Jew­ish rit­u­al. Up until about a decade ago, before the Inter­net made all answers a search away, its ori­gins were known only to a few, main­ly Jew­ish, fans.
Matthew Kres­sel is a short fic­tion writer and the co-host of the Fan­tas­tic Fic­tion at KGB read­ing series in Man­hat­tan with Ellen Dat­low. His first nov­el, King of Shards, was released Octo­ber 2015 from Arche Press.
Relat­ed Content:
Matthew Kres­sel is the author of the Jew­ish-themed fan­ta­sy epic King of Shards. He is a pro­lif­ic writer of short fic­tion, his works appear­ing in the pub­li­ca­tions Clarkesworld, Light­speed, Night­mare, io9​.com, Inter­zone, Apex Mag­a­zine, the antholo­gies Naked City, The Peo­ple of the Book, After, and else­where. He is the co-host of the Fan­tas­tic Fic­tion at KGB read­ing series in Man­hat­tan with Ellen Dat­low, and he is (slow­ly) learn­ing the Yid­dish lan­guage. By day he writes code for cor­po­ra­tions and universities.
Sur­viv­ing Leonard Nimoy's Super­hu­man Salute
Golem Sto­ries, from Mys­ti­cism to Fic­tion to the Realm of Plausibility